Asus TUF Z270 Mark 1 Review – With any new chip, comes a new chipset. And with each generation, that chipset improves in a variety of ways. The improvements usually revolve around connectivity and expansion support. But there are often other notable tweaks as well, such as aesthetic design, cooling support, and updates and enhancements to the bundled software, so that it works with the latest and greatest hardware.
Asus's TUF Z270 Mark 1, is the first of this new generation of boards that we've been fortunate enough to review. Replacing the Sabertooth pseudonym in favor of the far simpler Mark 1, this is a mobo that should, in everyway, follow in its father's footsteps—a reliable workhorse, compatible with all, and capable of keeping up with even the best overclocking boards out there.
See also: Gigabyte F2A68HM-HD2 Review: From tiny motherboards grow great PCs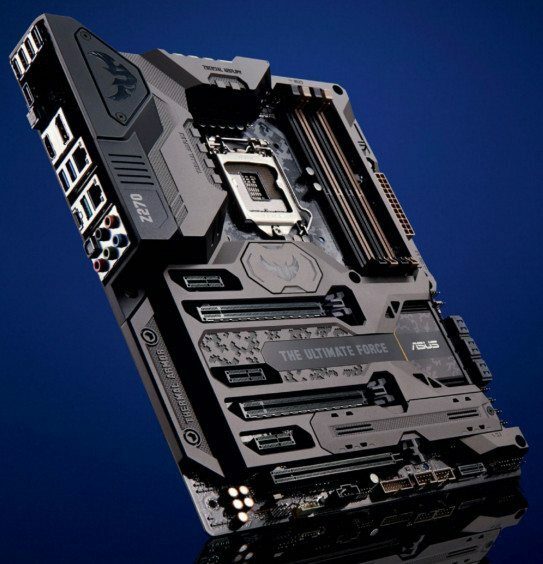 Unfortunately, we had trouble from the get go, with memory kits in particular. The TUF Mark 1 was decidedly awkward, only operating with a single stick of DDR4, no matter how much we worked with Asus on trying to remedy the situation. Sadly, this is the type of issue that reviewers often have to deal with, especially when having access to products so far ahead of launch. Asus has assured us that it is working on a BIOS update to fix any potential memory compatibility issues in readiness for launch, and by the time you read this review, all of the TUF Mark 1 motherboards should be up and running perfectly.
Memory troubles aside, what's different in the Z270 chipset compared to last gen? Well, firstly, Intel has included an additional four PCIe 3.0 lanes (going from 20 to 24), to help cater for the ever more aggressive push toward PCIe storage. We additionally have Thunderbolt 3 support (although it isn't included on this motherboard), 10 USB 3.0 ports, allowing for two onboard USB 3.0 headers, and that's about it. USB 2.0 support is the same, Ethernet is the same, even the socket is still the LGA1151, meaning you can insert a Skylake chip in a Z270 board, and vice versa if you so desire.
Asus TUF Z270 Mark 1 Review: PERFORMANCE PARITIES
Performance, however, is impressive, and coincides nicely with the new Intel Core i7-7700K processors. We won't know for sure how far we can push our new Kaby Lake successors until the more premium overclocking boards arrive on the scene, but, for the time being, we're more than impressed with what Intel has managed to pull off in conjunction with these Asus boards. Overall, it seems the power-phase design on the VRMs are exceptionally similar between the two review boards we have in.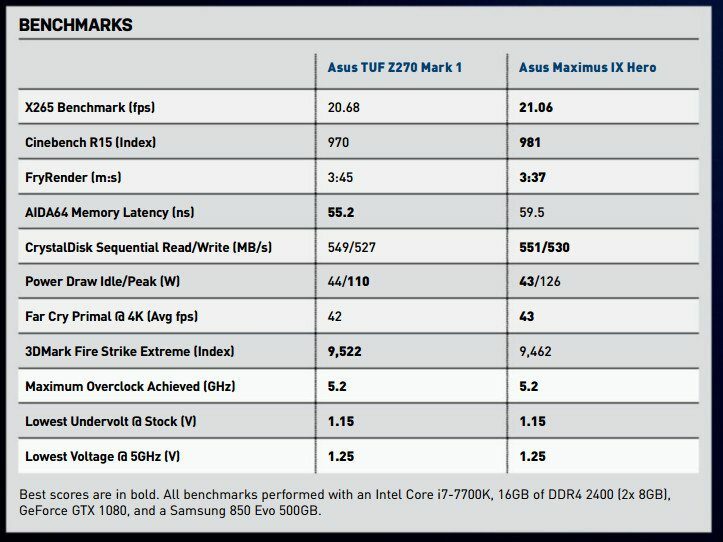 Although performance did vary slightly between the Asus TUF Z270 Mark 1 and the Maximus IX Hero, overclocks and undervolts remained exceptionally similar between them. Noticeable differences occur in overall design, with the TUF featuring a rather interesting vertical M.2 slot, with securing bracket included, located at the bottom of the board. On top of that, the two internal fans designed to shift cool air below the thermal armor are gone. Instead, we're graced with further integration of Asus's RGB phenomenon in the form of AURA lighting, located below the center cap, and a single 40mm fan in the rear, which seems like a missed opportunity, given PCIe SSDs' tendency to thermally throttle themselves. The neat features integrated in the last series of TUF Sabertooth are also still around. The thermal armor is still capable of hiding a full M.2 PCIe SSD, the dust covers and caps are still there, and the board still features a plethora of fan headers and TUF's world-renowned ICe fan controller chip.
The Mark 1 is a solid reiteration on the last generation of TUF motherboards. And although Z270 isn't mind-bogglingly different to Z170, the expanded storage support and reiterated design make it a worthy upgrade, and well worth your time if you're still on any processor prior to Haswell and the Z97 chipset, -zak storey
Asus TUF Z270 Mark 1 Review
PROS:
Low idle power draw
Solid performance
Expanded PCIe support
TUF armor
RGB lighting
CONS:
Single mini cooling fan
Lack of second hidden M.2 slot
Aesthetics could be improved