Gigabyte F2A68HM-HD2 Review – Gigabyte has quite an impressive range of micro-ATX boards on offer these days, each offering something different or adding to an existing feature from the last revision. Finding something that combines everything in a single, inexpensive and small package can be quite a chore at times, but thankfully such a thing does actually exist.
The Gigabyte GA-F2A68HM-HD2 is an FM2+ motherboard for AMD processors up to the A10-7850K, with an AMD A68H chipset, a pair of DDR3 DIMM slots and expansion slots in the form of a single PCIe x16, PCI-e x1 and a PCI slot.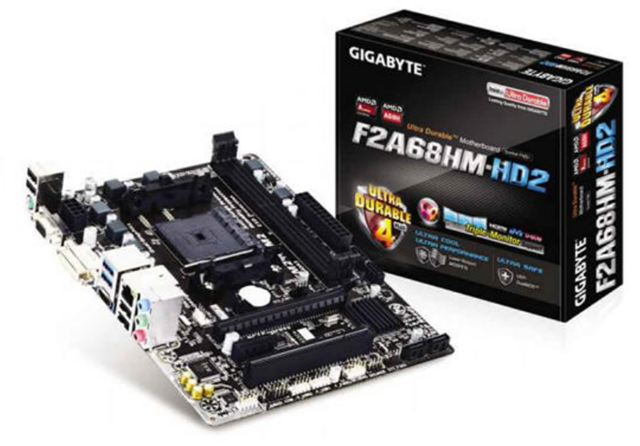 See also:
MSI Z170A Tomahawk Review: Powerhouse modern motherboard, equally impressive price
You'll also find four SATA 6Gbps connectors, two USB 2.0 headers, an APU header fan header, a pair of system fan headers and S/PDIF out. The back panel features two USB 3.0, four USB 2.0, HDMI, DVI, VGA, three audio jacks and a PS/2 keyboard and mouse port.
Gigabyte has upped its game in the quality department in recent years, enough to put the wind up the likes of MSI at least. This is apparent with this model, as you'll find solid capacitors throughout, high-quality Nippon Chemicon ARE series audio capacitors, humidity protection and protection from power failure, surges and electrostatic charges. This is one of the Ultra Durable 4 Plus range of boards, so you can expect a pretty solid base on which to build your next system.
Aside from being a stable motherboard, the GA-F2A68HM-HD2 also has support for AMD's Dual Graphics technology, which is basically a kind of CrossFire setup for a Radeon card and the integrated GPU found on the A-Series processors. For example, if you use an A10-7850K CPU, which has a Radeon R7 APU, then you can successfully pair it up with a Radeon R7 250. The result is a far more capable gaming and 3D graphics PC.
Likewise, there's also support for 4K through the HDMI port and multiple monitor support through the DVI and HDMI ports with the AMD Eyefinity technology.
Either way you look at it, the Gigabyte GA-F2A68HM-HD2 proves to be a motherboard that punches well above it weight.
And at an average price, it's cheap enough to consider for a number of applications.
Despite its micro-ATX form, the board doesn't feel too cramped. Granted there's not a lot of room between the PCIe x16 and xl slots, especially if you fit a dualslot graphics card in there (depending on the card, you probably won't have access to the PCI-e x1 slot at all), but you should be able to get access to the PCI slot without too much trouble.
The same goes for the positioning of the memory slots and the CPU socket, in that there's probably just enough room for one of the bigger model coolers and slightly higher RAM sticks to coexist without touching or creating a hazard for other cooling solutions.
We think, then, that the Gigabyte GA-F2A68HM-HD2 is a perfectly adequate motherboard, complete with higher-quality components and the kind of features you'd normally find on a more expensive model, mm David Hayward
Small and inexpensive but feature-laden and reasonably powerful.
Gigabyte F2A68HM-HD2 Review: Specifications
Socket FM2+ supports AMD FM2+/FM2 A-series APU.
Gigabyte Ultra Durable 4 Plus technology.
Audio Noise Guard with high-quality audio capacitors.
HDMI 1.4, dual-link DVI, D-sub ports for triple-monitor support.
Native USB 3.0 and SATA3 ports with RAID support.
Gigabyte UEFI DualBIOS.
Gigabyte On/Off Charge for USB devices.
All solid capacitors design.