THE TUF LINEUP from Asus is often seen as a budget-focused alternative to its ROG range. Unfortunately, this casts a negative judgment on TUF models before they've had a chance to show off what they can do. The TUF F15 has some interesting specs at a reasonable price, so does it deserve to be in the spotlight or should you opt for a premium ROG laptop?
–SAM LEWIS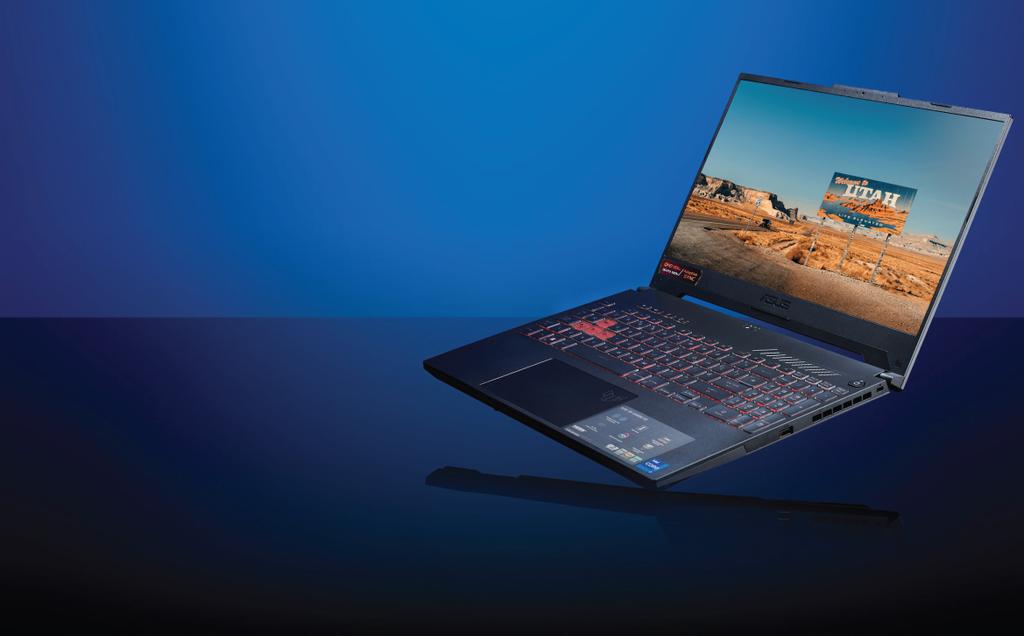 The most noticeable difference between the TUF and ROG laptop lineups is visual. We prefer the cleaner designs offered by ROG machines, however, the F15 appears to be a step up from previous TUF laptops. As more generally budget-friendly alternatives, they often seem heavily 'gamer focused' and while it has a gamer utilitarian aesthetic, it's not too in your face. The lid features an anodized aluminum effect with a raised TUF logo. Open the lid and the laptop has a sleek appearance and, despite plenty of cheaper materials having been used throughout, it feels sturdy and rigid. Read our ASUS TUF F15 2022 Review.
The screen features a fairly large chin bezel, but the top and sides are slim. Along the top, there's a webcam that protrudes from the lid, making it easier to open the laptop. The 720p camera is nothing special but it's clear enough for occasional video conferencing. Unfortunately, there's no physical privacy shutter, which would have been a nice touch, but a white LED indicates when the camera's in use.
The panel is where this model both shines and suffers. It's a 15.6-inch IPS QHD display with a refresh rate of 165Hz, which sounds perfect for portable gaming. Unfortunately, the color setup is more washed out than we'd like, but its saving grace is the detail offered by the 2560×1440 resolution. Paired with the 165Hz refresh rate, gaming is clear, smooth, and responsive. Of course, you can tweak color options within the system and games but straight out of the box, we were left slightly underwhelmed by the soft display. The low-profile RGB backlit keyboard has decent travel and the keys have some tactile spring to them. The WASD keys are also translucent, making it easier for you to see them in your peripheral vision. The TUF F15's trackpad is large and responsive and the buttons have a satisfying click to them, perfectly good enough for daily work-related tasks.
Our model came with a 12th Gen Intel Core i7-12700H Alder Lake chip, 16GB DDR5 RAM, and a GeForce RTX 3060 GPU inside. This is undoubtedly generous specifications for just under $. Other models offer a 3070, which would be better for gaming longevity, however, the Nvidia GeForce RTX 3060 is good enough for most gaming with settings on medium to high. The problem with our specification is that if you want as many frames as possible, it's best to run your games at 1080p, therefore you don't get the most out of the QHD display. The FHD version with the 300Hz refresh rate makes for a more sensible option over the QHD for a more budget-friendly gaming laptop like this.
On the CPU, it's great to see a powerful 12th Gen chip here and during our testing, the laptop's performance was snappy and reliable and should last for years to come. The same goes for the newer DDR5 RAM. As far as performance goes, it ticks plenty of boxes and, at our 1080p benchmarking, achieves respectable frames of over 60 FPS at Ultra settings.
Unless you specifically want all the bells and whistles, you can save some money by choosing this Asus TUF F15 over a ROG model and still get a respectable performance with a snappy display and decent keyboard. The F15 has plenty of ports, a good battery life (when not gaming), and makes for a solid daily driver. The display needs color tweaking and some corners have been cut on both materials and the overall fit and finish, but if gaming is what you want out of a laptop, the Asus TUF F15 should be more than sufficient.
BENCHMARKS
Our 1080p zero-point consists of an AMD Ryzen 5 5600X, an XFX Speedster QICK308 Radeon RX 6600 XT, an Asus ROG Strix B550-F WiFi, 16GB of XPG Gammix D45 DDR4-3200, and a 1TB ADATA Legend 840. All games tested at 1080p 'Ultra' graphics presets with DLSS/FSR and V-sync turned off. XMP/AMP for RAM speed turned on in all tests. No manual CPU overclocking.
VERDICT 7
ASUS TUF F15 2022
ALL ROUND THUMBS UP Snappy 165Hz refresh rate; sturdy build quality; good value for money.
THE BAD ATTACHED WITH THE GOOD Washed-out display; chunky lower bezel; cheap-feeling materials.
Best ASUS TUF F15 2022 prices ?

$

1,449.99
15 new from $1,449.99
in stock


Jump right into the action with the TUF Gaming F15 gaming laptop. Stream and multitask with ease thanks to a 12th Gen Intel? Core? i 7 - 12700 CPU and blisteringly fast 4800MHz DDR5 RAM on Windows 11. Leverage the full gaming performance of the GeForce RTX? 3060 GPU with a dedicated MUX Switch
$

1,529.00

$2,428.52
in stock

MORE DEALS

See also THE COMPLETE GUIDE TO…OLED laptops
$, www.asus.com
SPECIFICATIONS
CPU Intel i7-12700H @2.60GHz
Graphics NVIDIA GeForce RTX 3060 6GB GDDR6
RAM 16GB DDR5 @4800Mhz
Screen 15.6in QHD (2560×1440) IPS @165Hz
Storage 1TB M.2 PCIe 3.0 SSD
Ports HDMI 2.0b, Thunderbolt 4 support DisplayPort, USB 3.2 Gen 2 Type-C, 2x USB 3.2 Gen 1 Type-A, RJ45 zLAN port, 3.5mm Combo Audio Jack
Weight 4.85Ibs
Size 0.8 x 9.8 x 13.9-inches