REMEMBER THAT THING we were saying last month about Asus and world-beating laptop innovation? Well, Asus is at it again. Last time around it was the 14-inch Zenbook Pro 14 Duo OLED with its OLED tech and dual screens. This month, get a load of the new Asus ROG Flow X16, a 16-inch gaming beast that's also a two-in-one tablet, has a big old battery, an incredible mini-LED touchscreen, a monster AMD CPU, and support for Asus's ROG XG Mobile external graphics. Read our Asus ROG Flow X16 Review.
JEREMY LAIRD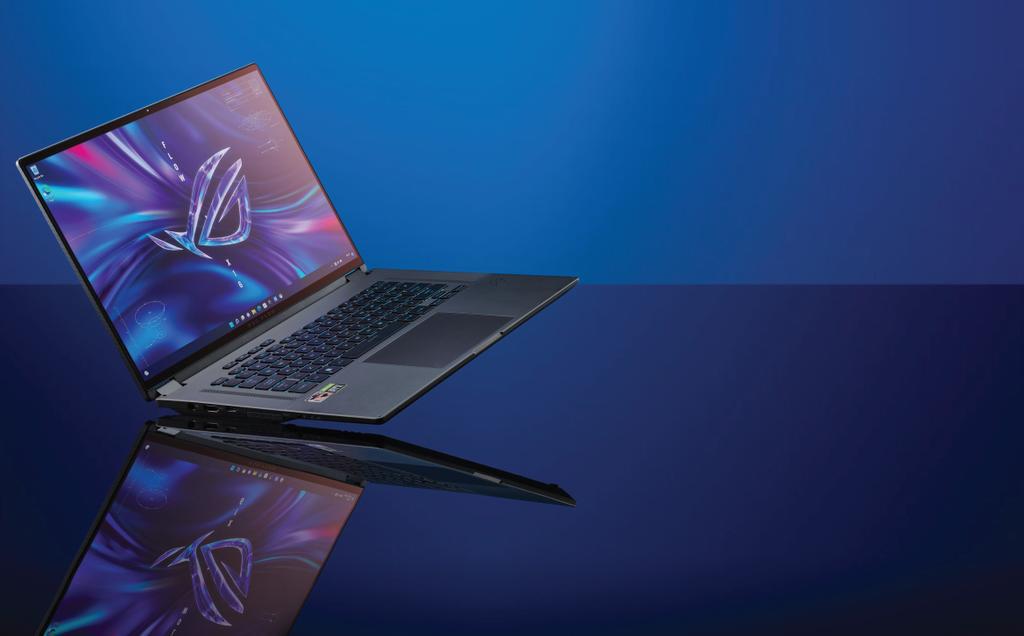 It feels like a full-time job keeping up with Asus's laptop output of late, let alone the rest of the industry. Anyway, let's dig into this beauty in a little more detail. It's running AMD's hot new Ryzen 9 6900HS CPU, an eight-core and 35W variant of AMD's latest mobile CPU. That's paired with a 125W version of the Nvidia GeForce RTX 3070 Ti GPU, along with a MUX switch to ensure maximum graphics performance extraction.
Factor in the 32GB of DDR5 memory, not to mention a 1TB PCIe 4.0 SSD, and you have a portable PC that's seriously up there when it comes to raw specs. Sure, there are quicker CPUs and GPUs, though not by much. Of course, there are plenty of laptops that offer high-end chips but what most of them can't compete with is the X16's screen. It's a 1440p panel with 2,560×1,440 pixels and runs at 165Hz, which is pretty much the perfect combo for pairing with the 3070 Ti graphics—4K would be overkill in visual terms and also wallop the frame rates.
If you're thinking, hang on, plenty of laptops offer high refresh 1440p panels these days, you're right. But do they crank out 1,100 nits of brightness, support HDR 1000, deliver 100 percent coverage of DCI-P3 and pack 512 mini-LED dimming zones? In a word, no. The screen on this thing is epic—painfully bright if you want it to be, but also incredibly well calibrated.
It's one of, if not the very best fullarray local dimming implementations we've seen, far better than any full-array desktop monitor. With HDR enabled, you get none of the backlighting weirdness that afflicts desktop monitors. Just eyepopping HDR performance, plus excellent SDR rendering when in HDR mode. There really are no drawbacks. You can even adjust the overall brightness level in HDR mode, something that's not usually possible with a monitor. Long story short, this is HDR done right and it's changed our minds about full-array local dimming. It can really work, after all.
From a broader performance perspective, this system is solid but not utterly spectacular. Use the optional Turbo mode in the Asus Armoury Crate app and there's little to no CPU throttling under sustained load, while gaming frame rates are excellent but inevitably a step behind the best laptops with RTX 3080-based GPUs. Even the battery life isn't too shabby, with over six hours achievable in terms of light use such as basic web browsing or watching movies.
What's more, it's nicely built, albeit from plastic rather than premium alloys, and relatively thin and light for something so powerful. The keyboard bed is solid, which is what we've come to expect from Asus, and the trackpad is a decent size.
But surely, there's something wrong with it? The 360-degree hinge and twoin-one tablet functionality is probably engineering we could live without in return for a lower price. Ditto the ROG XG Mobile support. The Flow X16 already has a great GPU and that whole external graphics thing is niche and physically clunky in real-world usage. Those minor quibbles aside, this is a compelling portable rig if you're in the market for a 16-inch gaming laptop.
BENCHMARKS
Our Zero Point consists of a Razer Blade 15 Advanced 2022 featuring an Intel Core i9-12900H CPU, Nvidia RTX 3080 Ti 16GB GPU, 32GB DDR5 RAM, 1TB NVMe SSD and 80WHr battery.
VERDICT
Asus ROG Flow X16
See also THE COMPLETE GUIDE TO…OLED laptops
$, www.asus.com
SPECIFICATIONS
CPU AMD Ryzen 9 6900HS
Graphics Nvidia RTX 3070 Ti 8GB
RAM 32GB DDR5
Screen 16-inch 2560×1440 IPS touch
Storage 1TB NVMe SSD
Ports 2x USB Type-C, USB-A 3.2, SD card, HDMI 2.0, 3.5mm audio jack, MicroSD card reader, ROG XG Mobile
Connectivity Wi-Fi 6E, Bluetooth 5.2
Battery 90Wh
Camera 720P webcam
Weight 4.63lbs
Size 13.98 x 9.75 x 0.76-inch