A LAPTOP WITH a 4K 144Hz display? That's impressive. But does it actually make sense? Before we get to the answer, let's cover off the new Blade 15's speeds and feeds. The 4K screen is a 15.6 incher, an IPS panel described as the 'Creator' option—you can also opt for 360Hz 1080p and 240Hz 1440p alternatives—and backed up with impressive 100 percent coverage of the demanding DCI-P3 digital cinema color gamut. Read our Razer Blade 15 Advanced (2022) Review.
–JEREMY LAIRD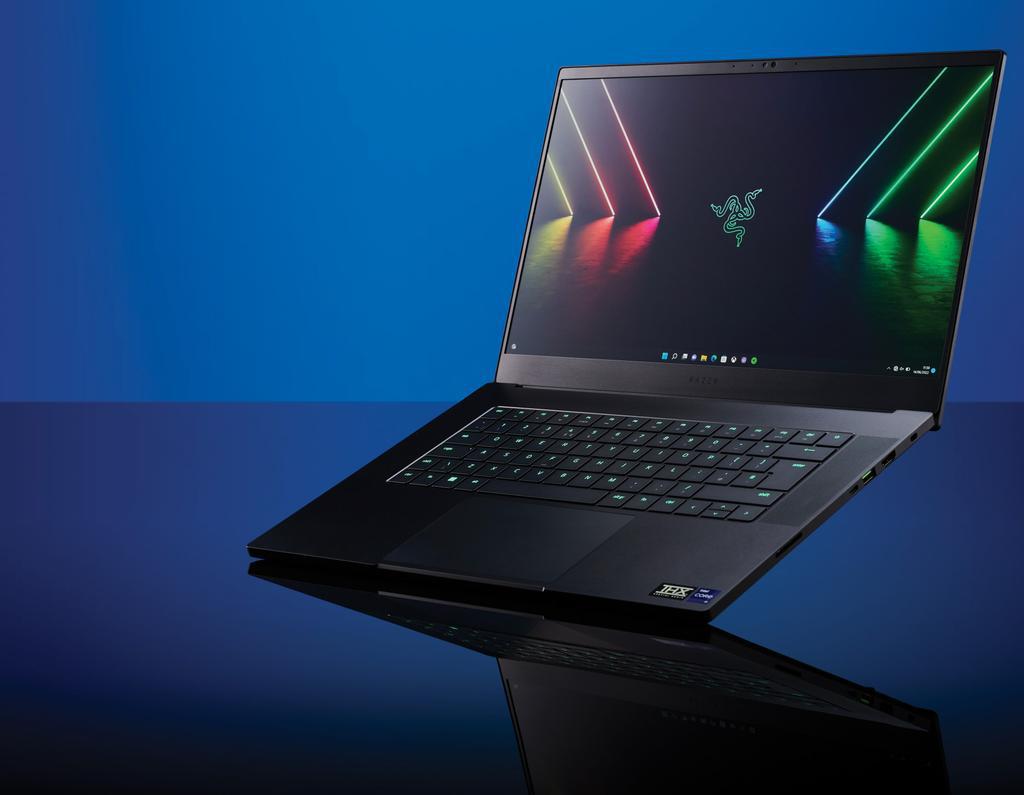 To that, you can add the cream of the available crop of performance laptop components. That's Intel's mighty Core i9-12900H CPU with six high-performance cores and eight efficiency cores, plus 32GB of the latest 4,800MHz DDR5 memory. On graphics duty is the finest mobile GPU known to man, the Nvidia GeForce RTX 3080 Ti with 16GB of VRAM. And you get a 1TB PCIe 4.0 SSD, too.
It's all wrapped up in Razer's familiar 15-inch chassis. Available in any color so long as it's black, the main chassis remains one of the better-built all-alloy affairs out there, though there's just a touch of flex in the keyboard bed. The keyboard, incidentally, is per-key RGB backlit and fully programmable with all the usual effects.
With such a minimalist design, it's hard to argue that it's dated. But it certainly has less screen-to-body ratio than something like an edge-to-edge Dell XPS laptop with its near non-existent bezels. As for connectivity, there are three USB 3.2 Gen 2 Type-A ports, two USB-C sockets, one of which has Thunderbolt 4 support, an HDMI port, and an SD card reader.
It's also just 0.67 inches thick, which is slim for this class of laptop, and weighs in at 4.4lbs. That immediately has us wondering about thermal performance, to which Razer retorts with its latest upgraded vapor chamber cooling system, with more fins and a larger fluid capacity than before. We, of course, will make our own judgments.
Set the Blade to full reheat using Razer Synapse app and the Intel Core i9's clock speeds are initially decent under heavy all-core workloads like rendering. You're looking at an initial 3.7GHz to 3.8GHz. However, those speeds fall away pretty quickly, eventually leveling out at 2.9GHz to 3.0GHz after a few minutes.
That's not terrible, but bigger, thicker laptops can produce at least 10 percent more performance using this same chip. As for GPU performance, it's a similar tale. Inevitably, the slim chassis limits clock speeds. Indeed, Nvidia says the 3080 Ti GPU's Boost clock can vary between 1,125MHz and 1,590MHz depending on the thermal properties of a given laptop. The Blade runs at that 1,125MHz minimum.
It still makes for an impressive performance for a portable. And even this low-clocked 3080 Ti will beat a 3070 Ti, say, in a larger notebook with better cooling. But that finally brings us back to our earlier query. Does a 4K panel running at 144Hz on a laptop make sense?
In gaming terms, nope. There's no way even the 3080 Ti is putting out frame rates good enough at 4K to make use of that 144Hz refresh. Playable frame rates? Just about. Total War: Three Kingdoms returns an average of 28fps at 4K with ultra settings, by way of example.
On a final note, the 80WHr battery is good for about six hours of video playback, which is OK but won't allow all-day operation away from the mains. All of which makes the latest Razer Blade a pretty similar proposition to previous versions. It's a slick package with a lot of grunt, but there is undeniably a price to be paid, both up front in cash and down the line when it comes to performance and staying power.
VERDICT
Razer Blade 15 Advanced 2022
+ SAMURAI SWORD Sleek chassis; lovely build quality; uber spec list.
– RUSTY FLICK KNIFE Seriously pricey; thermal constraints are fairly apparent.
7/10
Best Razer Blade 15 Advanced (2022) prices ?
MORE DEALS

See also THE COMPLETE GUIDE TO…OLED laptops
$, www.razer.com
BENCHMARKS
Razer Blade 15 Advanced 2022
Cinebench R23 15,746 (Index)
3DMark Firestrike 23,131 (Index)
PCMark 10 7,109pts
Metro Exodus 1080p Ultra 79fps
Metro Exodus 4K Ultra 40fps
Total War: Three Kingdoms 1080p Ultra 91fps
Total War: Three Kingdoms 4K Ultra 28fps
Crystal Disk read 6,670MB/s
Crystal Disk write 4,932MB/s
Crystal Disk 4K read 91MB/s
Crystal Disk 4K write 232MB/s
4K x265 encode 10.6fps
Battery life (1080p video playback) 5h 48m
SPECIFICATIONS
CPU Intel Core i9-12900H (14-core)
Graphics Nvidia RTX 3080 Ti 16GB
RAM 32GB DDR5
Screen 15.6-inch 3,840 x 2, 160 144Hz IPS
Storage 1TB NVMe SSD
Ports 2x USB Type-C (one with Thunderbolt 40, 3x USB-A 3.2, HDMI 2.1, 3.5mm audio jack, SD card reader
Connectivity Wi-Fi 6E, Bluetooth 5.2
Battery 80WHr
Camera 1080P webcam