Asus Transformer Pro T304 – An attractive Windows 2-in-1 with some trade-offs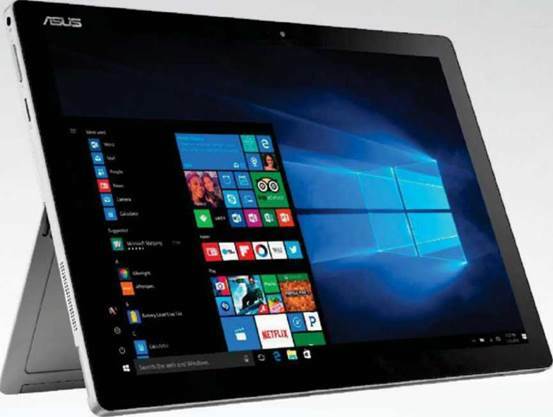 With Microsoft focusing its computing efforts on premium Surface laptops and tablets, there's plenty of room for copycat-like devices that ape many of the features of Microsoft's own products, only at a much lower price. The Asus Transformer Pro T304 2-in-1 is a prime example.
Priced from around in the UK ( in the US), the Transformer Pro T304 costs a lot less than a similarly specified Surface Pro and comes bundled with a Transformer Keyboard Cover and Asus Pen, whereas Microsoft's Type Cover and Surface Pen are only available at extra cost.
It certainly makes sense to bundle everything a user will need for a complete computer, but there's more to any gadget than just how good of a deal it is. On paper, the Transformer Pro T304 compares favorably with the Surface Pro and HP Spectre x2, but it doesn't muster the same oomph.
Spec-wise the Asus Transformer Pro T304 comes with an Intel Core i7 Kaby Lake processor, a 256GB SSD and 8GB of RAM in the US, although the UK model has to make do with a Core i5 instead. Otherwise specs are the same.
The similarly-specified HP Spectre x2 takes the same approach as Asus and includes a keyboard and stylus. The UK version also has twice as much storage as the T304 does.
Design
If you've seen Microsoft's Surface Pro, then you have a good idea of what to expect regarding the T304. It's not a direct clone, but it does share a lot of the same aesthetics.
On the right side of the device is a small notch for easy access to the hinge, a speaker grille, charging port, USB-C port, full-sized HDMI port and a standard USB-A port. The left side features the same notch and speaker grille, followed by a microSD slot, volume buttons and a headphone jack.
On the rear of the Transformer Pro T304 is a camera lens, and a solitary line cutting the device in half horizontally, as a marker for where the 155-degree kickstand hinge bends. A power button with a built-in fingerprint reader is found on the top-left corner. The bottom of the unit is where you'll find the connector for the keyboard.
The thought of pushing the power button and unlocking the Transformer Pro T304 in one motion sounds convenient, and it is – when it works. We found the reader recognized our fingerprint on the first attempt only about half the time. On a few occasions, it flat out refused to read our fingerprint at all forcing us to enter a backup PIN or password instead. When it does work, however, by the time the screen is lit up and visible, the T304 is ready for work.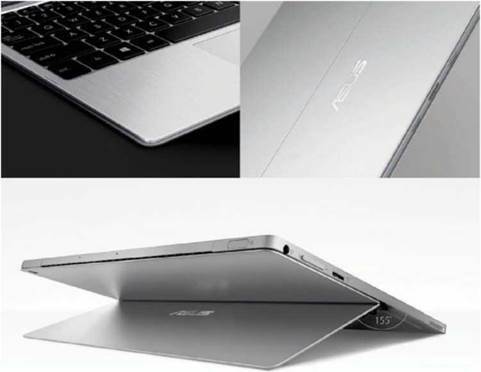 Weighing ever so slightly more than the 784g Surface Pro at just 811g, this tablet is super-portable. Its footprint is slightly larger than the Surface Pro's, although not enough to make a difference.
Display
The 12.6-inch display of the Transformer Pro T304 is clear and vivid, but not the brightest. In direct sunlight, even with the brightness set to maximum, it can be difficult to clearly see what's on the screen. The touchscreen is
"We have no complaints about the Transformer Pro T304's performance – it's not slow by any means"
responsive and accurate, however, whether you're using multi-touch gestures or the supplied Asus Pen.
Keyboard cover and pen
In almost all promotional photos of the T304, a small sleeve for the Asus Pen is seen on the right side of the keyboard. The Keyboard Cover included with our review unit, though, didn't come with any sort of attachment to hold the pen while not in use. It's a small gripe, but one that would find validation the moment we lose the pen and are forced to buy a replacement.
The Asus Pen itself has two buttons, one functioning as a left-click and the other as a right-click. The Pen is fairly light, and each of the buttons also have some wiggle to them, which can be annoying when you're trying to write and your fingers are inadvertently on top of one or both of them. Having said that, the Asus Pen travels smoothly across the display with minimal latency.
As for the keyboard, it's spacious and the backlit keys offer a fair amount of travel. Using magnets, the keyboard can be placed at a slight angle up off the desk for more ergonomic typing, or with a quick change the keyboard can be laid completely flat.
Performance
Overall, we have no complaints about the Transformer Pro T304's performance – it's not slow, by any means. It's powerful enough to handle most basic computing tasks, like multiple-tab web browsing in Google Chrome, while at the same time updating apps, triaging email in Microsoft Mail, streaming Pandora and running Slack.
The Transformer Pro T304 is less assured when it comes to graphical performance with the Surface Pro's Intel Iris Plus Graphics 640 GPU easily outclassing the Asus's standard Intel HD Graphics 620. To prove the point, the T304 scored just 1,341 in our 3DMark Sky Diver test, while the most recent Surface Pro scored 6,431. Similarly drastic
Asus Transformer Pro T304
Processor 2.7GHz Intel i7-7500U (dual­core, 4MB cache, up to 3.5GHz) Graphics Intel HD Graphics 620 Memory 8GB (LPDDR3, 1,866MHz) Display 12.6-inch FHD+ (2,160 x 1,440) backlit LED touchscreen Storage 256GB SSD Connectivity 802.11ac Wi-Fi; Bluetooth 4.1; 1x USB 3.1 Type-C; 1x USB 3.1; 1x HDMI; microSD card reader; 3.5mm analogue audio socket Cameras 2MP front-facing webcam; 8MP rear-facing camera Weight 811g Dimensions 299x211x 8.9mm
results are also found in the Cinebench graphics test, with the Transformer Pro T304 scoring a lowly 17 fps compared to the Surface Pro's 68 fps – it's not a games machine, then.
However the T304 fares better when it comes to pure computing performance, scoring 4,238 in our Geekbench 4 CPU test, compared to the Surface Pro's 4,656.
Battery life
Asus says the T304's battery should last for up to six hours between recharges, although in our real-world tests it lasts less than that. In our PCMark 8 battery life test is clocked up a measly three hours and six minutes, a full hour less than on the Surface Pro. On the up side, if you're planning on watching a movie, you can expect over six hours of power with the screen set at 50 percent brightness.
Summary
There's a lot to like about the Transformer Pro T304, from pricing to basic computing performance. Perhaps with more practice, and maybe even saving the same fingerprint more than once, the scanner will become more reliable. Unfortunately, there's nothing to be done about the battery life.
If you're on a tight budget, then the T304 is worth considering – just don't expect to use it for editing hours of video or serious gaming.
Verdict 4/5
A capable 2-in-1 that won't drain your bank account. The included accessories are a neat touch.
Asus Transformer Pro T304 Review
A capable 2-in-1 that won't drain your bank account. The included accessories are a neat touch.
Add your review
Best Asus Transformer Pro T304 prices ?

$

180.00
2 new from $180.00
in stock

MORE DEALS

See also THE COMPLETE GUIDE TO…OLED laptops