Aorus X7 DT v7 Review – A gaming laptop with everything you could want on paper, but does that add up in the flesh?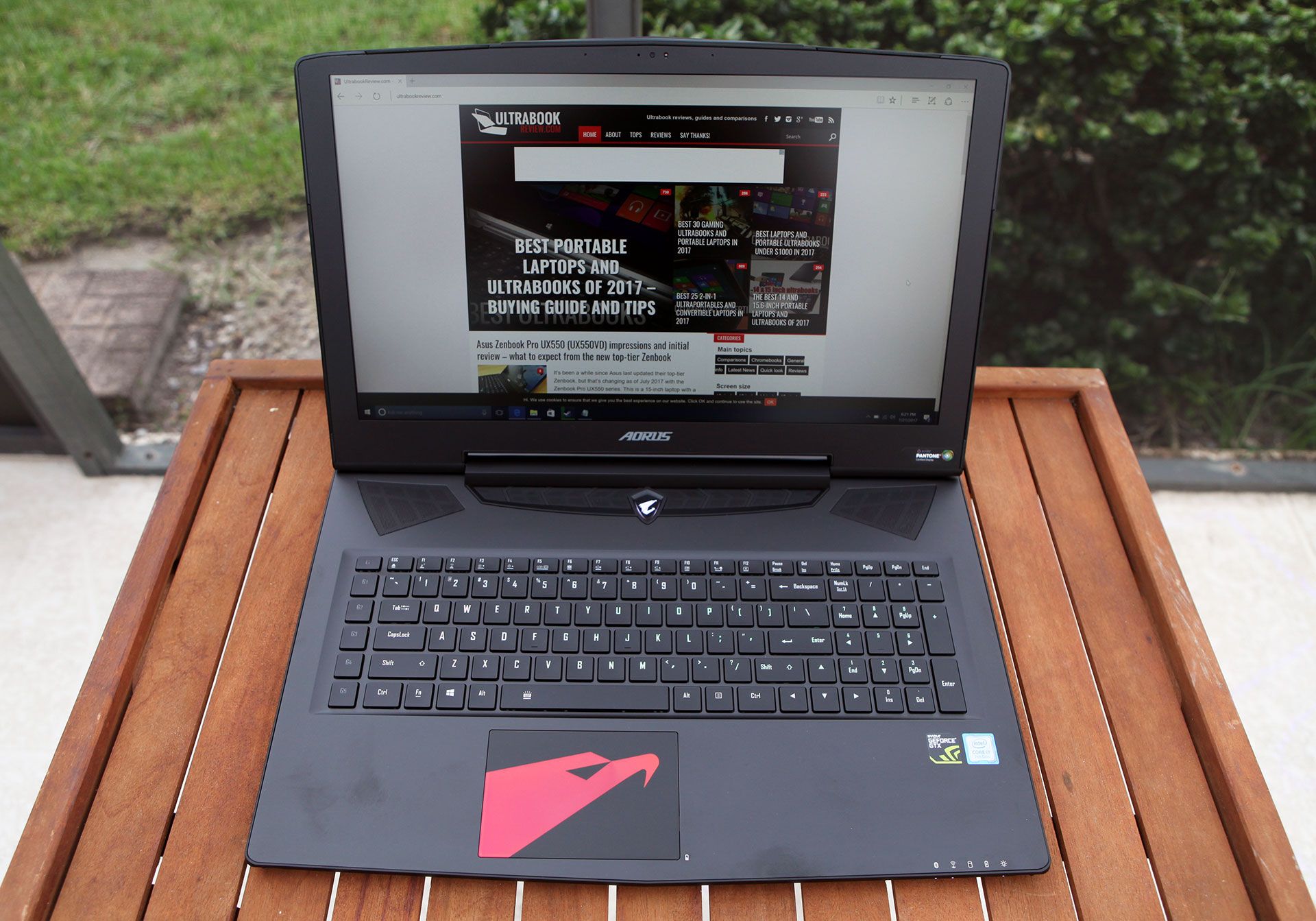 While the X7's subtly accented heat vents, unbelievably- thin 2.5cm chassis and wing-shaped speaker grill add up to an impressive spectacle, running your fingers over the materials used on this gaming laptop gives an even more visceral indication of the device's no-expense-spared approach. While the Aorus X7 DT v7 isn't technically an Nvidia Max-Q certified laptop, it still packs a top-end GeForce GTX 1080 GPU in a chassis that's incredibly thin.
The laptop's trackpad, emblazoned with the company's dragon-like falcon logo, is first rate. Add to this a full-size keyboard with per-key customisable RGB backlighting, good resistance and a generous travel distance (at least for such a slim device) and you've got inputs that are a cut above most others.
As impressive as these exterior elements are, they are overshadowed by unusually high-end components, including an Intel Core i7-7820HK CPU, 32GB of DDR4 RAM, a 1TB Hitachi mechanical hard drive and a ridiculously- speedy 256GB Samsung M.2 pCle SSD, which manages sequential read and write speeds of 3,252MB/s and 1,488MB/s, respectively. While that Core i7 CPU has a top clock speed that's 100MHz faster than the Core i7-7700HQ we're used to seeing in high-end gaming laptops, this doesn't really translate into a performance bump. Drill down into more specific CPU tasks, like CineBench's multi-threaded CPU rendering and HWBot's x265 1080p media-encoding tests, and you do see a 7.6% and 13.6% performance increase, respectively, over devices running the 7700HQ chip, like Gigabyte's Sabre Pro 15 — good for anyone doing multimedia-centric work, but for most day-to-day tasks the difference will be imperceptible.
Nvidia's GeForce GTX 1080 is the most powerful single-GPU available (for laptops), which means the X7 dT v7 has more than enough grunt to run the latest games faster than 60fps on ultra settings, but Aorus has added G-Sync and a QHD 1440p resolution to the 17.3-inch panel — demanding screen tech to challenge even the best graphics cards. The X7 DT v7 hits an average of 71.4fps on The Division using Ultra settings at a resolution of 1440p; that's fast enough to still get some value out of the faster refresh rate of the screen, but you will have to trade on the various quality parameters to find a balance that suits the style of game you're playing.
Dropping down one quality setting, resolution level or average framerate bracket is the closest thing to a concession you'll have to make with Aorus's X7 DT V7. Even the peak thermals of the unit's CPU and GPU aren't stretched further than 86°C — at least at stock speeds. All this demanding hardware does draw heavily on the 94.2Wh Li-Polymer battery. Unplugged, the X7 lasted a middling 1 hour and 47 minutes in the PCMark 8 Home Battery (Accelerated) benchmark, but given all that power combined with a 17-inch display, there really isn't much here to complain about. If you're OK with dropping on a gaming laptop, this one barely sets a foot wrong.
Joel Burgess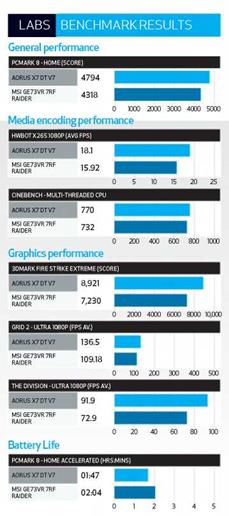 Verdict
Manages to pack all the best features of today's gaming laptops into one sleek-looking package.
4.5/5
See also THE COMPLETE GUIDE TO…OLED laptops