Asus ROG Strix X370-I Gaming – Pure engineering genius
BENCHMARKS
Asus ROG Strix X370-I Gaming
MSI X370 Gaming Pro Carbon
X265 (Avg fps)
28.3
27.98
Cine bench R15 Multi (Index)
1,635
1,622
Fry Render (Seconds)
152
158
AIDA64 Memory Latency (ns)
76
90
Power Draw Idle (Watts)
81
56
Power Draw Load (Watts)
168
147
CrystalDisk Sequential Read (MB/s)
551
549
CrystalDisk Sequential Write (MB/s)
530
523
Far Cry Primal (Avg fps)
42
42
3DMark: Fire Strike Extreme (Index)
| 9,600
9,647
Maximum OC Achieved (GHz)
3.9
4.0
Best scores are in bold. Our test bed consists of a Ryzen 7 1800X, 16GB (2x 8GB) of Corsair Dominator Platinum DDR4 3200, an Nvidia GeForce GTX 1080, and a 500GB Samsung 850 Evo SSD, Far Cry Primal tested on Ultra settings at 4K.
PROS:
Impressive design;
brilliant aesthetic;
acceptable price;
huge feature set;
strong
memory support.
CONS:
Power draw;
overclocking needs work.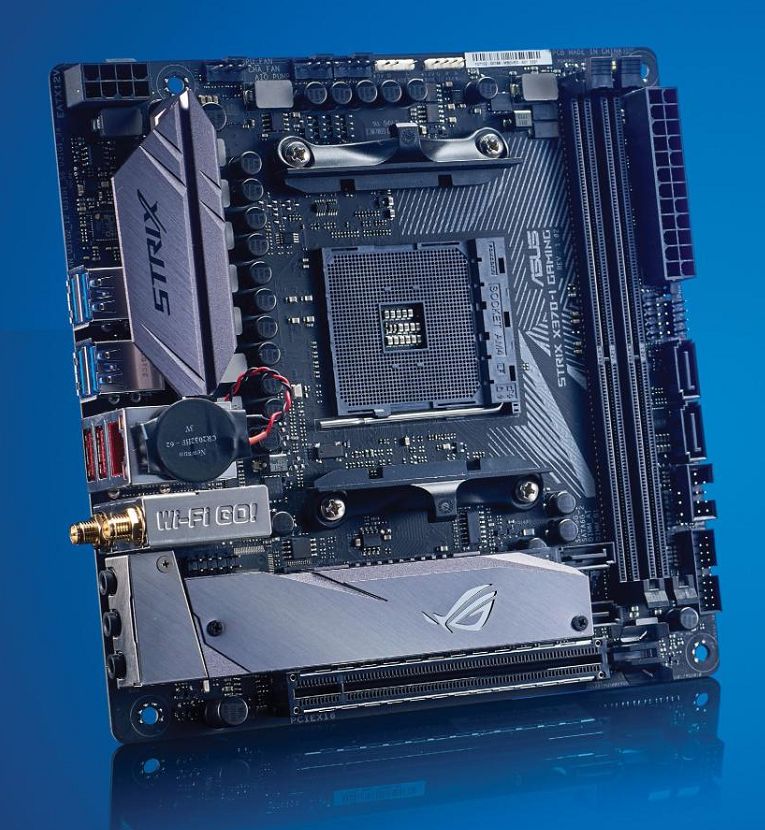 Remember when ryzen first launched? The gaudy little underdog pulled the rug out from under Intel's feet with its eight-core masterpieces. It was beautiful, although not exactly smooth. The chips may have been legendary, but the platform was not. Memory issues and motherboard instability caused a lot of problems early on, and the selection of high-end X370 offerings was slim at best.
One form factor that was missing was ITX. And with good reason: Ryzen's a hungry beast. Those eight cores need feeding with a lot of juice, which means most motherboards require a substantial VRM solution to balance out the horrendous level of power Ryzen draws from the wall. The issue, as is common with ITX, is a severe shortage of space. How do you accommodate such a power-hungry chip on a form factor that's already so limited? There have been workarounds, of course, typically from those manufacturers with big R&D budgets. But, most of the time, the ITX form factor is avoided for anything featuring more than four cores.
That's not to say ITX hasn't already been attempted with Ryzen; Gigabyte produced the AB350N Gaming WiFi, and ASRock gave us the X370-Gaming ITX. Both suffered from VRM throttling, however, especially when overclocking the eight-core parts.
Finally, though, we are witness to Asus's Ryzen ITX masterpiece: the ROG Strix X370-I. It's a true marvel of engineering. The huge bank of VRM situated alongside and above the AM4 socket provides a wealth of voltage balancing, without the need to include a large raised PCB, as seen in the company's ROG Impact Intel ITX series. Instead, Asus has shifted its focus away from re-positioning the VRMs to reworking the way it manages less integral motherboard components. In this case, it's the audio and M.2 storage. Yep, that LED heat-sink sitting just above the PCIe x16 slot is actually a raised chunk of separate PCB, which houses all the audio componentry, and supports the installation of a single M.2 PCIe SSD. It's also situated above a small heatsink that simultaneously cools the PCH chipset. This makes a lot of sense. Typically, to improve audio, motherboard manufacturers introduce a polyethylene separator between the audio componentry and the rest of the motherboard's PCB, to reduce interference from electrical signals on the board. The design seen in the ROG
Strix X370-I, where the PCB is entirely separate and raised, is more often found in prosumer-grade DACs, such as the Schiit Gungnir, than in an A-grade motherboard.
Now, we're not saying the audio is going to be that good (there's still an M.2 PCIe SSD on there, too), but it should equate to normal levels of audio quality, while freeing up space on the mainboard for that massive VRM solution.
So, on to performance. The X370-I is nothing short of a beast. We saw better scores here at stock than with any other X370 motherboard we've tested, which just goes to show how far the platform has matured in such a short time. Memory latency has plummeted as well. The only cause for concern we have is with power draw, because it topped our idle figures by 20 watts, and is the second highest motherboard we've tested under load.
But the biggy is overclocking, right? Well, it's a mixed bag here. We only managed a stable 3.9GHz on our Ryzen 7 1800X across all eight cores. 4GHz was just too far out of reach, alluding to the fact that even with all this motherboard magic, ITX still has issues holding higher clocks compared to its ATX rivals.
Asus's ROG Strix X370-I is, ultimately, an impressive entry point to the Ryzen ITX ecosystem. It does have its flaws, but it's easily the best ITX AM4 board you can buy right now, and for that we have to applaud Asus. -zak storey
SPECIFICATIONS
| | |
| --- | --- |
| Chipset/Socket | X370/AM4 |
| Form Factor | ITX |
| Memory Support | 32GB DDR4 @ 3,600MT/s |
| M.2/U.2 Support | 2x M.2 PCIe x4 |
| SATA Support | 4x SATA 6Gb/s |
| Max PCIe Support | 1x PCIe 3.0 x16 |
| Rear I/O | 1x Intel Gigabit Ethernet. 2x USB 3.1 Type A, 4x USB 3.0, three-channel audio, 1x Wi-Fi 802.11 a/b/g/n/ac |
Powered by AMD Ryzen AM4, 7th generation Athlon and HD 2000 series processors to maximize connectivity and speed with Dual M.2, USB 3.1 Gen 2, 802.11ac WiFi, and Gigabit LAN
5-Way Optimization with Auto-Tuning and FanXpert 4 automatically tailors overclocking profiles to your unique build for maximum OC performance and dynamic system cooling
Last update was on: 2021-10-28 9:01 pm
Powered by AMD Ryzen AM4, 7th generation Athlon and HD 2000 series processors to maximize connectivity and speed with Dual M.2, USB 3.1 Gen 2, 802.11ac WiFi, and Gigabit LAN
5-Way Optimization with Auto-Tuning and FanXpert 4 automatically tailors overclocking profiles to your unique build for maximum OC performance and dynamic system cooling
Unmatched Personalization with ASUS exclusive AURA Sync RGB lighting, RGB 4-Pin header and addressable RGB header
Patent-pending SafeSlot features an injection molding process that integrates metal framing for a stronger, firmly anchored PCIe slot built for heavyweight GPUs
Industry-leading 8-channel HD audio with dual headphone amplifiers, LED-Illuminated jacks, and ROG exclusive SupremeFX S1220A CODEC driven by Japanese capacitors