With Intel launching its most core-laden desktop processor ever in the form of the Core i9-13900K, it's not surprising to see some suitably high-end and extreme motherboards lining up as potential suitors. Once a brand that sat at the budget end of the ROG line-up, the new Hero won't leave you with much change from £ However, on paper at least, the Asus ROG Maximus Z790 Hero seems to be utterly droolworthy. Read our ASUS ROG Maximus Z790 Hero Review.

ATX Z79O MOTHERBOARD
ANTONY LEATHER
For starters, it looks fabulous, with a huge RGB display above the enormous heatsink sitting on top of the I/O panel. It's not too garish either, instead adding a premium feel to the board that looks classy. The rest of the PCB is covered in huge heatsinks, both for the 20+1 teamed power stages and three M.2 ports, with all of the latter cooling both sides of the SSDs you install. The M.2 ports in this area only support PCI-E 4 SSDs, which might seem like you're short-changed given the huge price tag.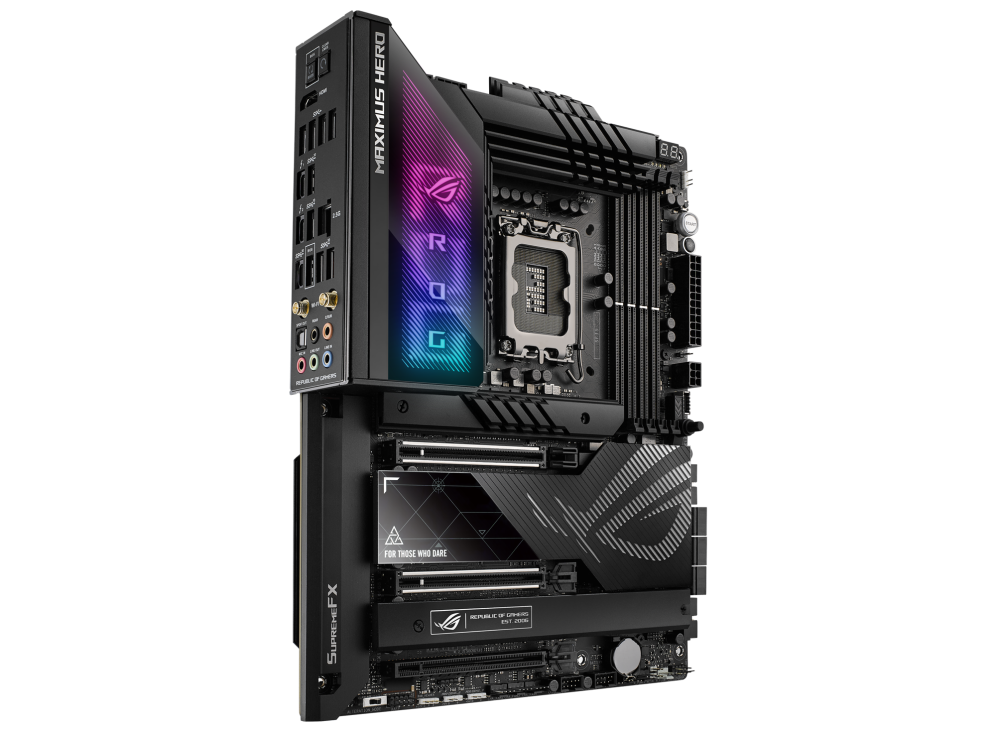 | | |
| --- | --- |
| Chipset | Intel Z790 |
| CPU socket | Intel LCA1700 |
| Memory support | 4 slots: max 128GB DDR5 (up to 7800MHz) |
| Expansion slots | Two 16x PCI-E 5, one 16x PCI-E 4 |
| Sound | 8-channel ROG SupremeFX ALC4082 |
| Networking | 1 x Realtek 2.5 Gigabit LAN, 802.11ax Wi-Fi |
| Cooling | Eight 4-pin fan headers, VRM heatsinks, M.2 heatsinks |
| Ports | 6 x SATA 6Gbps, 1 x M.2 PCI-E 5,4 x M.2 PCI-E 4, 5 x USB 3.2 Gen 2 Type-A, 4 x USB 3,2 x Thunderbolt 4,1 x USB 3.2 Gen 2 Type-C, 1 x USB 3.2 Gen 2×2 Type-C header, 3 x surround audio out |
| Dimensions (mm) | 305×244 |
However, Asus hasn't just included a large heatsink for a PCI-E 5 M.2 SSDs, but has also provided an entirely separate expansion card that offers a single PCI-E 5 port and one more PCI-E 4 M.2 connector. This is equipped with a massive heatsink, so if PCI-E 5 SSDs do end up being as hot-running as we suspect, this is the best cooling method we've seen so far, and it can be installed in either one of the two 16x PCI-E 5 slots on the board. This also means that you get a grand total of five M.2 ports on the Hero, in addition to six SATA 6Gbps ports.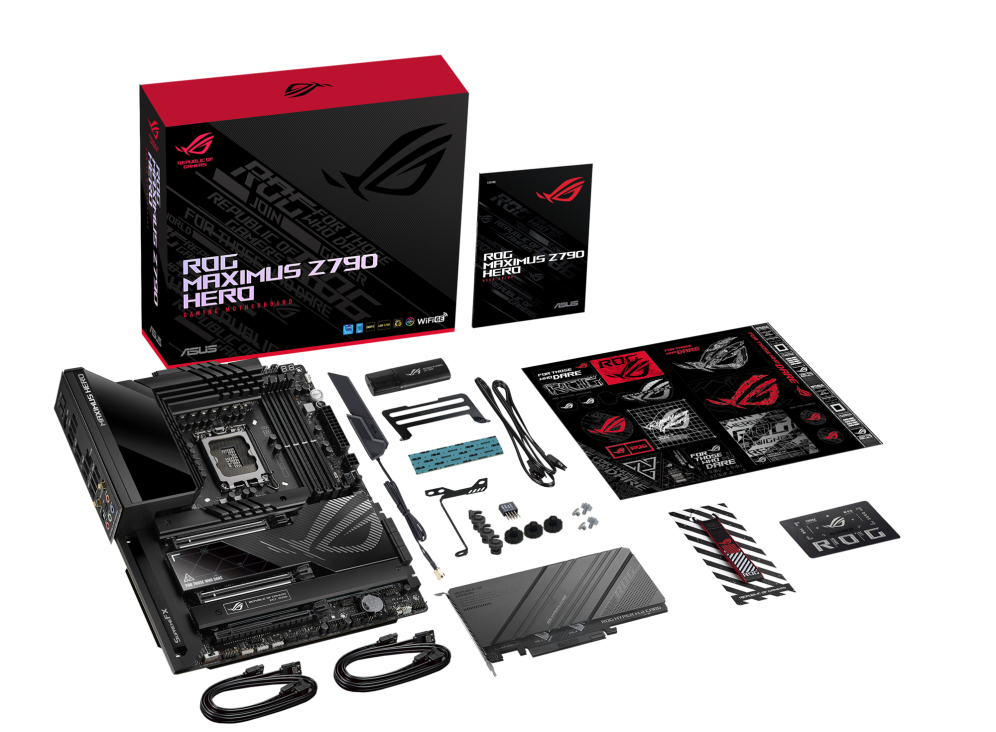 Connections are a big feature with the Z790 chipset, and Asus has gone all-out here, putting a pair of Thunderbolt 4 ports on the rear I/O panel, as well as a USB 3.2 Gen 2×2 Type-C header on the PCB. In addition to the latter dishing out speeds of up to 20Gbps, it also features Quick Charge 4+, which can output up to 60W of power for you to charge phones, tablets and laptops, as long as you hook up a 6-pin PCI-E connector into the slot next to it.
The usual 802.11ax Wi-Fi connection is here too, and with the addition of Wi-Fi 6E support as well – perhaps the only fly in the ointment is the lack of 10Gbps Ethernet, with just the usual 2.5 Gigabit Ethernet adaptor included. The audio system looks top-notch too – the Realtek ALC4082-based ROG SupremeFX audio setup offers an ES9218 Quad DAC, as well as a USB interface to offer up to 32-bit/384kHz audio.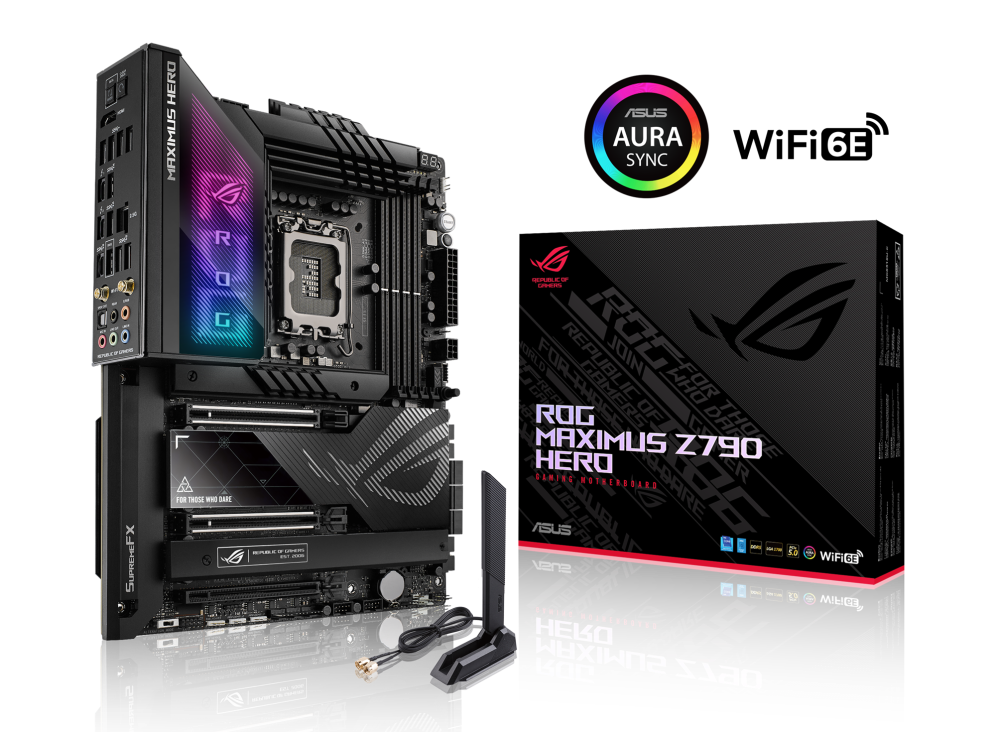 If you want to add a custom watercooling loop to your PC then there's practically every feature you need as well. There are water flow sensors, a thermal probe input for syncing your radiator fans with coolant temperature, as well as a 36W 4-pin header for water-cooling pumps too, which is more than enough power for DDC and D5 pumps. There are eight 4-pin fan headers in total, which are located on the very top and bottom end of the PCB for easy cable routing.
It's certainly a densely packed PCB, and in these situations, we'd usually be worried about releasing your graphics card without mangling your fingers, but the board is equipped with the same quick-release button we've seen on other premium boards, which is great.
The PCB also sports on-board power and reset buttons, an LED POST code display, support for USB BIOS FlashBack and a clear-CMOS button too. The rear I/O panel is fairly standard, with a generous tally of nine Type-A USB ports, all of which are USB 3 or faster, plus there's a USB 3.2 Gen 2 Type-C port in addition to the two Thunderbolt 4 ports, and an HDMI output if you plan on just using your CPU's integrated graphics.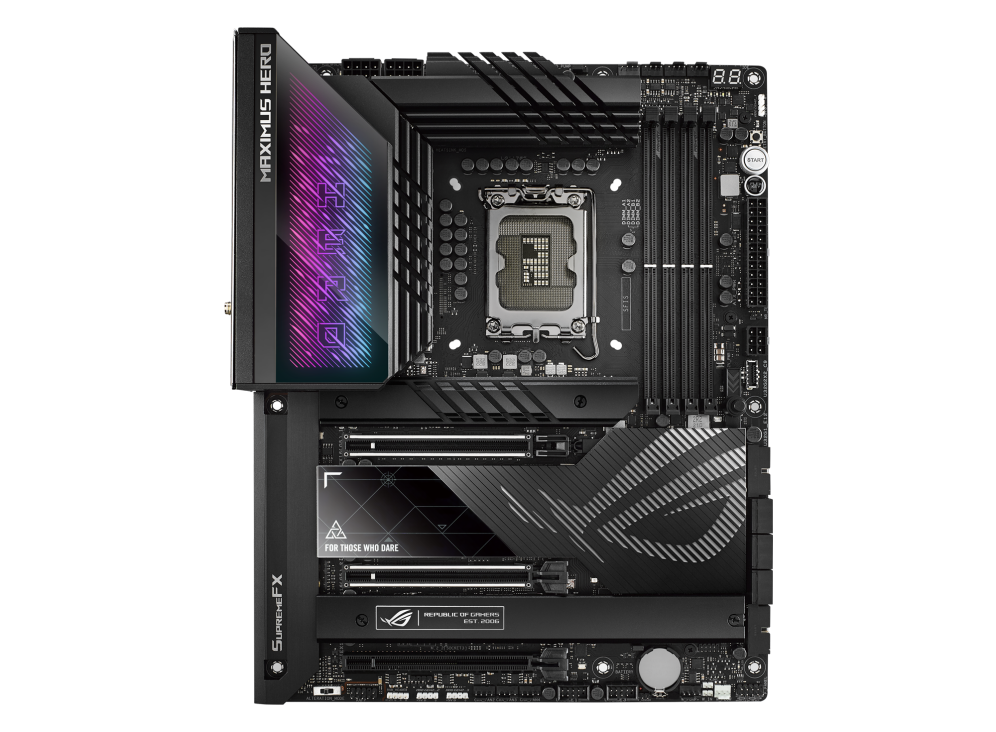 To get the audio system performing as it should, we had to download Realtek's audio console from the Microsoft store, which allowed the already installed Asus software to fire up and provide some extra tweaking. This procedure finally returned the results we were looking for in RightMark's Audio Analyzer software, with a noise level of -113.7dBA and dynamic range of 111,7dBA, along with a super-low THD of 0.002 per cent, which are some the best results we've seen from on-board audio.
For testing M.2 temperatures, we used the large heatsink at the base of the PCB and here our toasty WD SN850 SSD hit a peak of 62'C, which was a good 15°C or so away from throttling, so there's no need to use the expansion card's massive heatsink for PCI-E 4 SSDs if you're worried about overheating.
There's no fan on the VRM heatsinks but the Hero's peak software-reported temperature of 51°C was excellent considering it was dealing with our Core i9-13900K. We used a vcore of 1.4V to overclock our CPU to 5.7GHz too, although this was 100MHz short of the single-core stock speed peak boost frequency.
Not surprisingly, this added performance in most places and actually saw the peak power draw fall a little, thanks to a voltage lower than stock speed being used. One problem, however, was that we had issues hitting 6400MHz on our DDR5 memory, and we had to run our memory at 6000MHz instead, but this hasn't been an isolated incident.
It's a shame such a fantastic motherboard will also leave such an impressive dent in your wallet, because if we could take our pick of a Z790 motherboard, so far, the Asus ROG Maximus Z790 Hero would be it.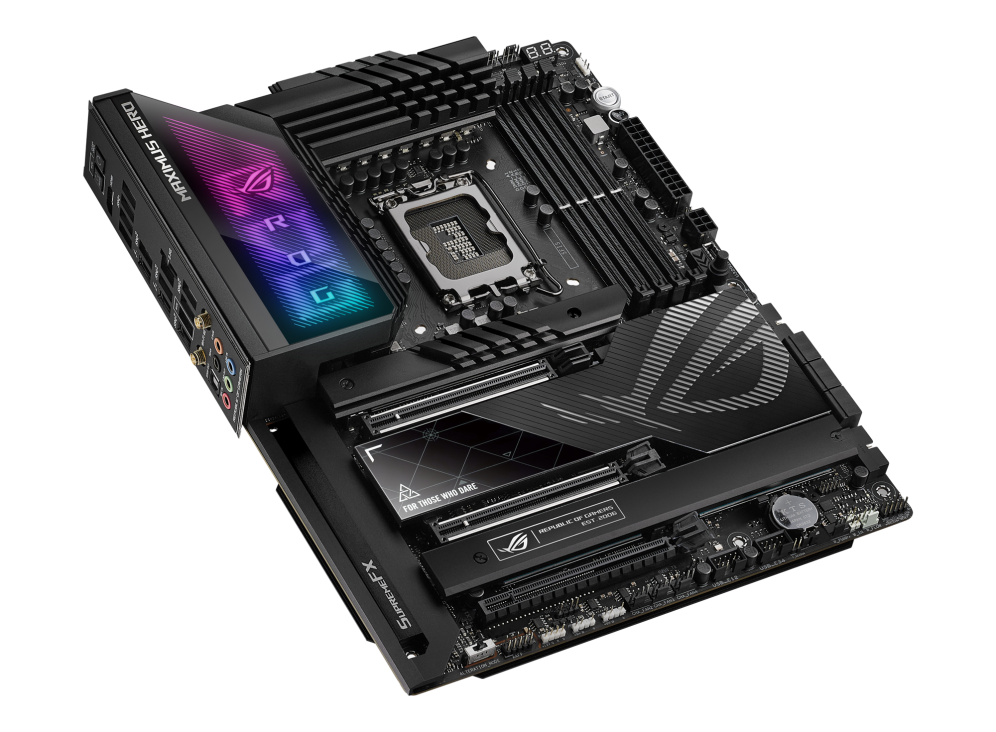 You get Thunderbolt 4 support, and a high-power Type-C header for your case that can even charge the latest laptops, as well as smartphones and tablets. Plus, you also get loads of water-cooling and testing features, an excellent EFI and plenty of rear USB ports.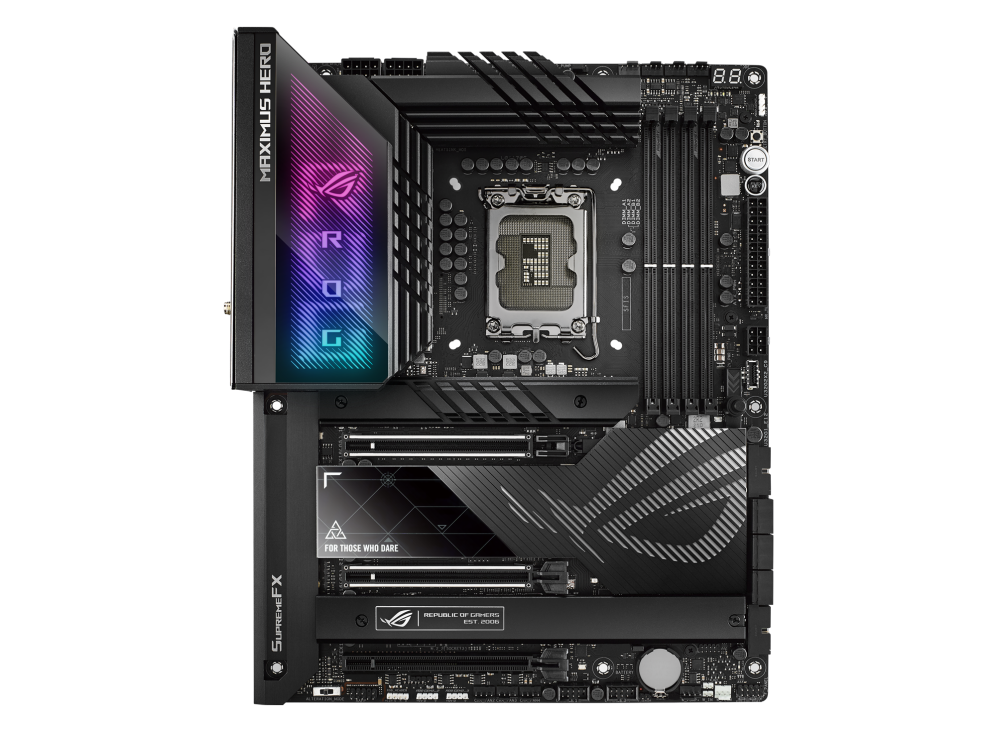 The VRMs and M.2 SSDs are kept cool, and the expansion card will certainly offer a comfortable home for a future PCI-E 5 SSD too. If you have deep pockets and want a droolworthy home for your shiny new Core i9-13900K CPU, or even a Core I9-13900KS if and when it arrives, the ROG Maximus Z790 Hero is a hugely expensive but excellent choice.

Editor choice
ASUS ROG Maximus Z790 Hero Review
Hideously expensive, but it's so great we can't help but want one.
PROS
Gorgeous looks
Amazing feature set
Excellent software and EFI
CONS
Expensive
Teething issues with 6400MHz memory
Did we already mention it's expensive?
Add your review
Best ASUS ROG Maximus Z790 Hero prices ?

Buffed and ready with more power robust cooling and flexible I/O to scale up your rig at will. The ROG Maximus Z790 Hero puts it all at your disposal together with an arsenal of features and utilities to truly express the PC builder overclocker and gaming hero in you. PERFORMANCE Utilize the...


$

799.00
2 new from $629.99
in stock


£

773.12
1 new from £773.12
in stock

MORE DEALS