Tough-looking shroud that provides excellent cooling
X Marks the Spot
Simple yet intuitive overclocking controls
With the introduction of Intel's latest 8th Generation processor, a swathe of new chipsets has also rolled out.
Those getting Intel's flagship 8700K or 8600K entries will certainly want a motherboard that can unlock the CPU's full potential.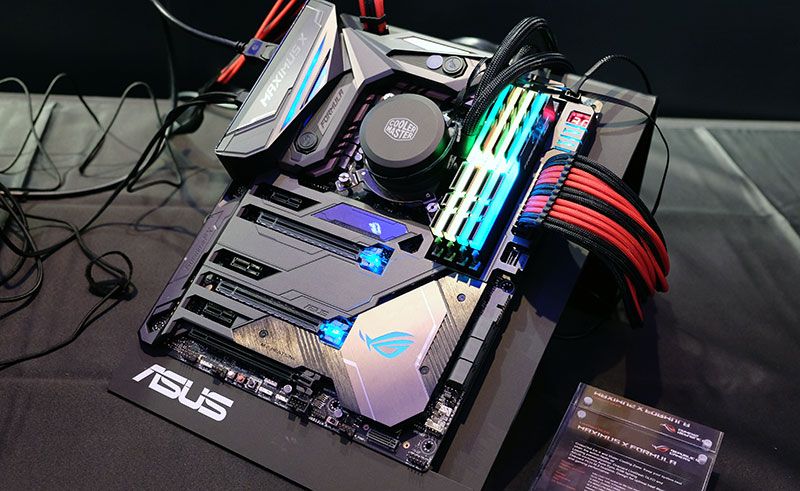 ASUS, specifically its Republic of Gamers (ROG) arm, addresses this challenge with its brand-new ASUS ROG MAXIMUS X Formula motherboard.
Indeed, the long-time gamer hardware brand stepped up to the plate with what it knows best – bringing out the big guns. Upon opening this heavily padded package, the ASUS ROG MAXIMUS X Formula presents itself in a protective foam nest.
Below the top- layer is another compartment that stores all the accessories, like the user manual and basic cables. There is even a funky looking trapezoid-like Wifi antenna.
Max Cooling
Once out of the box, the all-black ASUS ROG MAXIMUS X Formula has a certain heft to it. This is due to its entire chassis being covered in an armour-like design.
It's like a homage to the ASUS TUF Sabretooth entry. Bonus move from ASUS: the I/O shield at the back is already incorporated onto the motherboard, reducing installation injuries. Additionally, ASUS took the cooling aspect a step further.
It's a known fact that overclocking takes a toll on all the electronics present.
To address this issue, this next-gen system now sports threaded holes along specific electronics allow water cooling loops to route around them.
ASUS also makes sure this system can breathe by throwing in six fan headers. Interestingly, one of them is designed for All-in-One coolers.
More than Words
What's better than having two numbered- type LED displays showing the ASUS Q-Codes? Well how about a dedicated OLED panel that does the same thing and more? Well, ASUS managed to install an OLED screen and make it blend nicely with the overall design.
Besides showing Q-Codes during boot up, it will also reveal information for the meaning of each Q-Code!
Once clearing the boot-up sequence, the OLED will show real-time temperature readouts. This default mode can be changed to show customised text or images. Even cooler – ASUS has included two RGB 5050 LED headers too. The LED add-ons supplement the various RGB elements that this ASUS ROG entrant rocks. All of them, of course, can be configured via the ASUS Aura Sync.
Packing loads of I/O ports
Ready for liquid cooling add-ons
Odd looking Wi-Fi extension
Formulated Design
The ASUS ROG MAXIMUS X Formula has four dual-channel DDR4 RAM banks, maxing out at 64GB. It accepts up to 4133Mhz of non-ECC memory, although overclocking is necessary for that performance level. In terms of storage, there are six SATA 3.0 headers. Two M.2 connectors are also thrown in, with one hidden under the shroud and the other placed right next to it. As with the Intel 7th Generation chipset, this motherboard also supports Optane memory.
It also sports three x16 and three x1 PCIe slots; all provide support for two- way NVIDIA SLI (x8+x8) or three-way AMD CrossFireX (x8+x4+x4). Another thing that gamers will appreciate is the onboard Wi-Fi adapter. It comes with its own rear antenna and can even work with third-party high-gain options.
BIOS Show
While the ASUS ROG MAXIMUS X Formula does have the looks, what's more important for enthusiasts is how the motherboard can deal with overclocking.
After a couple of threshold pushes, I'm happy to report that ASUS has a lot of ramp-up options that are enabled via the BIOS.
The overclocking menu is extensive and intuitive, featuring descriptions for each option that uses can engage. More surprising, the default setting for the BIOS is on Advanced Mode and immediately calls up the overclocking menu. It's in here that users can set the processor speed to their liking.
There are also options to change the RAM speed along with its frequency and voltages too. Essentially, all the bells and whistles are in the BIOS for all to engage.
The Winning Formula?
The ASUS ROG MAXIMUS X Formula has proven itself to be a very decent motherboard for enthusiasts. The inclusion of the customisable status OLED panel alone is worth getting this powered-up entry since it makes EVERYTHING easier.
Performance is great, and as a gaming motherboard, it does the job perfectly. The cooling shroud provides decent chill-down capabilities too, on top of looking deliciously awesome. It does tend to get in the way of large coolers, so better make the size of those custom chillers fitting at first.
All in all, those looking to jump unto the Intel Coffee Lake bus can keep the ASUS ROG MAXIMUS X Formula on the short-list. This is especially for the ones who are eyeing the flagship range processors, ensuring that there will be no bottlenecks.
VERDICT:
ASUS ROG MAXIMUS X Formula Review
"It's a pity that you can't get this flagship officially in Malaysia. " - Din
Add your review
Best ASUS ROG MAXIMUS X Formula prices ?
MORE DEALS