The Asus GX700 was the world's first liquid-cooled laptop.This is the world's second and costs twice as much. Is it worth it?
This beast is the laptop equivalent of the LaFerrari. And keeping in mind the terms and conditions associated with buying one, in this case too, you don't choose Asus, Asus chooses you (insert dramatic music). Yup, having the cash isn't enough, there are just five units available to buy in the country with one of them already pre-booked. And unless you're the PM or have similar connections, you're probably not going to be able to get your worthless mortal paws on one.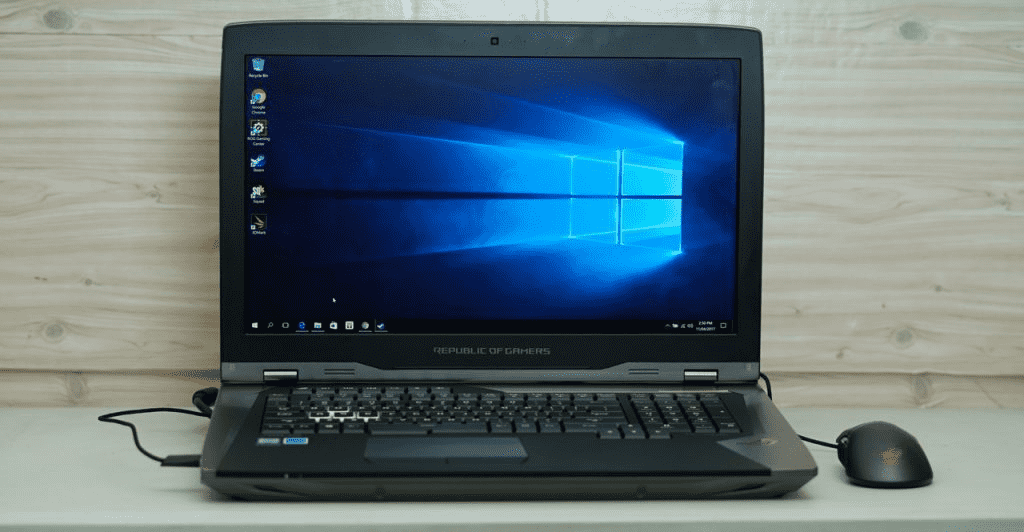 Its exclusivity is engendered by its engineering, and what a job Asus has done of that. There's two Nvidia GTX 1080s, 64GB RAM, 4K IPS display, MechTag keyboard, the stunning Armor Titanium and Plasma Copper color scheme, the latest from the Intel stable and the big deal, the liquid-cooling module that cools the two cards as well as the CPU and allows overclocking of both. Boom.
1 Living out of the suitcase
The suitcase is back, but this time it houses only the overclocking module. The laptop comes in a backpack that's pretty topnotch. The backpack can carry both, the module and the laptop, but you'll surely break your back.
2 Still pretty tight
While we were never found of that 15kg+ weight, we always loved the design. The silver and orangey copper looks absolutely amazing and stands out from the regular black and red fascia other gaming laptops are clad in.
3 The 4K masseuse
The 4K display on the GX800 is easily the best we've laid our eyes on. The contrast and colour are outstanding here. It does a great job of providing detail in the darker areas of a game, where usually other displays struggle with.
4 Cool Kabby
The Intel Core i7 7820HQ is the crème de la crème of processors and can be overclocked to 4,4GHz. That means no lag, no stutter and a performance no other laptop can trump. It is blazing fast, as it should be.
5 Card games
With two Nvidia GTX1080 in SLI that can be overclocked, you get scores of over 10,200 in the 3D Mark FireStrike Ultra benchmark. Games like GTA V, Resident Evil 7, Tomb Raider and many more stayed above 85fps at Ultrasettings in 4K.
24 hours with the GX800
That suitcase! OMG, is that what we think it is! OMG it is. Let's unpack!
Wait, the suitcase just has the cooling dock. Laptop comes in a bag?
Agh, back's already hurting. We're tired just getting it out of the bags.
It boots up in a second. That's thanks to RAID 0 SSDs and 7820 processer.
Oh, you have to look at that display to believe it. 4K never looked so great.
Oops, battery is melting quicker than butter on a hot plate. Plug it in.
Loading up games and benchmark software couldn't be faster.  Overclocking module connects the same way and is doing its job well.
It plays GTA V at 85fps on Ultra settings in 4K resolutions.
Guys! Running three heavy games all at once. No sign of lag or stutter. Umm…
What? It costs ₨8 lacs and there's just five in India! Comon, seriously.
So, you won't be able to buy one and even if you manage to, you'd be paying a hefty price for it. If you have that kind of money to throw on this beast, by all means, indulge.
Color: Black
Standard: UK Standard
Last update was on: 2023-08-05 8:13 pm
Color: Black
Standard: UK Standard
You want it back, Asus? No way. Over our dead bodies. It's ours now.
For the rest of us mortals, we'd stick to building a PC with similar specs, for you know, budget reasons…
Verdict Rating 4/5
Yes, it is the world's fastest and the best, but the price and its exclusivity makes us cry
It's an all out assault from Asus, this GX800. We can't seem to fault it…
Tech specs
Processor Intel Core i7 7820HK
Processor GPU NVIDIA GeForce GTX 1080 SLI 16GB
Display 18.4in 4K
Storage 1.5TB PCIE Gen3X4 SSD (RAID0)
Battery 8 Cells 74 Whrs
Weight 5.7 laptop, 4.7kg dock
Asus GX800 Review
Yes, it is the world's fastest and the best, but the price and its exclusivity makes us cry It's an all out assault from Asus, this GX800. We can't seem to fault it...
Add your review
|
Read reviews and comments
The right temps and more...
The degree war
Without the docking unit, the GPUs hover around the 80-degree mark and CPU was a close 75. Dock it and at default settings, it brings the temps down to 68 for the CPU and 54 for the GPU. Impressive.
Fantastic 4
The audio on the GX700 was a bit underwhelming.
That's not the case here. It has improved so much, we think the GX800 is the best-sounding laptop we've ever heard. Lots of detail and impressive bass.
Mecha-no?
Yes! The keyboard is another improvement.
Gone is that standard keyboard and in is the new MechTag babe. It gives you the feel of a mechanical keyboard and is pretty great to use.
Going soft?
The GX800 is loaded with a suit of apps. The biggest inclusion here is in the main Gaming Center that can now be controlled via an app on your phone! The app allows full control of your system. Pretty hard-core.