ASUS ROG Strix GL503VS-DH74 Scar Edition Review – From zero (point) to hero
If the numbers on the Asus ROG Strix GL503VS-DH74 Scar Edition took familiar, that's because they should. This is the newer version of the GL502VS-DS71, the system we use for our laptop zero-point. It's largely the same build, but with a few tweaks and upgrades. Unfortunately, it's also a tad more expensive.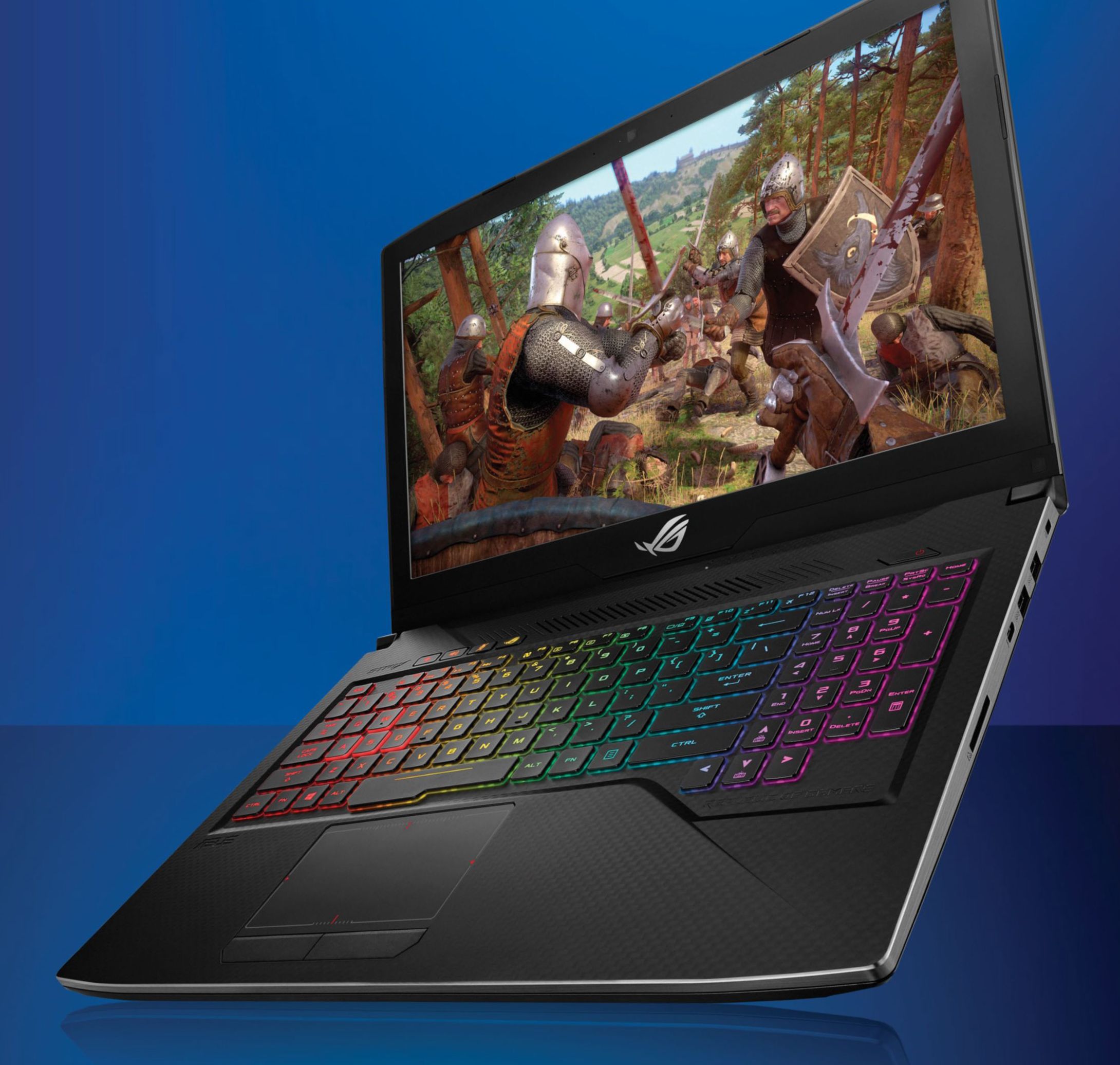 To start with, the GL503VS is a 15.6- inch laptop with nearly identical internals to its older brother. Intel's Coffee Lake CPUs haven't made it to laptops just yet, so the GL503VS still sports a Core i7- 7700HQ clocked at 2.81GHz. Cinebench scores reflect this, with the GL503 topping the zero-point in the single-core test, but barely lagging behind when all the cores are engaged. This is a trend we'll see across most of the Scar Edition's scores—similar or slightly worse performance to the zero- point (we'll get into gaming scores later), though in our opinion for good reason.
The most logical reason for the slightly worse scores is due to the GL503's smaller frame. Our zero-point measures in at 1.2 inches thick, whereas the updated system is 25 percent thinner, at just 0.9 inches. The size and weight difference is noticeable, and makes slipping it into a casual backpack much easier. If the cost is ever so slightly worse thermals, and thus just a point or two difference in benchmarks, that's a trade we'll take.
Other upgrades can be found in the screen and storage solution. For the former, the 1080p G-Sync panel moves from 120 to 144Hz—a nice little bump. As for the latter, the primary SSD upgrades from a 128GB SSD to a much snappier 256GB NVMe solution. This is paired with a 1TB FireCuda SSHD that performs well for media and larger game installs.
On the gaming front, the GL503VS packs an Nvidia GeForce GTX 1070 (again, same as the zero-point), and logically offers near identical—though very slightly worse (again, likely due to the reduced chassis size)—gaming performance. Rise of the Tomb Raider fell from 99 to 91 fps across the three-part benchmark, for example, but Total War: Warhammer II and Ghost Recon: Wildlands both only lost a single frame off the zero-point score, at 60fps and 48fps, respectively.
These are all respectable scores, considering we run our tests on the highest available graphics preset, and Ghost Recon is especially demanding. But where the GL503VS really shines is in slightly less demanding shooters, such as Overwatch. The high refresh rate screen (and G-Sync) is perfect for fast-paced twitchy shooters, and gameplay remained smooth with 100- plus frame rates.
This makes sense, as Asus markets the GL503VS Scar Edition as "optimized to gain a competitive edge in FPS titles." To that end, the keyboard does feel good and responsive, and comes with N-key rollover. We did have a gripe with the touchpad, though—it sometimes failed to recognize two-finger scrolling around the edge. A bit annoying, but a non-issue for gaming, as you'll (hopefully) use an external mouse.
All in all, the GL503 is a nice upgrade over the GL502, despite the slightly lower benchmarks—especially if you appreciate the added portability. The question is whether it's worth the extra money. If it were just the screen and chassis that improved, it'd be a hard sell, but combined with the additional SSD size and performance, it's worth it. -bo moore
Asus ROG Strix GL503VS-DH74 Scar Edition
+ BATTLE SCARS Great screen features; slimmer than most; nice SSD.
– TRENCH FOOT Iffy touchpad; same performance can be had for cheaper.
SPECIFICATIONS

Processor
Intel Core i7-7700HQ @ 2.8GHz
Graphics
Nvidia GeForce GTX 1070 8GB
RAM
16GB DDR6-2600
Screen
15.6-inch 1080p 166 Hz IPS-like with G-Sync
Primary Storage
256GB PCIe NVMe SSD
Secondary Storage
1TB FireCuda SSHD
Keyboard
Aura RGB lighting, 1.8mm key travel. N-key rollover
Battery
Four-cell 66WHr
PSU
180W power brick
Total Weight
5.6lb
BENCHMARKS
| | | |
| --- | --- | --- |
| Cinebench R15 Multi (Index) | 743 | 739 (-1%) |
| Cinebench R15 Single (Index) | 155 | 160 (3%) |
| CrystalDisk QD32 Sequential Read (MB/s) | 563 | 3.275 (682%) |
| CrystalDisk QD32 Sequential Write (MB/s) | 133 | 1.152 (766%) |
| PCMark 10 Express (Index) | 3.852 | 6.228 (10%) |
| 3DMark: Fire Strike (Index) | 68 | 68 (0%) |
| Rise of the Tomb Raider (fps) | 13.202 | 13.351 (1%) |
| Total War: Warhammer II (fps) | 99 | 91 (-8%) |
| Tom Clancy's Ghost Recon: Wildlands (Avg fps) | 62 | 60 (-3%) |
Our laptop zero-point is the Asus GL502VS-DS71, with an Intel Core i7-7700HQ. 8GB GTX 1070, and 16GB of DDR6-2600. All game tests are performed at 1080p at the highest graphical profile.
The GL503VS Scar improves on our zero- point with a great screen and slimmer waist.