Fancy a laptop with a touchscreen that you can fold around and use like a tablet? You could choose Asus' ZenBook Flip S. Alternatively, here's one from the same company for less than a quarter of the price. Read our Asus Chromebook Flip C101PA Review.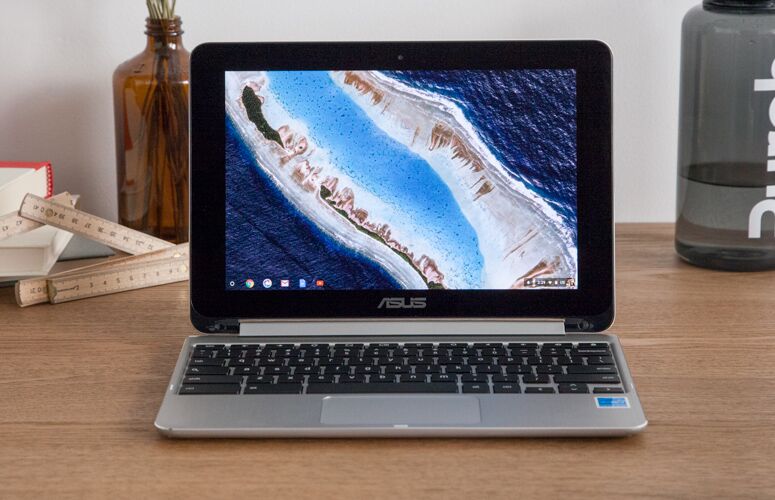 Of course, the only way to make a computer for this money is to go back to basics, have a look at the menu outside basics, check your wallet, then go to the kiosk behind basics and order their cheapest option.
So, for a start, this is a Chromebook, meaning that instead of Windows 10 it just runs a glorified web browser. There are some Chrome apps you can install, and many Android apps will run, but with only 16GB of storage you won't have room for much. The idea is that you keep your work 'in the cloud' (that is, online), starting with 100GB of Google Drive space, which is free for the first two years. You can add a microSD card, though, if you need more space on board.
Finished in brushed aluminium and plastic, the Flip doesn't look as cheap as it is. The small size and light weight make it highly portable, but the keyboard is squeezed in, making accurate typing tricky. The 10.1in screen isn't very bright or colourful and feels cramped for work, with coarse resolution that can make text hard to read unless you zoom in.
The screen needs a firmer touch than a phone or tablet, but works fine once you get used to that, and the trackpad is responsive in laptop mode. Fast Wi-Fi is built in, and there's a standard USB 2.0 port as well as two USB Type-C ports which also serve for charging and output to a monitor or TV.
As a glorified web browser or second portable PC, it has much going for it
The absence of Windows means you can't compare the Chromebook Flip to a proper PC. It's more like an Android tablet, but less appealing for gamers. As a secondary machine, it could make sense. Your choice of serious software is very limited, but you can use the free online versions of Microsoft Office or the full Office 365 for Chrome, with the usual subscription. With a basic webcam and all the usual social- media platforms available, you can keep in touch too.
VERDICT
Best price
Asus Chromebook Flip C101PA Review
This is a laptop that consists entirely of compromises. But it's light, flexible, cheap, and for basic jobs it works fine
Add your review
Best Asus Chromebook Flip C101PA prices ?
$

109.00
1 new from $109.00
in stock


$

120.00
1 new from $120.00
in stock


$

124.00
1 new from $124.00
in stock

MORE DEALS

See also THE COMPLETE GUIDE TO…OLED laptops
ALTERNATIVE
If you don't need touch, this has a faster Celeron N3160 processor, Full HD screen and 32GB storage
SPECIFICATIONS
1.6GHz Rockchip OP1 processor • 4GB memory • 16GB flash storage • 10.1in • 1280×800-pixel screen • Webcam • MicroSD card slot • USB 2.0 port • 2x USB Type-C ports • 802.11ac Wi-Fi • Chrome OS • 15.6x263x182mm (HxWxD) • 0.9kg