Can this 17-incher's sleek design still carry the weight of the most demanding triple-A games?
17-INCH GAMING LAPTOP
The Aorus range is already the moniker Gigabyte attaches to its most elite gaming laptops, so this top-of-the- rangeX9reallyisthebest of the best when it comes to no-compromise portable gaming.
The 2018 Aorus X9 might not look markedly different from its 2017 predecessor, there's been a pretty considerable change to the GPU architecture.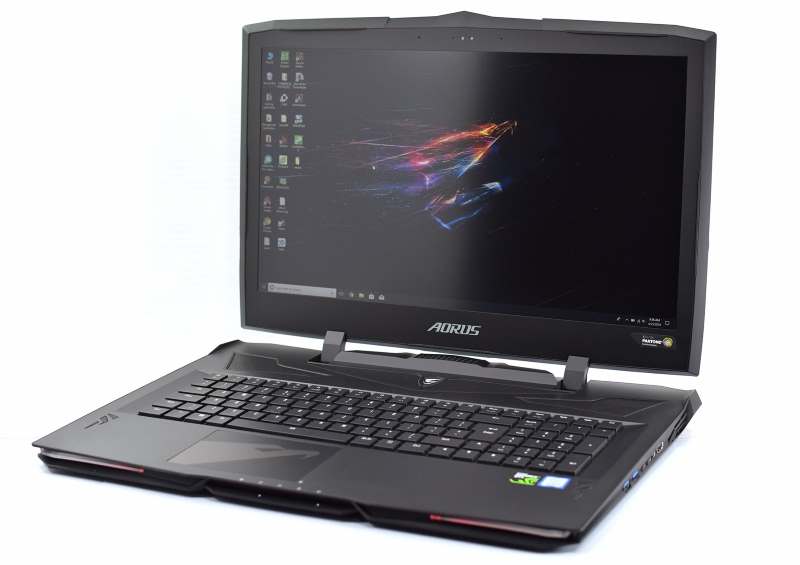 The new X9 swaps out the 2017 model's dual GeForce GTX 1070 configuration for a single GTX 1080, which is a concession in raw compute power, but allows the device to sidestep some well- established limitations with SLI GPUs.
While the black aluminium exterior, full mechanical Brown-switch keyboard and the unique falcon vent design give the impression that this is a luxurious gaming laptop of the highest order, we were still pleasantly surprised by the consistency of its top-shelf components.
This laptop boasts the first Intel Core i9 CPU for laptops, which not only bumps the upper clock-speed bracket to around 4.8GHz (a 0.9GHz boost on last year's i7- 7820HK), but also squeezes an additional two cores into the CPU array, for a total of six.
When we say that max speed is"around"4.8GHz, that's because its Core i9 CPU only gets that fast when overclocked — and Intel actually fully allows that, with the chip unlocked to make it easier.
The exact top speed you'll be able to achieve will vary — if you're lucky, you'll get a CPU you can push a little further, but our test X9 was already spiking to 92°C at around 4.6GHz, so there wasn't much room to go further.
This isn't really a problem, though, since the X9 still has the most powerful laptop CPU we've seen, breezing past the 2018 Gigabyte Aero 15's Core i7-8750H, with scores about 23% higher on Cinebench R15's multi-threaded CPU benchmarks.
Backing this powerful CPU up is the GeForce GTX 1080 GPU alongside an obscenely generous 32GB of RAM.
Combined, those components allow the X9 to run every game we tested at above 60fps when using Ultrasettingsat1080p, and evendemandingtitleslike Far Cry Primal pushed out more than 100fps.
All this grunt underpins a 17.3-inch IPS display that has a maximum resolution of 1080p.
On a pixel count, that's arguably a compromise compared to last year's 1440p, 120Hz TN display, but this new one runs at 144Hz and adds G-Sync to the equation, soon balance, it's actually a better fit for gaming on a laptop.
One component we were surprised to see was a 1TB, third-gen NVMe SSD, which clocked more than 2,200MB/s for sequential read speeds and over 1,000MB/s for writes in our CrystalDiskMark6 test.
While the write speeds aren't the fastest we've seen from an SSD, they're still twice as fast as any SATA 6Gbps- connected SSD, and you get an entire terabyte of space.
This is also a physically sleek machine and slipping in a full mechanical keyboard, quad-fan cooling system and a GTX 1080 GPU into a sub-3cm chassis is an impressive feat, and one which Aorus is the first to manage.
You're undoubtedly paying a premium for this design, but for comparison, the only other device we've seen with these GPU and CPU components (MSI's GT75 Pro, opposite) is 1kg heavier, close to double the thickness, requires two power bricks and has a smaller SSD…
We know which one we'd choose.
Joel Burgess
Verdict
Best Aorus X9 DT prices ?
$

131.98
1 new from $131.98
in stock


$

354.41
1 new from $354.41
in stock


$

802.16
1 new from $802.16
in stock

MORE DEALS

See also THE COMPLETE GUIDE TO…OLED laptops