If your hopes of owning a Ryzen 7000 system were dashed due to recent motherboard pricing leaks, the fact that some X670E-chipset models won't cost you more than £ probably comes as moderately good news. The ASRock X670E PG Lightning still costs more than we'd have paid for a premium offering a few years ago, and even the £ pricing was still very approximate when we wrote this review. The big question, though, is whether you lose anything major by opting for a cheaper board such as this one. Read our ASROCK X670E PG LIGHTNING Review.

X670E MOTHERBOARD
ANTONY LEATHER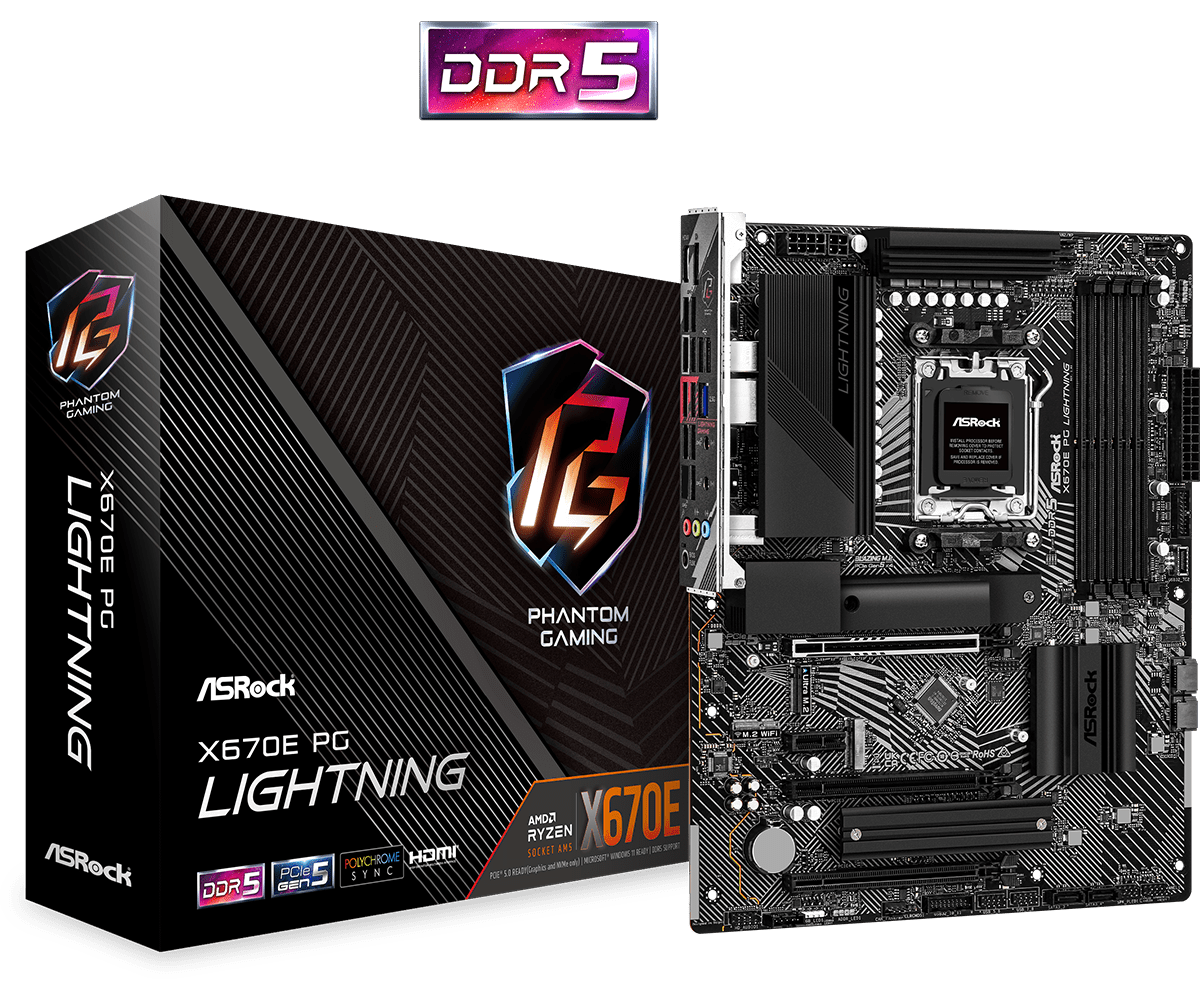 The heatsinks for the 14+2+1 phase power delivery are fairly beefy, but the one above the rear I/O panel fails to extend all the way to the integrated I/O shroud, meaning there's a bunch of unsightly shiny silver ports visible next to the black heatsink. The rest of the board looks very smart, though, with an attractive black and white patterned PCB, and black heatsinks. Thankfully, our IR probe revealed temperatures no higher than 57″C, so we're confident this board has what it takes to handle AMD's latest 16-core CPU.
| | |
| --- | --- |
| Chipset | AMD X670E |
| CPU socket | AMD Socket AM5 |
| Memory support | 4 slots: max 128GB DDR5 (up to 6600MHz) |
| Expansion slots | One 16x PCI-E 5, two 16x PCI-E 4, one 1xPCI-E 4 |
| Sound | Realtek ALC897 |
| Networking | Realtek 2.5Gbps LAN |
| Cooling | Six 4-pin fan headers, VRM heatsinks, M.2 heatsinks |
| Ports | 4 x SATA 6Gbps, 1 x M.2 PCI-E 5, 2 x M.2 PCI-E 4,1 x M.2 PCI-E 3,1 x USB 3.2 Gen 2 2×2 Type-C, 1 x USB 3.2 Gen2 Type-A, 6 x USB 3 Type-A, 4 x USB 2,1 x USB 3.2 Gen 2×2 Type-C header, 1 x audio out, 1 x mic,1x line-in |
| Dimensions (mm) | 305×244 |
Sitting near the bottom of ASRock's Socket AMS motherboard stack, the ASRock X670E PG Lightning has shed a few features to get there, such as only sporting Realtek's ALC897 audio codec and a trio of audio outputs excluding an optical output, plus there's no Wi-Fi included either. There is 2.5Gbps Ethernet, though, and amazingly, ASRock has managed to shoehorn four M.2 ports into the equation, two of which have heatsinks, and the top M.2 port even offers PCI-E 5 support too.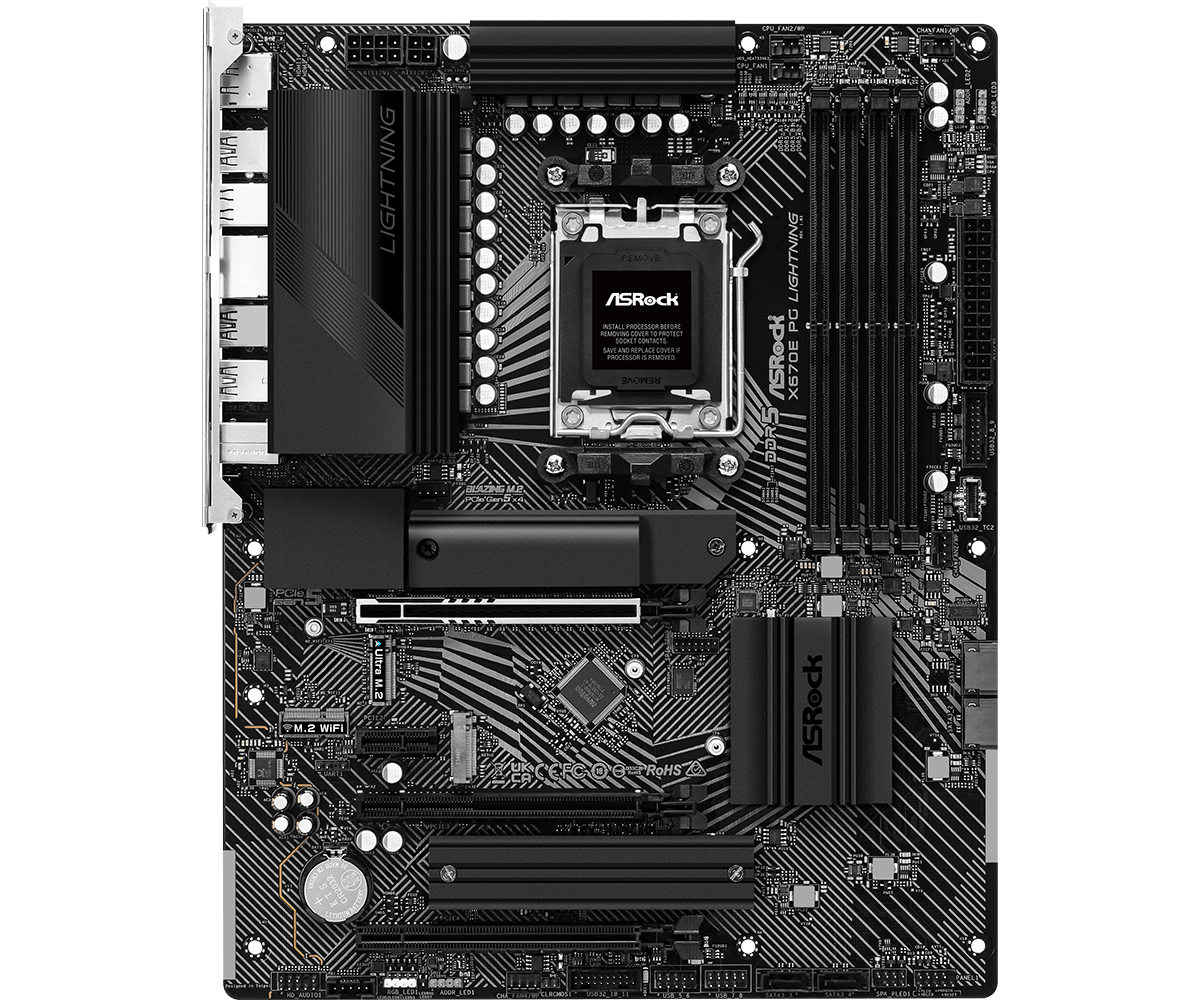 There are four SATA 6Gbps ports as well, so you have plenty of storage options, and there's a fairly typical total of six 4-pin fan headers as well. Meanwhile, ASRock's software and EFI offer reasonable control over your fans, but it's not as granular or appealing as the fan control options from the competition, while the EFI in general feels less attractive and a bit dated, even if we approve of the simple layout.
There's also PCI-E 5 support to be found on the top 16x PCI-E slot, with two further 16x PCI-E 4 slots and a 1x PCI-E 4 slot as well, with these additional slots actually offering more bandwidth overall than the slots on the more expensive X670E Steel Legend. The rear I/O panel hasn't been neglected either, and while there's no Wi-Fi, ASRock includes mounts here for aerials, and there's a dedicated M.2 port to add your own Wi-Fi module.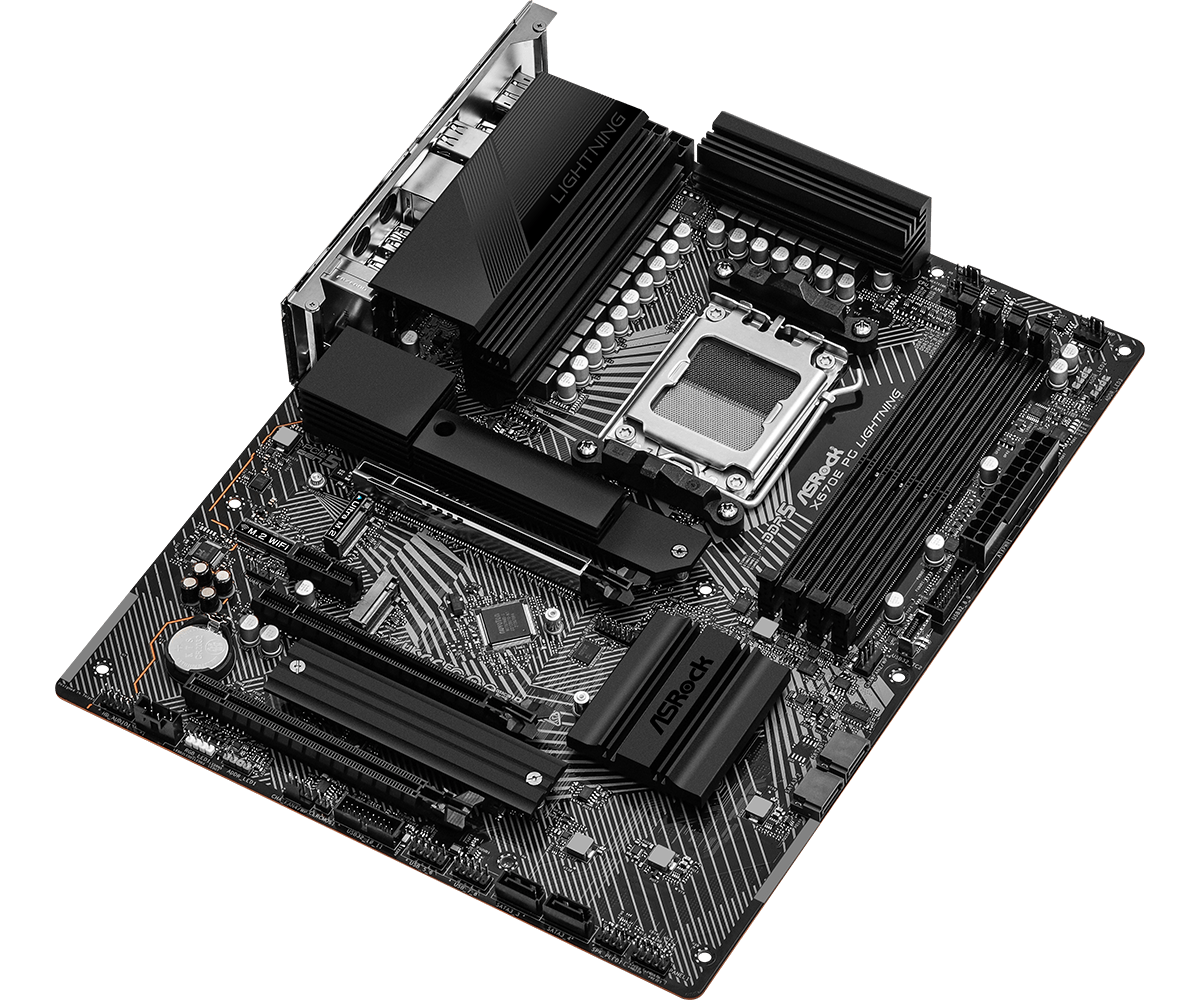 In addition, this panel offers an impressive tally of 11 Type-A USB ports, four of which are USB 2, one is USB 3.2 Cen 2 and the rest are USB 3. Not surprisingly, the lone Type-C port lacks Thunderbolt and USB 4 support, but both it and the Type-C header on the PCB are USB 3.2 Cen 2×2-capable. There's also a USB BIOS flashback button, plus both HDMI and DisplayPort graphics outputs.
The X670E PG Lightning's top M.2 port was able to return read and write speeds of 7,322MB/sec and 6,842MB/ sec respectively with our PCI-E 4 SSD, although the SSD temperature did peak at 68'C at the end of our load test, so you'd be well advised to have a case fan blowing across the motherboard, in order to keep temperatures in check under sustained loads.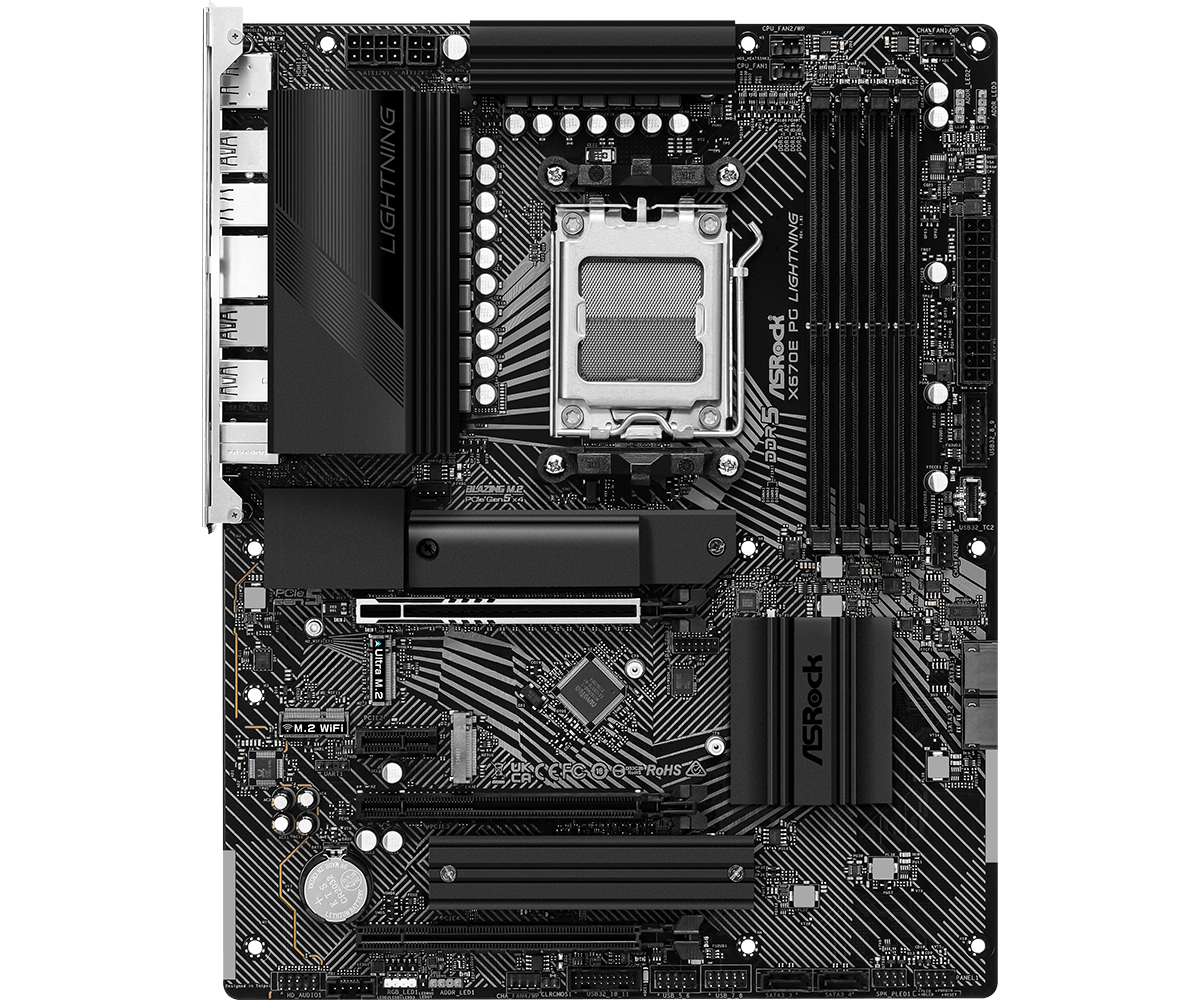 Despite only having Realtek ALC897 audio, the PG Lightning returned some half-decent numbers in RightMark's Audio Analyzer software, with a dynamic range of 96dBA, noise level of 95.8dBA and THD of 0.0015 per cent – it's not outstanding audio quality, but it's fine for most people's needs.
Power consumption was noticeably lower than other boards we've tested as well, with the X670E Taichi drawing 376W under load compared to 336W for the X670E PG Lightning. However, this could be down to BIOS versions, as a new one had just landed for the latter just before we wrote this review.
Performance was fine though. The PG Lightning's multi-threaded Cinebench score of 38,502 was slightly ahead of the X670 Taichi, while the RealBench system score of 491,557 was just a fraction behind that of the other boards we tested this month. Overall, in terms of basic performance, there doesn't seem to be any benefit from spending more money on a Socket AM5 motherboard, even if you're using a Ryzen 9 7950X.
It's clear that aside from overclocking, which we haven't had time to explore with AMD's 170W-TDP CPUs much yet, there isn't much benefit from spending upwards of £ on a Socket AM5 motherboard. The ASRock X670E PG Lightning has some guirks, such as its strange-looking I/O shroud, mediocre M.2 temperatures and basic EFI, but it otherwise performed flawlessly with AMD's Ryzen 9 7950X at stock speed, offering performance that was on par with more expensive boards.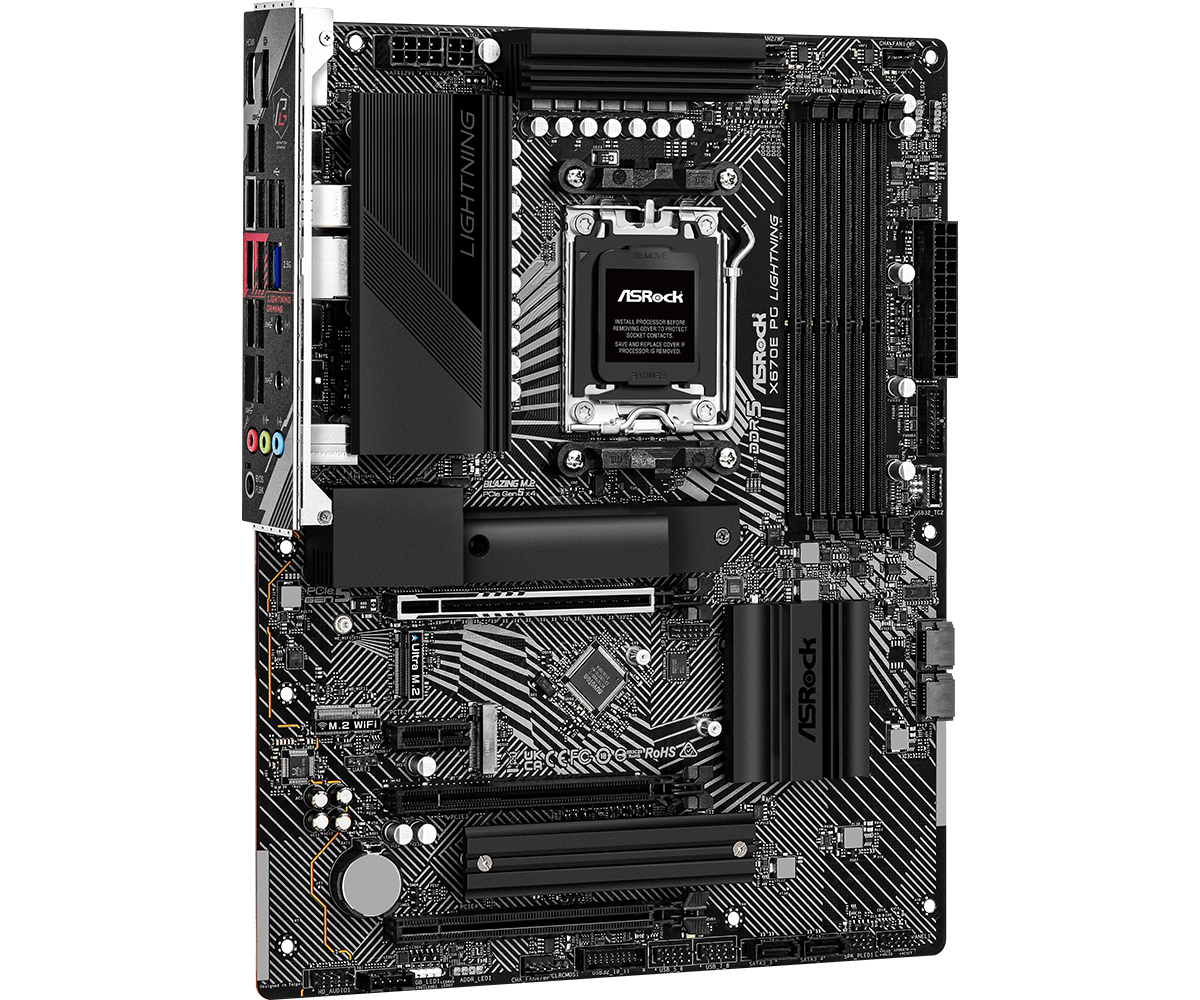 Its audio codec isn't the best, but it's still fine for most people's needs, and its PCI-E 5 M.2 and 16x slots add an element of futureproofing too. It's a shame there are no on-board overclocking and testing tools, or Wi-Fi, which we'd normally expect ASRock to include at this price, but all new computer hardware is increasing in price at the moment. Whatever Zen 4 CPU you buy, though, the ASRock X670E PG Lightning has what it takes to accommodate it.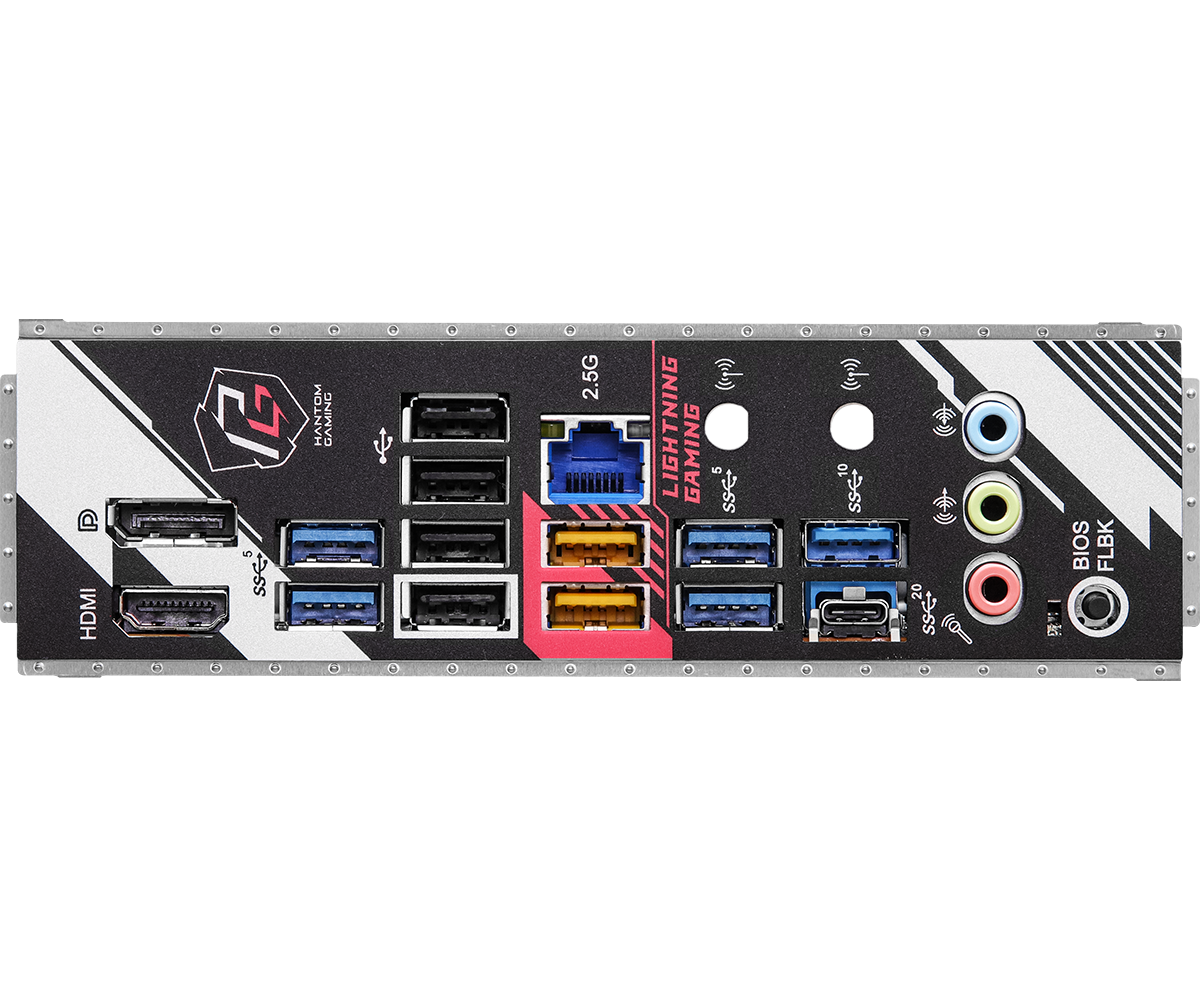 Editor choice
ASROCK X670E PG LIGHTNING Review
Proof that you don't need to mug your wallet in order to afford a Socket AM5 motherboard.
PROS
Copes fine with AMD's Ryzen 9 7950X
PCI-E 5 M.2 support
11 Type-A USB ports
Non-ridiculous price
CONS
No on-board overclocking and testing tools
Basic EFI
Mediocre M.2 temperatures
Entry-level audio
Add your review
|
Read reviews and comments
Best ASROCK X670E PG LIGHTNING prices ?

$

289.00

$329.99
18 new from $285.01
in stock

MORE DEALS