Is thin so important that compromise becomes irrelevant?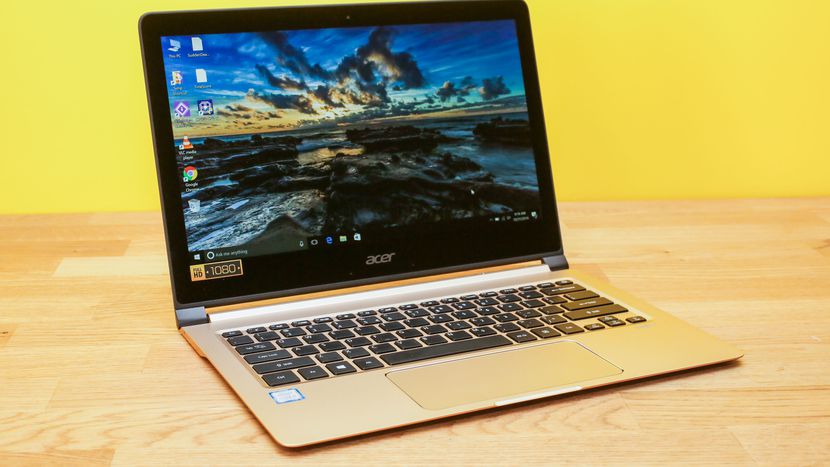 Acer says its Swift 7 is one of the thinnest laptop in the world, and the design is incredibly impressive and almost impossibly sleek, it gets long long battery life and offers 4G LTE capability, but there are myriad trade-offs to consider.
For one, it's so thin that you can't click on the touchpad – it feels like an awkward dead slab of glass that takes getting used to. The keyboard is missing the function row, and actions are mapped to keys you wouldn't expect.
The 13.3-inch, 1080p display on the Swift 7 is surrounded by a noticeable but inoffensive bezel. But the webcam gets plopped in an unfortunate (and unflattering) spot below the display The deck is also black aluminum, with a chiclet keyboard and a wide touchpad that, again, doesn't click (a concession made to the gods of thinness).
Unsurprisingly, there's a dearth of ports on the Swift 7. To be fair, there just isn't much room for them. You'll find a headphone jack and two USB 3.1 Type-C ports on the left side, and the power button and a SIM card slot on the right side. If you need more ports, Acer includes a dongle in the box with a Type-C port, USB 3.1 and an HDMI output.
With its 1.3GHz Intel Core i7-7Y75 CPU, 8GB of RAM
There's a dearth of ports on the Swift 7. To be fair, there just isn't much room for them.
and 512GB PCIe NVMe SSD, this Swift isn't exactly a high-power machine. You might think a processor would throttle in a chassis this thin, but that's technically not the case here. Instead, Acer opted for a low-power Y-Series CPU that's designed to have a widely variable clock speed. The Core i7-7Y75 is rated to go up to 3.6 GHz Turbo Boost, but in our testing it only reached 3.2GHz during repeated runs of Cinebench R15. Clearly Acer is limiting the clocks to keep temperatures under control. While we certainly don't want the laptop to overheat, that makes for less-than- ideal performance.
Acer's 14-inch, 1920 x 1080 touchscreen display produces vivid colors and is adequately bright.
Let's talk about this touchpad. Specifically, it doesn't click. The laptop's design is too thin to make that possible, so Acer ditched the functionality That means tapping to click through Windows.
The keyboard has its own share of questionable design decisions. For starters, there's no dedicated function row. Those actions are shared with the number keys by holding down the function button. Actions that are often assigned to the function keys, like muting the volume or adjusting the backlight have been relegated to the QWERTY line of the keyboard. Volume and brightness controls wind up on the arrow keys, which is at least more common.
You have to hand it to Acer. It made a laptop so thin that it seems impossible, and one with more than 9 hours of battery life, an impressive touchscreen and 4G LTE. But at the price, the Core i7 Y series processor just isn't enough power, and the click-free touchpad and odd keyboard will require users to re-learn some fundamentals of interacting with a computer.
Andrew E. Freedman
Verdict
Best Acer Swift 7 prices ?
MORE DEALS

See also THE COMPLETE GUIDE TO…OLED laptops