AOC I1601FWUX Review – There's one big problem with carrying a MacBook or ultra thin PC laptop around: the lack of screen space for your windows. Without a generous helping of screen estate, it's just not possible to function quite as efficiently as you might with a desktop arrangement. But AOC's clumsily-named I1601FWUX offers a straightforward path to getting an extra 15.6 inches on the go.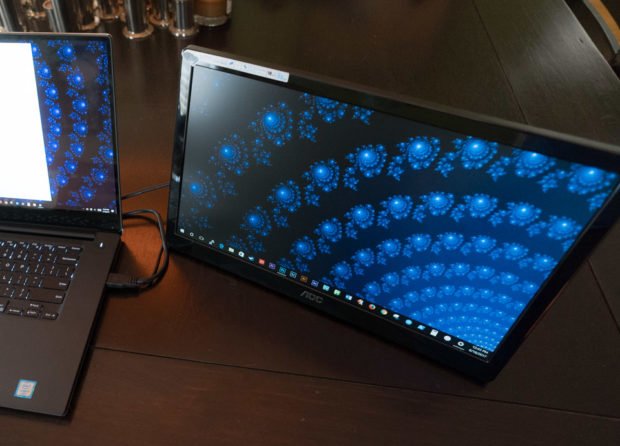 Presuming you have a Mac or Windows laptop that's USB-C compatible, this screen couldn't be simpler to set up: plug it in using the single cable, and in a few seconds it'll be detected and activated as a second display.
The magnetic cover also acts as the screen's stand, enabling portrait or landscape mode with a reasonable level of adjustability. We wish the magnets were stronger as they're on the weak side.
Hardware-wise, this is a package which bounces from decent to lacking; the panel is 1080p and incredibly sharp with it, with an excellent range of viewing angles, but it can be a little dim at times.
It'll get the job done for on-the-road work with documents and content, but you won't eagerly pull this out of your laptop bag unless you need the extra screen. When we viewed the trailer for Avengers: Infinity War, the colours of costumes and explosions were a bit muddied, and dark elements, like the details on Black Panther's suit, were difficult to see.
The best thing the AOC I1601FWUX has going for it is its brightness, which measures 212.6 nits.
That's brighter than the similar ASUS ZenScreen MB16AC (179.6 nits), the AOC el659fwu USB Monitor (177 nits) and the USB 3.0-connected Asus MB168B+ (163 nits), but even most cheap desktop monitors offer better brightness.
However, the colour gamut was less impressive, as the AOC monitor reproduced just 62% of the sRGB colour spectrum.
The ASUS ZenScreen MB16AC had a better score of 72.4%, but 100% or better is the ideal. There's around a Sms response time, which is barely noticeable, but the panel often tended towards the smeary under our suite of moving-image tests.
The screen is thin and light, which is great for portability, and the cover stayed put when we carried it in a rucksack, but we're not 100% convinced on it being able to remain attached at all times given its rather tenuous ability to support the screen as a stand.
The entire thing measures 37.8 x 23.5 x 0.76cm and weighs 820 grams (1kg with the included cover), which makes it slimmer and lighter than most tablets and significantly lighter than most ultraportable laptops. Although it's slightly larger than the ASUS ZenScreen MB16AC (37.1 x 22.6 x 0.8cm, 1.27kg with cover), it's lighter and still small enough to easily slip into a laptop bag.
If you're not planning to use this away from your desk, the asking price is higher than that of some larger, higher resolution screens. But what price flexibility? The screen's immediacy is very difficult to argue with; while it may not be the best display around, it's very good compared to the competition and if you're after a portable screen, it's a great choice.
The data rate of its one- cable connection means it comfortably handles 60Hz signals, and unless you're really pushing the action you won't be disappointed with the results.
Alex Cox
Verdict
Features 4/5
Performance 3.5/5
Value 3.5/5
It's not the best display around, but it's certainly one of the most compelling portable USB options.
3.5/5
AOC I1601FWUX Review
It's not the best display around, but it's certainly one of the most compelling portable USB options.
Add your review
Best AOC I1601FWUX prices ?

$

149.38

$179.99
5 used from $101.87
4 new from $139.99
in stock


£

169.99
13 new from £169.99
in stock


$

272.13
6 new from $242.86
in stock

MORE DEALS