Q Acoustics has tweaked its 7000 Series, adding its slimmest subwoofer yet. Ed Selley weighs it up
Cinema on a diet
Q ACOUSTICS 7000i 5.1 SLIM review – Having arrived in the affordable speaker market and issued a swift kicking to the established order, things have calmed down a little at Q Acoustics. Its ranges of speakers are now seeing upgrades rather than wholesale changes – a reflection that they ain't broke and don't really need fixing.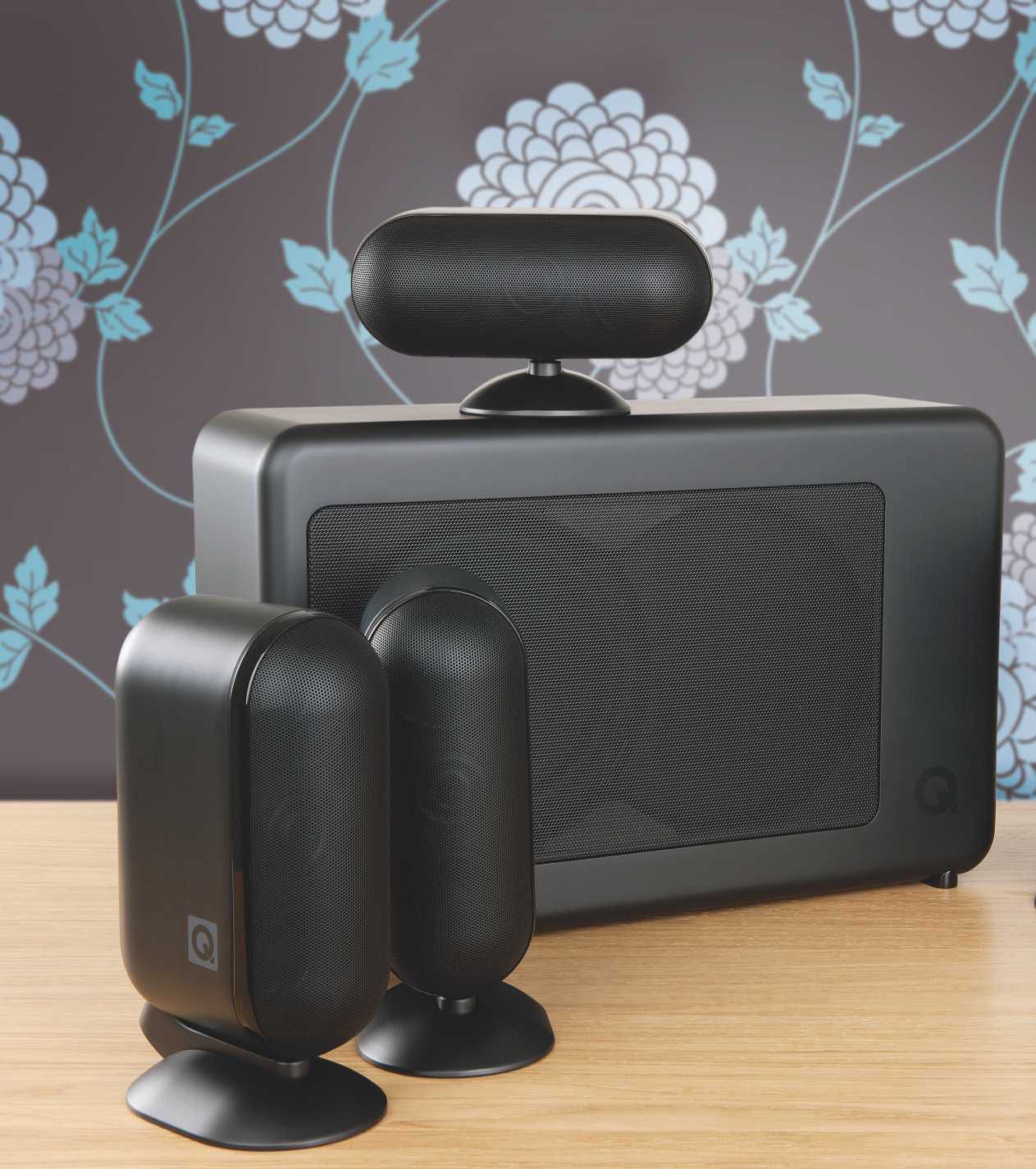 The latest member of the family to receive some attention is the curvaceous 7000i Series, here released in a new bundle referred to as the 'Slim.'
The satellite speakers, also used in Q Acoustics' 7000i Plus and 7000i packages, have been slim from the outset and remain so here. They all have an identical driver complement, with an unusual configuration for a speaker of this type. It's a 2.5-way design, with two 3in midbass units with Neodymium magnets sited on either side of a ring radiator tweeter (something of a Q Acoustics speciality) in a woofer/ tweeter/woofer arrangement that allows the enclosure to be relatively slender.
At the same time, the use of two midbass drivers rather than one gives each satellite a radiating area that is fairly large and ensures that the claimed roll off of 95Hz seems entirely achievable. The only difference between the 'LR' satellite and the 'Ci' centre is that the orientation and mounting point for the foot are changed.
These satellites are joined by the all-new 7060S (where the S, you've guessed it, stands for 'Slim') subwoofer. In a world of fancy bass boxes, this is charmingly prosaic. It's a sealed design with a forward-firing (although depending on how you place it, sideward-firing might be more applicable) 8in driver, powered by a 150W Class D amplifier. Controls are basic (crossover, phase, level and an auto on/off function), connections are limited to stereo/LFE phono input, and there's no remote control. But it claims a respectable 35Hz-200Hz frequency range, which is the important part.

For those with long memories who remember when we've looked at previous iterations of the 7000 Series, the subwoofer's specification is extremely similar to the older models. The difference is that the 7060S is only 150mm deep (six inches in old money) and is wonderfully compact for a sub of any description. Faced with competition from soundbars and soundbase systems, Q Acoustics has worked hard to make the 7000i Slim as easy to smuggle into a living room as possible.
The 7000i satellites are well placed to assist in this aim. The integral foot fitted to each of them can be rotated to become a wall mount (for which an easy to follow mounting template is supplied). This lets the speakers be fitted equally happily on a horizontal or vertical surface. A ball joint allows the speaker to be correctly aligned, too, although this is quite easily knocked – during my audition, at least one of them at any given time had taken on a slightly quizzical appearance. Additional pairs of the speakers are available (for a 7.1 setup).
Colour options are either the black wrap of our review sample or a white finish. The speakers look cute, and their metal housings feel solid and inert. A rubber gasket on the bottom of the foot, which stops it marking what you place it on and ensures a good fit against a wall, is a nice touch too.
The terminals are also quite clever, albeit a bit fiddly. They are spring-loaded posts that grip the cable under tension. They don't work with 4mm plugs, but it's unlikely that buyers of a system such as this have got that far down the road of AV tinkering.
The 7060S also feels well assembled, although some of the details aren't quite as convincing. There's a removable side panel to cover its inputs, but even using the supplied mains lead and a slimline subwoofer cable,
I couldn't get it to sit flush when cables were attached.
Q ACOUSTICS 7000i 5.1 SLIM review: Seamless integration
This £1,000 array has one immediately noticeable positive attribute that it shares with the brand's other subwoofer variants: with the 7060S sat at the front of the room, practically underneath the centre speaker (with a 100Hz crossover in play), the handover between sub and satellites is deliciously seamless. It's a neat trick,
The 7000i Slim packs Q Acoustics' trimmest sub yet
Q ACOUSTICS 7000i 5.1 SLIM review: AV INFO
Compact 5.1 speaker system
Q Acoustics' premium sub/sat package
Elipson Planet M; Cambridge Audio Minx
showing some efficient system matching from the Q Acoustics design team.
Just as pleasing is the cohesive soundfield crafted by those five identical satellite speakers. There's a slickness to pans across the LCR soundstage even when the speakers themselves are placed fairly wide apart, while front to back effects transitions are extremely believable.
On top of this the 7000i has consistently good tonality and detail. The pared-back but immersive DTS-HD MA 5.1 Blu-ray soundtrack for 2016 journalist drama Christine (not the killer car flick) is handled beautifully. The newsroom location is conveyed as a vibrant and realistic space, serving to augment the viewing experience without
With music, this has the kind of performance that gets your foot-tapping and embracing the content
distracting from the dialogue and drama onscreen.
Having sub/sat systems sound big when there is plenty of bombastic action isn't that tricky. What the 7000i does well is to sound big and convincing with simpler and smaller-scale material too.
Admittedly, there are limits to this system's potential, and how much this matters will depend on your viewing preferences. The demo-tastic catacomb sequence in John Wick 2 (Blu-ray), with its thrillingly dynamic and fast-hitting gunfire, shows that while the 7060S subwoofer is controlled and well integrated, it just doesn't deliver the levels of slam that more potent and more traditionally designed models can offer. It lacks out and out aggression, which is something you can still get from woofers around the £300 mark. Does your Blu-ray library mainly feature the films of Vin Diesel? If so, this might not be the system for you, especially as the satellites also value civility and control over absolute dynamics – although this does mean that they don't make a hash of less perfectly recorded material.
Also, I don't think this is accidental. Every time I found myself wanting a bit more fury from the Q Acoustics system, I was soon revelling in just how well it gets on with everything else. As an array mainly designed for living room setups, it's likely to see daily use. Useful, then, that broadcast TV is unfailingly a crisp, clean, and well-balanced listen. It's particularly strong at generating a decently immersive experience from a stereo feed, with dialogue from the centre channel clear and tonally accurate.
Looking back at a previous review of a 7000i package [see HCC #232], it's clear that much hasn't changed about Q Acoustics' top-flight sub/sat range. As before, I'm struck by how effective this is used in 2.1-channel guise. Listening to the newly released Lies Are More Flexible by Icelandic electronic duo GusGus (Qobuz, CD-quality FLAC) proves immersive and genuinely musical in a way that many 2.1 systems struggle to match. It's the kind of performance that gets your foot-tapping and embracing the content, rather than worrying if levels are set correctly.
Q ACOUSTICS 7000i 5.1 SLIM review: Sweet-sounding
This all-round competence is something that Q Acoustics has a well-earned reputation for – the brand's own soundbars and soundbases are similarly on the money. Anyone looking to equip a lounge with a blink-and-you'll- miss-it speaker array, but with their sights on something a little upmarket, should investigate the sweet-sounding 7000i Slim – not least because the 7060S woofer is fantastically svelte. Those with more space, and an urge for more dynamic attack, may want to look at Q Acoustics' Plus variant, and larger-scale sub/sat bundles
The 7000i Slim is very easy to live with, flexible, and an assured all-rounder. Some owners might want more excitement and bass brutality.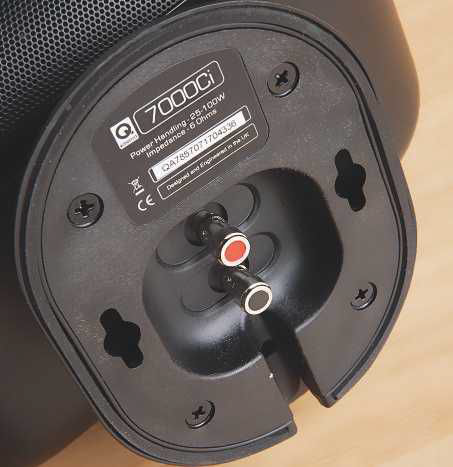 Q ACOUSTICS 7000i 5.1 SLIM review: SPECIFICATIONS
7000LR
DRIVE UNITS: 2 x 3in 'Long Throw' midbass drivers; 1 x 1in Ring Radiator tweeter ENCLOSURE: Sealed FREQUENCY RESPONSE (CLAIMED): 95Hz-20kHz SENSITIVITY (CLAIMED): 85dB POWER HANDLING (CLAIMED): 100W DIMENSIONS: 100(w) x 240(h) xl60(d)mm WEIGHT: 1.6kg
7000Ci
DRIVE UNITS: 2 x 3in 'Long Throw' midbass drivers; 1 x lin Ring Radiator tweeter ENCLOSURE: Sealed FREQUENCY RESPONSE (CLAIMED): 95Hz-20kHz SENSITIVITY (CLAIMED): 85dB POWER HANDLING (CLAIMED): 100W DIMENSIONS: 207(w) x 115(h) xl60(d)mm WEIGHT: 1.6kg
7060S (subwoofer)
DRIVE UNITS: 1 x 8in woofer ENCLOSURE: Sealed FREQUENCY RESPONSE (CLAIMED): 35Hz-200Hz ONBOARD POWER (CLAIMED): 150W Class D amp REMOTE CONTROL: No DIMENSIONS: 480(w) x 324(h) x 150(d)mm WEIGHT: 11kg FEATURE: Stereo phono/LFE input; 0-180 phase switch; auto standby
Q ACOUSTICS 7000i 5.1 SLIM review: PARTNER WITH
QED PERFORMANCE MICRO:
Continue the discreet theme by wiring the 7000i satellites with QED's Performance Micro, a slim loudspeaker cable designed to tuck under carpets or behind skirting boards. Price is around £4.50 per metre unterminated.
The 'foot' on each speaker doubles as a rotational wall-mount