Apple's top-of-the-line portable Mac gets upgraded for 2018.
Don't turn the page in horror at the huge price above just yet – the latest 15-inch MacBook Pro doesn't have to cost nearly the same as an entry-level iMac Pro.
That price is for the rather high-end specification that Apple provided for testing.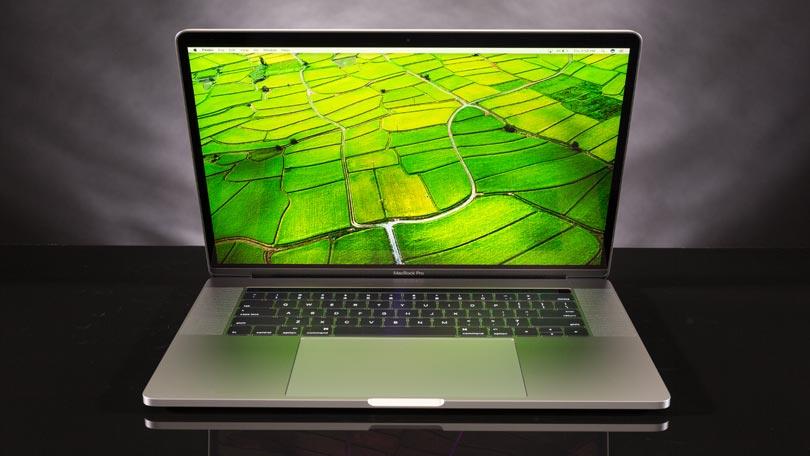 A new feature that might be a big deal if you spend a lot of time writing documents or programming is Apple's third-generation butterfly keyboard mechanism. It's marketed as quieter than previous versions. Indeed, we found it less clickety-clacky, which is great if you ever work in a fairly quiet office or public space. Complementing that is True Tone, which adjusts the display's colour temperature to be easier on the eyes, based on ambient light around you.
For this refresh, Apple has upgraded the MacBook Pro to Intel's 8th-generation Core processors, using versions that have six cores instead of the four found on previous 15-inch MacBook Pros. It doesn't matter which 15-inch MacBook Pro you choose, they all have six cores. Like older versions, you get a Core i7 processor as standard. It's a 2.2GHz model that can turboboost its clock frequency as far as 4.1GHz when just one core is busy.
On either of those models, you can pay more to replace the Core i7 with one of Intel's new Core i9 processor line. This also has six cores, with a base clock speed of 2.9GHz and turboboosts up to 4.8GHz. It's to add the Core i9 (as an option on the 2.6GHz i7), but look at its results in HandBrake, which makes heavy use of all cores, and GeekBench's single-core test, which measures performance with Intel's Turbo Boost tech in action.
Responsiveness comes from more than just the Mac's brain. The speed of its storage is critical to avoid stalling. The 2TB drive supplied to us came up just a little short. It peaked at 3.1GB/sec, but that isn't really a concern. More impressive is that writing data – typically tougher – peaked at that rate too.
Mean average rates we saw were lower – 2.5 and 2.2GB/ sec, respectively. That's normal and still great news for performance.
The MacBook Pro's 256GB SSD is comfortable if you mostly work with words. A 512GB SSD – as an upgrade and standard on the model – is one of the more affordable and appealing upgrade options available.
The 2TB drive is hard to justify unless it's necessary for your kind of work. It's the biggest contributor, on top of the Mac itself, to the huge price. There's also a new maximum capacity: a 4TB SSD. Again, only creative pros will seriously consider this, as it costs an eye-watering to add.
Both 15-inch models have
Intel UHD Graphics 630 for lighter tasks. For apps that need a graphical boost, the discrete graphics processor leaps into action. In the model, that's a Radeon Pro 555X with 4GB of memory. It's a 560X, also with 4GB.
Before buying, make sure you check whether your key apps make greater use of the central or graphics processor, and choose build-to-order parts to suit.
In many ways, this update does a lot right, building on the strong foundations Apple laid a couple of years ago. Storage performance is top-class, and it's good to have the 32GB memory option.
Alan Stonebridge
Verdict
Editor choice
Apple MacBook Pro (15-inch) Review
If you can spare the cash, the Core i9 benefits processor-intensive tasks, but graphics show slim improvements.
Add your review
|
Read reviews and comments
Best Apple MacBook Pro (15-inch) prices ?

£

1,279.00

£1,349.00
2 new from £1,279.00
in stock

MORE DEALS

See also THE COMPLETE GUIDE TO…OLED laptops