Following the brief glimpse of the new Amiga motherboard, monikered Tabor recently, A-Eon Technology has put out a full press release regarding the motherboard and its intended initial home, in the form of the Amiga
One A1222 machine. The motherboard has been developed by Ultra Varisys under commission from A-Eon in association with Acube srl, which has already seen prototypes go out to developers, and ports of various Linux distributions are already underway as well as AmigaOS 4.1 FE. A full (and oversubscribed) beta test programme of the board is about to get underway.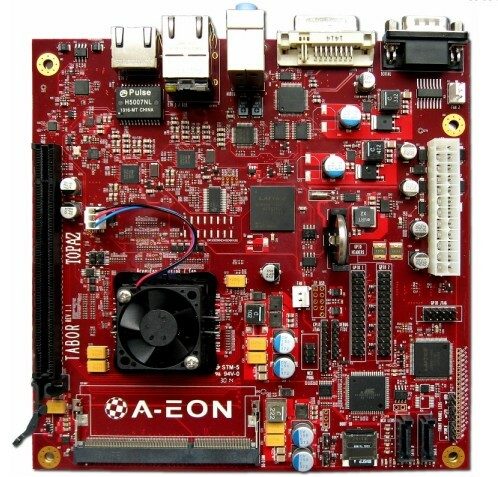 Although we don't know what the full machine will look like, with the motherboard existing as a 17 x 17cm (mini-ITX) unit, it can fit in an Amiga 1200 style casing, so hopefully the full AmigaOne A1222 will look familiar.
I do wonder if the recent Kickstarter A1200 cases or even the X500 Pro (keep an eye on Kickstarter) may come into play here?
Initially, the board features a Freescale QorlIQ P1022 dual-core 32-bit CPU running two e500V2 cores at 1.2GHz. This is essentially the little brother to the CPUs due to be used in the AmigaOne X5000 machines, for which preorders are due to go live soon.
The board uses 64-bit DDR3 SODIMMs, which seems a bit weird for a 32-bit system, but the P1022 is a system on a chip design with a 64-bit memory controller. As a SoC, there are also other built-in system functions on the processor.
The board will offer gigabit Ethernet and two SATA 2.6 controllers, as well as two internal and two external USB ports, and the x16 PCIe connector supports RadeonHD cards, which are the general target graphics boards for AmigaOS 4.x.
There's on-board sound and basic HMDI 1.3 graphics output up to 1080p, and along with a JTAG, the board also features a micro-SD based BIOS, which also allows for the possibility of booting the system entirely from that medium.
The press release also refers to the board as part of A-Eon's A1200 series, perhaps suggesting mini-ITX boards with faster (64- bit?) processors may be on the cards if this does well.
And hopefully the boards have plenty of frankensteining expansion potential in the same vein as the original Commodore Amiga 1200 and its ability to be expanded to run OS4.1 FE classic!