Microsoft PC Manager
Microsoft caused a stir in October when it quietly released a new PC clean-up tool called PC Manager through a Chinese website. The free app has since been added to the Microsoft Store (though its page is currently hidden) and now has an English-language website (https://pcmanager-en.microsoft.com/), and we expect it to be officially launched in the first half of 2023.
Although PC Manager is still at the 'public beta' stage, it already provides a fast and effective way to clean and speed up your computer. You can remove junk files and space hogs; disable unwanted startup items and background processes; and scan your PC for threats and driver updates.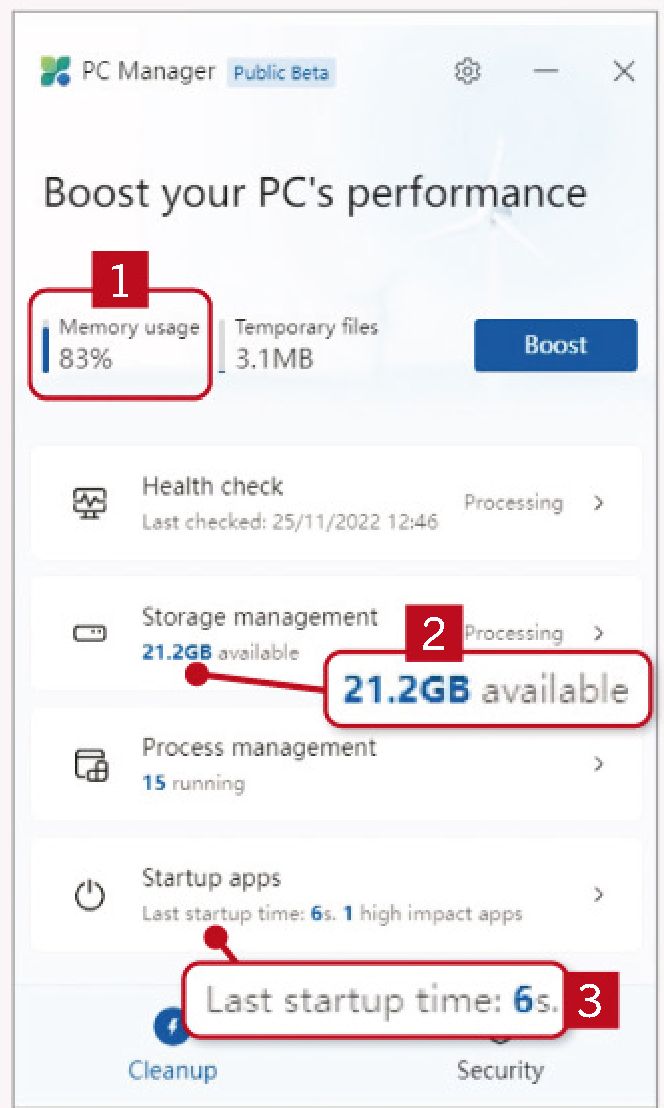 Microsoft PC Manager is a new free way to clean and speed up your PC.
The app is very easy to use and integrates seamlessly with Windows 10 and 11 to perform clean-up tasks with a single click and reveal useful information about your system. This includes your current memory usage (1 in our screenshot below left), how much storage you have available 2 and how long your PC takes to start 3.
PC Cleaner is worth downloading now to try a simpler, if less sophisticated, alternative to CCleaner and BleachBit. You may experience a few bugs, but Microsoft is regularly updating the app to fix reported problems.
When we tested it, we noted that 'treats' were found and there was a nagging suggestion to change our browser to Edge. In the latest beta version, this has been corrected to 'threats' and PC Cleaner now respects and protects your default browser. We can't wait to see its first stable release in 2023. Be aware that some Windows users have experienced problems when trying to install PC Manager – see our box below for potential fixes.
Hasleo Backup Suite 3
In sad news for users of Macrium Reflect Free – and we know that  includes many APC readers – the excellent free backup program is being retired. Although you'll still be able to use the current version of the software (Reflect 8 Free), it will no longer be updated and won't receive security fixes after 1 January 2024. This puts your backups at risk from vulnerabilities that could allow hackers to steal your files.
It also means it's wise, if not essential, to find an alternative backup solution in 2023. You may be familiar with Paragon's 'Backup & Recovery' Free Edition (https://www.paragon-software.com/free/br-free/) and AOMEI Backupper Standard (https://www.aomeitech.com/ab/standard.html), which are free versions of paid-for backup software with some features missing, but a new option to consider is Hasleo Backup Suite (https://www.easyuefi.com/backup-software/backup-suite-free.html).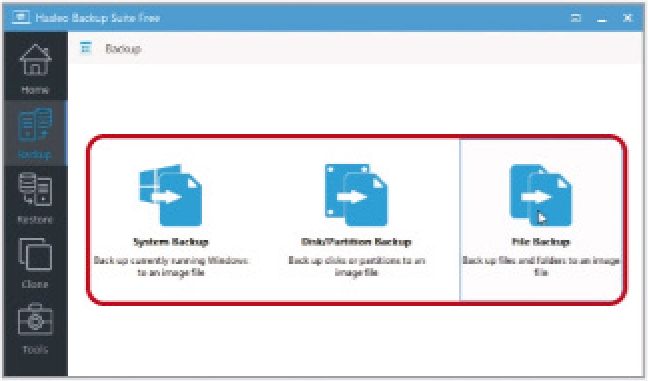 Hasleo Backup Suite lets you back up your system, hard drives and specific files.
Free to use – with no options locked behind Upgrade buttons – version 3 (released in November) provides everything you need to back up your hard drives, partitions and entire system, and now also lets you back up specific files and folders.
Hasleo Backup Suite 3 is a doddle to use – simply click New Backup on its home screen, choose System, Disk/ Partition or File Backup (see screenshot above), then select the relevant item(s) and backup destination, and click Proceed.
You can secure your backups by encrypting them, compress files to save space and choose between full, incremental and differential backups. The software also lets you schedule your backups to run at the frequency and time of your choice, as well as offering a Clone tool for copying your current Windows installation to another PC.
Paint.NET 5
Packed with powerful tools and useful effects, Paint.NET has long been one of our favourite free image editors. But although it's been updated many times over the years, the last major version (Paint.NET 4.0) was released in 2014, and rival programs such as GIMP and PhotoDemon have lured users away. So we're excited that 2023 will see the arrival of Paint.NET 5, which is optimised for modern computers and current ways of working with graphics.
———————
WHAT TO DO IF PC MANAGER WON'T INSTALL
If you experience problems installing Microsoft PC Manager, try running the tool as administrator. Right-click the downloaded 'MSPCManagerSetup.exe' file, choose 'Run as administrator' and click Yes to allow the app to make changes to your device.
If that doesn't help, try deleting temporary files using Disk Clean-up, which is ironically the tool that PC Manager is designed to replace. Type disk into the Windows search box, click 'Disk Clean-up', select your hard drive and click OK. Tick the boxes for Downloaded Program Files, Temporary Internet Files and 'Temporary files' (see screenshot), then click OK to delete them.
It's also possible that your antivirus software is blocking PC Manager, because the tool is still in beta and is not recognised. Try disabling its protection temporarily, then restart your PC and run PC Manager again.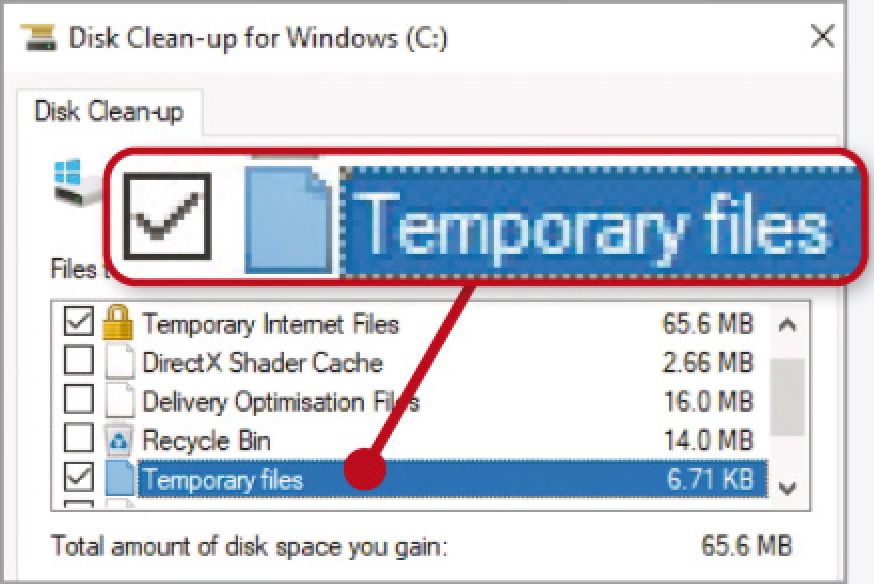 —————————-
Paint.NET 5 adds plenty of new tools, including pressure sensitivity for stylus pens.
In fact, if you don't mind a few bugs, you can download an 'alpha' preview version right now from https://github.com/paintdotnet/release/releases/tag/v5.0-alpha.5.0.8361.33457 – click the 'paint.net.5.0.8361.33457. install.x64.zip' link.
Paint.NET 5 switches to using your PC's graphic processor to render images and perform most of its tasks. This makes it faster and more stable, improves picture quality and colour accuracy, and also boosts battery life on your laptop. There are new adjustments you can apply to your images, including Exposure, 'Highlights & Shadows' and 'Temperature & Tint', and new effects such as Straighten and Drop Shadow.
We're particularly looking forward to trying the new Bokeh effect, which lets you blur the background of photos while keeping the subject in focus. Previously, these options required you to install plug-ins.
Existing effects have been enhanced and Paint.NET has added 'pressure sensitivity' to let you write and draw with natural-looking brush strokes (see screenshot above right) using a stylus pen or graphics tablet.
Expect even more features in the final 2023 release.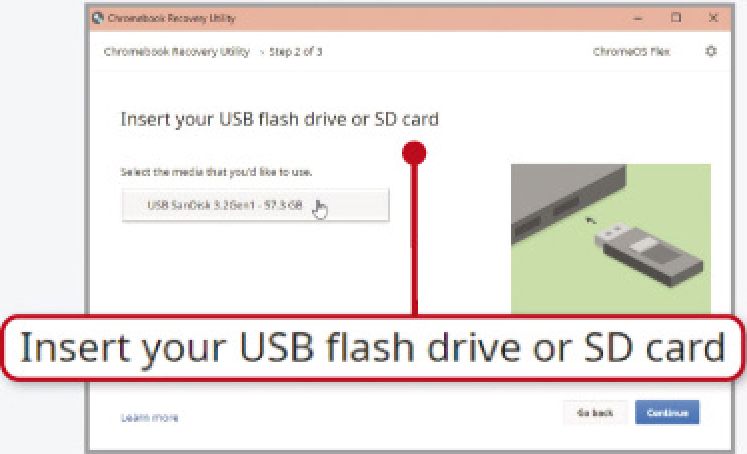 Install ChromeOS Flex on a USB stick to turn an old laptop into a Chromebook.
ChromeOS Flex
After 10 January 2023, Microsoft will no longer provide security updates or technical support for Windows 7 or 8.1 (support for Windows 7 ended in January 2020, but extended security updates were still available).
This means that if you have an old laptop running either of those operating systems, it's no longer safe to use it to go online, because it will be vulnerable to malware. Microsoft has stopped offering free upgrades from Windows 7 or 8.1 to Windows 10 or 11, but you can give your laptop a new lease of life by downloading ChromeOS Flex.
This new operating system from Google effectively turns a Windows PC or Mac into a Chromebook, and works on most computers with at least 4GB of RAM, 16GB of storage and a 64bit processor. It gives you instant access to Google tools including Gmail, Drive and YouTube; it's simpler than Linux and more secure than Windows; and it's free.
To set up ChromeOS Flex, you first need to install a Chromium extension called Chromebook Recovery Utility. This lets you create a bootable version of the operating system on an 8GB USB stick (see screenshot below left). You can follow Google's installation instructions.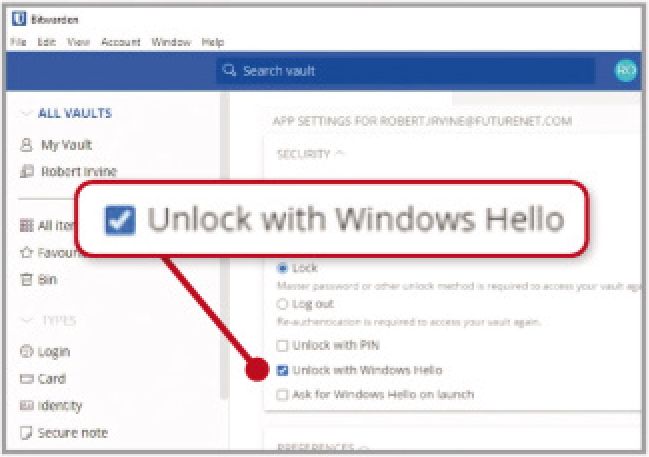 Bitwarden now supports password-free logins, which are set to be popular in 2023.
Once you've successfully booted ChromeOS Flex, you can permanently install it on your old laptop, which will wipe Windows and all your data, or continue running it from your USB stick. Choose the latter option first to ensure ChromeOS Flex connects to your home network and works properly, then – if you're happy with it – keep using it for the rest of 2023 and beyond. Check how long your device will be supported at https://support.google.com/chromeosflex/answer/11513094.
Bitwarden Free
Five years after it launched, the free password manager RememBear – from the company behind the TunnelBear VPN – will be discontinued on 18 July 2023.
"By the time RememBear was released, many users had already found their password solution and switching to a new service was simply too much to ask," admitted the RememBear team in a blog post. But if you are looking for a more secure and versatile way to manage your passwords than the password manager built into your browser, and don't like the restrictions imposed by LastPass on free accounts, Bitwarden Free is by far your best option.
Bitwarden had an outstanding 2022, introducing such useful features as the ability to generate unique usernames and create email aliases using services including Firefox Relay and DuckDuckGo Email Protection.
It also added support for passwordless logins through Touch ID, Windows Hello and other biometric methods. These make securing your accounts much easier and are set to become more widely used in 2023, while Bitwarden is certain to continue its innovative streak.
Bitwarden's basic free plan gives you all the features you need to store and secure your passwords, paymentcard details and identity information. You can sync your data across an unlimited number of devices using its desktop and mobile apps, browser extensions and web vault, and easily import details from other password managers, including your browser's.