The Rival mouse range gets expanded with something for MOBA/MMO fans. Read our SteelSeries Rival 500 Review
When I previously reviewed the original SteelSeries Rival, my only negative comments were focused on the design being exclusively shaped for right handed players. The new Rival 500 doesn't address that problem, so I respectfully suggest that lefties should move on to the next review.
There are now four Rival series mice: the entry level 100, with the progressively more impressively specified 300, 500 and 700 models. We're looking at the 500 here, where – rather than changing the look and feel of the design – SteelSeries appears to have preferred to complete a round-robin of the features set and make them all a little better.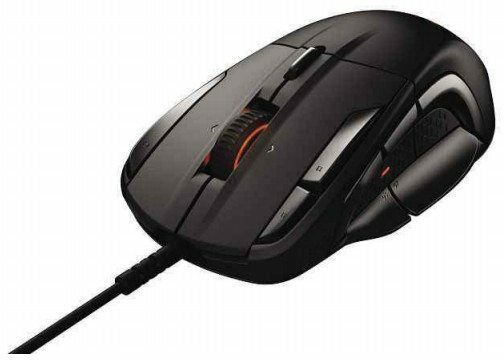 SteelSeries is targeting the MOBA/MMO gamers with this design, as it combines extraordinary precision with an amazing selection of extra buttons. The Rival 500 has no less than 15 of them, along with the scroll wheel – all, as you might reasonably expect at this price, user-programmable on a per-title basis.
The most useful buttons are those positioned where your thumb would normally rest. The lowest of these two being sculpted to be actioned by a very natural thumb movement. If, however, this doesn't suit you -you may find it ends up causing you to press unintentionally -there is a lock underneath that fixes these two buttons in position. As your thumb is also generally needed to hold the mouse in a pincer grip, in the center of this five button cluster is a solid rubberised area where your thumb can rest between presses.
SteelSeries has used different surface textures to help gamers identify, almost subconsciously, the parts of the mouse they can press and those they can hold. The Rival 500 applies these textures very subtly, but the use of these tactile cues will definitely help ease what can be a frustrating transition to a new control device.
How well this works is a testimony to the research that SteelSeries has done on mouse ergonomics and how gamers actually use their pointing devices. The firm obviously has a shape and layout that it is convinced works equally well with those who use the Palm, Claw or Fingertip mouse control methods, and I'm inclined to agree with it.
Massively over-specified for this gamer – and others with 100% human DNA
Where I'm marginally less convinced is in the need for the new PixArt PMW3360 sensor. It's rated to be able to detect movement at a staggering 16.000CPI (Counts Per Inch or the number of steps the mouse will report when travelling an inch, eventually relating to how far the mouse will push the pointer across the screen for every inch you move it) and up to 50g of acceleration. I'm not sure what the average control parameters are for the typical person, but this seems massively over-specified for this gamer -and the others I know with 100% human DNA. I may be missing the point somewhat, however, because the scope of the sensitivity spans from 100-through to 16,000CPI; between those bookends is plenty of scope for finding the optimal setting for you somewhere. As USB polling is 1ms (1000Hz) then the sensor could register 16 clicks between opportunities to signal to the computer, it's worth pointing out.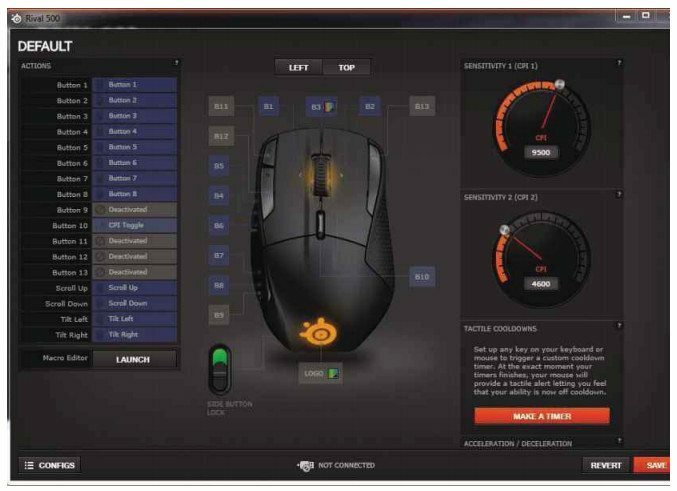 With so many buttons, so much CPI scope and a nice RGB lighting option too, the software that SteelSeries made for the Rival 500 is probably as important as the mouse itself. Available for Windows 7 and above and Mac OS X 10.8 or newer, the latest Engine 3 application is the sort of slick tool you'd expect from the firm. Using it, you can create game-specific profiles and tweak away aspects of how the mouse processes movement to your heart's content. What's more, it's designed to work with all the latest SteelSeries gear, so if you have an M500 keyboard or Siberia headset then you can manage them all with one tool.
For the customisation obsessive SteelSeries has also provided 3D files for the removable section to the rear of the mouse. Using these you can render your own nameplate to replace the one marked 'Rival' in the retail product, should you have the technology. As more people have access to 3D printers or make use of rendering services these are exactly the sort of enhancements that we're likely to see more of.
Next-Gen side button layout built to the natural contours of your thumb
Tactile alerts let you feel the game
Reinforced left and right mouse buttons with industry-leading 30 million click switches
Expand your arsenal with 15-programmable buttons
Usually ships in 24 hours
& Free shipping
Last update was in: 2018-03-16 10:04 am
Next-Gen side button layout built to the natural contours of your thumb
Tactile alerts let you feel the game
Reinforced left and right mouse buttons with industry-leading 30 million click switches
Expand your arsenal with 15-programmable buttons
Outlast and outperforms with the best Optical gaming sensor
My only real concern about this product is the extensive use of plastics and the matt finish on the surfaces that will most be in contract with the hand. I can image some gamers will have polished those to a gloss finish with a few months.

The cost is what I'd associate with SteelSeries, though if you play often then you'll undoubtedly get your money's worth out the Rival 500. mm Mark Pickavance
A refined, customisable mouse for demanding right-handed gamers
SteelSeries Rival 500 Review: Features
• Sensor: PixArt PMW3360
• CPI: 100-to-16,000
• IPS: 300
• Acceleration: 50g
• Polling rate: 1ms (1000 Hz)
• Material: Matte top cover
• Ergonomic, Right-handed
• Grip Style: Palm, claw, fingertip
• Number of Buttons: 15
• SteelSeries switches: Rated for 30 million clicks
• Reinforced left and right clicks
• Weight: 129.7g
• Size: 118.75mm x 78.34mm x 43.34mm
• Cable length: 2m
SteelSeries Rival 500 Review
A refined, customisable mouse for demanding right-handed gamers
Add your review