IT'S FAIR TO SAY that 'it's a mouse with a little fan inside it' was a statement met with some derision by the Maximum PC team. 'It keeps your hand cool!' this reviewer cried, to be met with the Slack chat equivalent of raucous laughter. There were many doubts that the Zephyr Pro (from industry fresh-faces Marsback, who previously released the lower-spec original Zephyr) would be anything more than a forgettable gimmick product.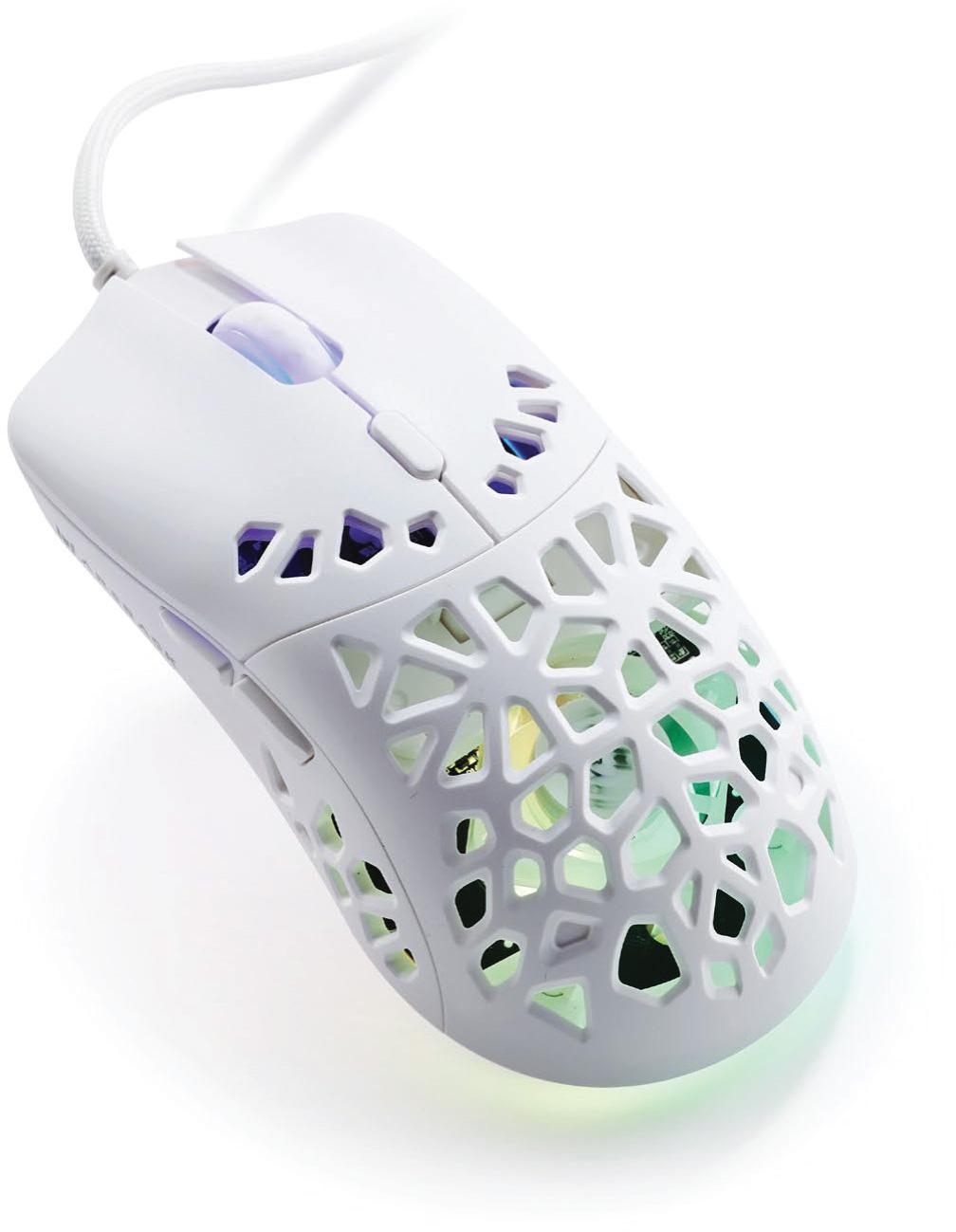 And yet, as we used the Zephyr Pro, we found it to be a surprisingly competent gaming mouse. Not satisfied with merely being functional, its core gimmick actually does work. The tiny fan housed inside the Zephyr Pro's honeycomb casing is near-silent and generates no discernible vibration; both major factors in the criticism of the first Zephyr. The plastic exterior remains cool even under the sweatiest palm, but the breeze generated by the fan is gentle enough so as not to distract during use.
The Zephyr Pro just about falls into budget territory for a gaming mouse but offers solid performance nonetheless. A 16,000 CPI PixArt sensor ensures good sensitivity for twitchy gaming moments, while wide PTFE feet and a woven paracord cable ensure that this mouse can glide comfortably over any desk surface. It has reliable Omron switches underneath the buttons too, rated for up to 50 million clicks.
In terms of buttons, the Zephyr Pro has a fairly pedestrian layout. In addition to the left and right mouse buttons and a satisfyingly sturdy scroll wheel, there are two thumb buttons (no southpaw support here, sorry lefties) and a DPI button in the center. There are also two buttons on the underside; one for switching between RGB setups and one for turning the fan on and off. You can't adjust the fan speed, which is a strange omission, but even at full speed the fan isn't noisy, so it's something of a non-issue.
It's a fairly minimalist selection of buttons for a gaming mouse and that could be a problem for some serious PC gamers. MMORPGs and MOBAs typically demand a greater selection of mappable buttons for optimum engagement, and some shooter fans will mourn the lack of a sniper button. This comes down to personal preference though; if you like a simple layout, it's not a problem.
The Zephyr Pro is an impressively lightweight mouse, weighing in at a mere 2.4oz (69g). It's not hard to understand why; the perforated exterior lays bare the guts of the mouse, which essentially equates to a fan, some switches, and a basic strip of PCB. The weight distribution isn't the finest we've seen, with the front of the mouse being a bit heavier than the rear, which may result in some uneven handling for fingertip-grip users.
While the overall construction quality doesn't quite measure up to some more established manufacturers (the side buttons feel a little spongier than similar budget offerings from, say, HyperX), it's certainly not bad. The customizable RGB lighting makes for a distinctive appearance when combined with the symmetrical honeycomb design. A thin strip of RGB runs around the base of the mouse, while the translucent fan housing itself is lit from below and the scroll wheel changes color to denote the current DPI setting.
Speaking of RGB, Marsback has a decent piece of utility software for customizing your Zephyr Pro. It's nothing too fancy, but it has all the usual tricks—RGB editing, DPI modes, on-board memory for saving your profiles—and is actually pretty easy to use compared with the programs available from certain big-name manufacturers.
Considering that the original Zephyr was written off by many reviewers as a novelty, the Zephyr Pro is a triumphant round two for Marsback. If clammy hands on hot days (or in particularly spicy Valorant matches) are the bane of your existence, look no further: Marsback has got your back.
VERDICT
Marsback Zephyr Pro
COOL Effective but affordable; aesthetically striking; very lightweight; gimmick actually works.
CLAMMY Not the most ergonomic; few buttons for a gaming mouse.