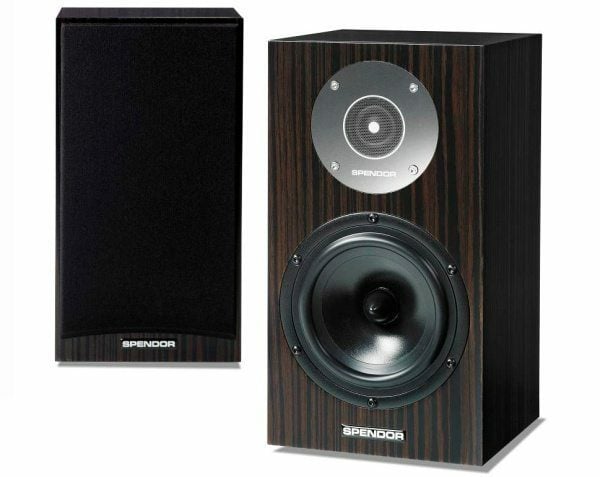 The D1 is beautifully finished in a dark wood veneer, and the crisp lines, perfect joints and attractively crafted binding posts all speak of attention to detail and a certain tactile quality. And yet, at least at face value, it seems an unremarkable design – just another face in the two-way speaker crowd.
Snap off the magnetically located cloth grilles, however, and you immediately spot something that is remarkable: a very unusual tweeter, featuring a wide all-metal mounting plate, and a what looks like a finely perforated metal grille instead of a conventional tweeter dome.
Spendor calls it a linear pressure zone (or LPZ) tweeter and it consists of a stainless steel front plate that actually forms a damped acoustic chamber directly ahead of the tweeter's woven polyamide dome.
The dome itself is hidden behind a phase-correcting microfoil which has the effect of equalising the sound wave path lengths across the entire surface of the diaphragm, thus ensuring a consistently balanced, linear operation.
Somewhat more conventional is the 150 mm mid/bass driver, which features a specially developed EP77 polymer for the cone. The result is a diaphragm that is extremely stiff, with self-damping properties and no spurious vibrations, allowing a high degree of accuracy.
A cast magnesium alloy chassis, high-power motor assembly and excellent heat dissipation are further highlights.
Even the enclosure begs closer inspection. As the D1 is an infinite baffle design, the cabinet is sealed, and features unusually thin panels reinforced with asymmetric aperture bracing to ensure a very rigid enclosure, and efficient dispersion of standing waves.
The D1 boxes are fitted with small, low mass constrained polymer dampers to convert spurious energy into heat, further contributing to the enclosure's complete immunity to vibration and resonance, and providing a near-perfect platform for the drive units.
Finally, the crossover employs selected, high-quality circuit components and gold-plated conductors in a phase-aligned configuration, while the internal cabling is silver-plated pure copper with a halogen-free dielectric.
At 85 dB the D1s are not the most efficient speakers, but still fairly easy to drive with modest amplification. At least it's offset by a fairly normal impedance that, Spendor claims, never drops below an amplifier-friendly 6,7 ohms.
The D1s were subjected to several amplifier options. Used initially with our reference Electrocompaniet PI-2D, we also roped in the NAD M12/M22 (on review elsewhere in this issue) as an interesting counterpoint. The Aesthetix Romulus Signature also on test at the same time shared source duties with our Oppo BDP-95EU universal deck.
I decided to start off proceedings with a large-scale recording: surely the small D1s wouldn't be able to translate the presence and the power of Gunter Wand and the NDR Symphony Orchestra's stirring rendition of Beethoven's Symphony No. A (Esoteric/RCA Victor SACD)?What followed was quite astonishing: the little D1s created a huge, multidimensional sound picture that easily accommodated the impact and majesty of the orchestra, while also accommodating the performance's challenging dynamics.
At the same time, the D1s magically disappeared from the soundstage, their transparency allowing their role as point sources to be completely obscured, freeing up the music to ebb and flow across and through the wide, deep soundstage.
The Spendors created a beautifully resolved, razor-sharp sonic image that afforded real insight, while their inherent talent for timing allowed them to translate the complexity and intricacy of the music with effortless aplomb.
Tonal breadth was astounding: the D1s appeared to reach down much, much lower than was really the case, creating a real sense of foundation and authority, accompanied by a full, midrange and clean, lucid trebles, while the expansive soundstage allowed ample scope for detail and nuance.
The result was an involving, immersive listening experience, delivered with the kind of scale, energy and passion typically associated with much larger speakers, yet retaining the finesse, transparency and agility that makes small monitors so musically athletic and compelling.
Of course, their revealing nature means that the Spendors will also highlight shortcomings in the source and signal path, while easily pointing out even subtle differences between amplifiers, for instance. They made the most of the NAD combo's musical honesty, and easily pointed out the slightly warmer bias of the Electrocompaniet.
The Spendors fared equally well with other material. For instance, Leonard Cohen's stirring 'Hallelujah', from his live Songs From The Road (Columbia) set, was delivered with all the electricity, immediacy and emotive punch of the original performance at Coachella.
Cohen's vocals are vibrant, virile and mesmerising, while the accompanying ensemble provides a suitably intricate and musically adulating backdrop. The result made for compelling listening, as the D1s revealed subtleties, nuances and hues not always this clearly presented, adding to an involving sense of 'being there'.
The Spendor D1s are a class act, combining flair, scale and pace with an uncanny talent for dimensional staging and tonal range. They truly are big speakers in small, innocuous enclosures and as long as they're coupled to equally classy source components, they'll always exceed even the keenest expectations. Deon Schoeman
Almost unbelievable urge and tonal breadth from these tiny boxes. Highly eloquent, with a level of energy and musical momentum that defies their diminutive size.
Enclosure type – Sealed, infinite baffle
Drive units – 1x 22 mm LPZ polyamide dome tweeter, 1x 150 mm EP77 polymer cone mid/bass driver
Sensitivity – 85 dB (1 watt/1 metre)
Frequency response – 55 Hz 25 kHz (typical in-room)Power handling – 125 watts unclipped
Dimensions (HxWxD) – 305 x 165 x 190 mm