A titillating but troubled 2-in-1 device.
The Galaxy Book, frankly, doesn't do a ton different from the Windows tablet that preceded it, but rather refines it. However, what Samsung's tablet arguably needed was a different design altogether. For every improvement made, there seems to be an almost equal detraction. The result is a tablet that's 'just fine' in construction and performance, but continues to lag behind its rivals.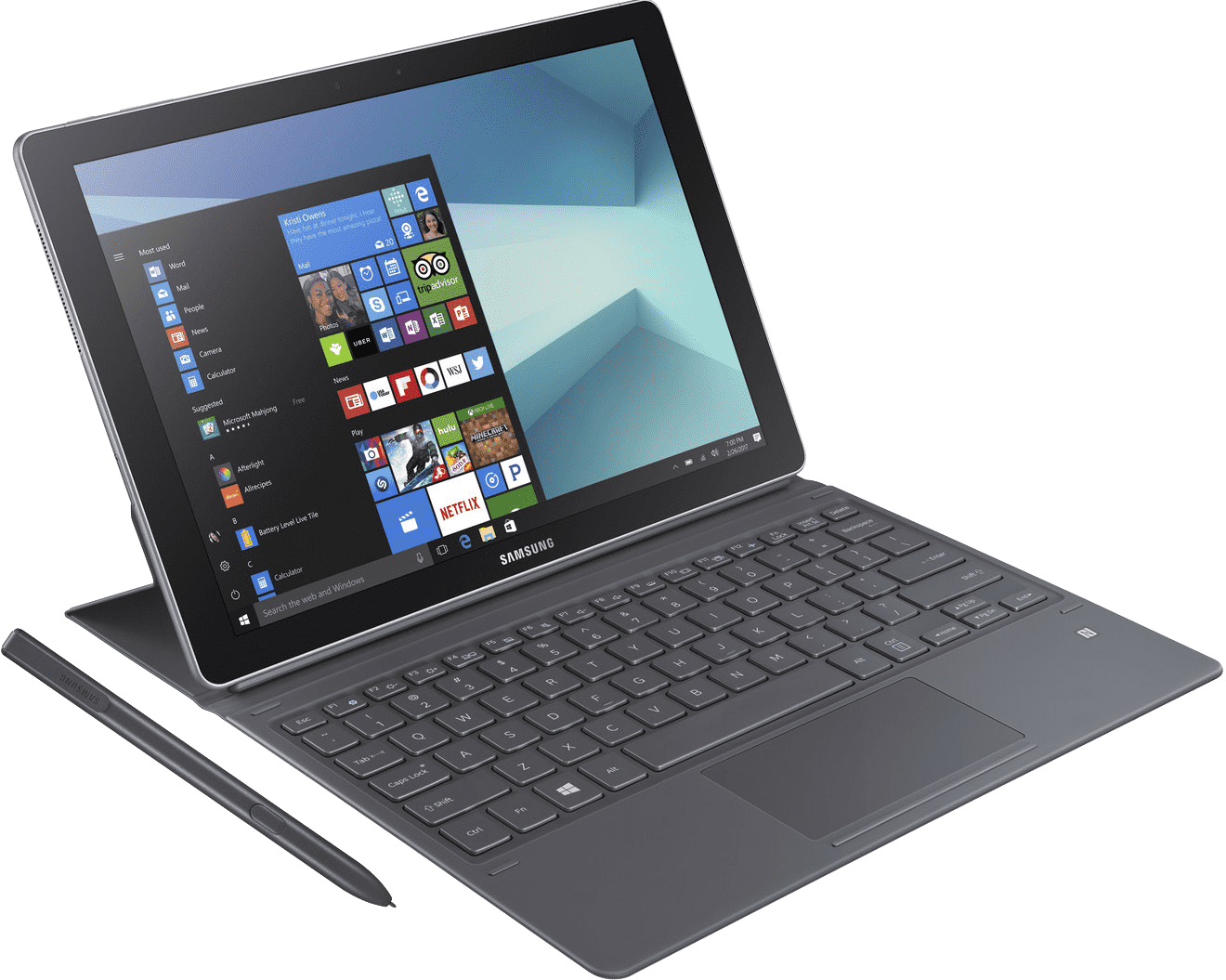 It comes in both 10.6- and 12-inch varieties, with the 12-incher the most directly- comparable to the Surface Pro and also what we tested for this review. That price gets you a Windows 10 tablet housing an Intel Core i5 Kaby Lake processor, 4GB of memory and a 128GB SSD behind a gorgeous Super AMOLED touchscreen.
The problem is that its materials don't scream worthiness of such an entry fee. For instance, while the build quality on the display is impressive, the tablet comes in a plastic frame — granted, the plastic feels plenty sturdy and smooth, giving off the illusion of aluminium from a distance.
Samsung did outfit the Galaxy Book with all sorts of niceties, like a top- oriented power button and volume rocker, and a rear facing 13MP camera with a 5MP front-facing webcam. The included S Pen is light and is pleasantly difficult to lose with Samsung's included pen loop, which holds the matte grey plastic pen snugly. The keyboard cover, however, still doesn't cut it. There's nothing wrong with the feedback and travel depth — both are quite enjoyable, actually — but we experienced a few issues with its design.
Firstly, it's not very comfortable when lying flat as a laptop; secondly, typing with the device on your lap feels as though it's going to spill right out; and thirdly, figuring out the keyboard's various magnetised orientations feels like making origami. That said, the soft-touch plastic feels quite comfy to rest your palms on and is quite sturdy.
Power-wise, the Galaxy Book fights in the same ring as Microsoft's Surface Pro 4, but despite being slightly more powerful, this amounts to almost no difference in real-world use. Standard workloads will be just fine, but anything beyond basic photo editing will likely result in a trip to Lag City.
Anything you do on the Galaxy Book — whether it be write a novel or binge a series on Netflix — will look amazing. Samsung knows how to make an incredible screen. This display is just as colour-rich as the Surface Pro 4, if not quite as sharp.
It reported a PCMark 8 battery life score of 3 hours and 10 minutes; however, it performed far better at local video playback, lasting 7 hours and 32 minutes.
We like that the keyboard and S Pen are included in the box, unlike some key rivals. Plus, the screen is downright gorgeous, and the tablet is thin and light, making it excellent for portability. However, it falls short of truly contending with the king of 2-in-1 PC devices, the Surface Pro.
Put simply, there are better options out there at this price.
See also THE COMPLETE GUIDE TO…OLED laptops
Joe Osborne
Not bad, but there just aren't many compelling reasons to pick up this 2-in-1 over similarly-priced competitors.