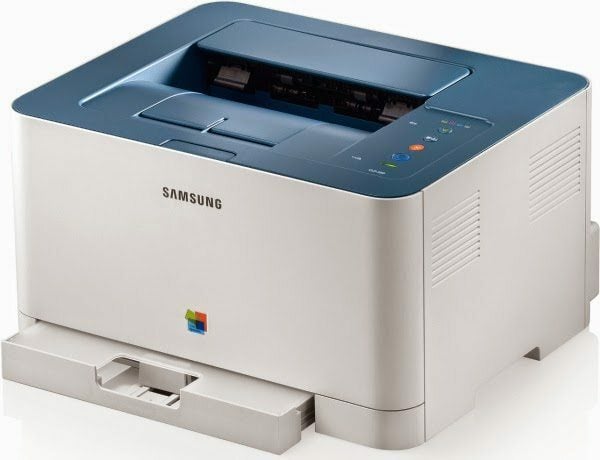 The award for the world's smallest colour laser printer may well have to go to the CLP-360 from Samsung. At just 382 x 309 x 210mm, this is an amazingly compact laser printer that will look great perched on a desktop at home or in an office. But is it any good?
Despite its size, the CLP-360 does manage to house a 150-page cassette, a 300MHz processor with 32MB of memory and a USB connection – sadly no wi-fi or other network connections, though.
The design of the printer is pretty sparse, with just a few control buttons, with power to one side along with a lift-up flap of plastic in the output area on the top of the printer. On the plus side, it looks quite good with the blue and white colours used throughout.
That aside, the text page test averaged a print speed of around 15 pages per minute, with the first page being spat out within the first 15 seconds. The colour pages were much slower, at a more sedate three pages per minute, with the first being out within 30 seconds of sending the print through.
Before we move onto the quality of the printouts, it's worth mentioning that this particular CLP-360 gave us an excessive amount of grief when printing. For starters it refused point blank to even print, stating that the printer was offline when clearly it wasn't. When it did eventually take the data, we had frequent paper jam warnings and, for some unknown reason, blank pages fed through the mechanism. We're not entirely sure what was going on, to be honest, but suffice to say, based on our experiences here, this isn't a particularly reliable make of printer.Print quality, when it did appear, was generally okay. The text was reasonably sharp and very readable, and the colour prints too were clear, had bright colours and a good resolution. In fact, the Samsung CLP-360 probably had the best output of all the printers; it's just a pity it was such a nightmare to actually the output from the printer in the first place.Costs for replacement toner vary, but one of the cheapest we found for a multi-pack of genuine Samsung toners. The colour cartridges give a page yield of 1,000 pages, with the black offering 1,500 pages. This equates to around 2.2p per page, but here lies another issue we have with this particular printer.
When we weren't having paper jam issues, or anything else for that matter, the printer gobbled up toner like there was no end to the stuff. Just in the tests we ran, we managed to dry up a 750-page black and colour pack of toner within half an hour. We suspect that if this is the case, then thousand-page toners aren't going to last much longer, especially if you're doing high-volume printing.
The Samsung CLP-360 is a small colour laser that looks nice enough to show off, and in all fairness, it does produce a good quality print, but it's far too flaky and expensive to run to justify the initial cost.