The Blade 14 sees Razer equipping its laptops with AMD CPUs for the first time, and Razer hasn't messed around, cramming a Ryzen 9 5900HX inside this compact machine. The 5900HX has eight SMT- enabled cores (16 threads) alongside base and boost speeds of 3.3GHz and 4.6GHz, so it's ideal for creative workloads as well as gaming.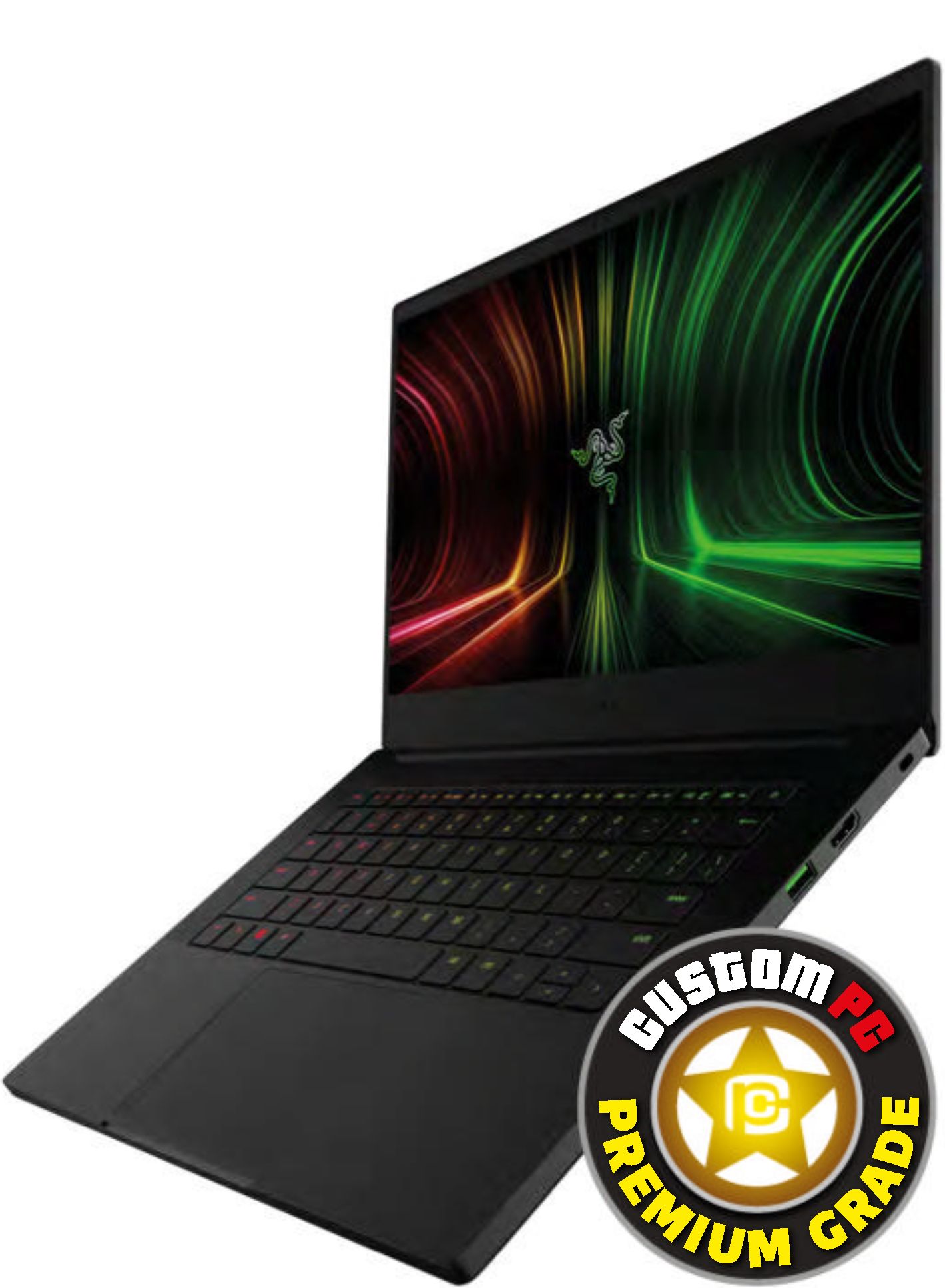 spec
CPU 3.3GHz AMD Ryzen 9 5900HX
Memory 16GB 3200MHz DDR4
Graphics Nvidia GeForce RTX 3060 Laptop 6GB
Screen 14in 1,920 x 1,080 IPS 144Hz
Storage 1TB Samsung PM981a M.2 SSD
Networking Dual-band 802.11ax Wi-Fi 6E, Bluetooth 5.2
Weight 1.78kg
Ports 2 x USB 3.2 Gen 2, 2 x USB 3.2 Gen 2 Type-C/DisplayPort, 1 x audio, 1 x HDMI
Dimensions (mm) 320 x 220 x 17 (W x D x H)
Operating system Windows 10 Home 64-bit
Warranty One year parts and labour return to base
SUPPLIER razer.com
The rest of the spec is good too, with graphical grunt provided by an Nvidia GeForce RTX 3060 Laptop GPU. Its TDP here ranges between 90W and 100W, which is mid­range for this particular GPU core. That translates to a modest base clock of 900MHz and a better boost speed of 1425MHz.
The Blade 14 also has 16GB of DDR4 memory alongside a 1TB Samsung PM981a SSD, which delivered solid read and write speeds of 3591MB/sec and 2111MB/sec respectively. Dual-band 802.11ax Wi-Fi 6E and Bluetooth 5.2 complete the internals.
This Blade doesn't just break ground with the processor – it's also Razer's first 14in laptop. This form factor has become increasingly popular lately, with other machines such as Asus' ROG Zephyrus G14 offering a compact alternative to bulky 15.6in machines. The Blade weighs 1.78kg and it only measures 16.8mm thick, so it's far slimmer and lighter than your average 15.6in laptop. Its weight virtually matches the Asus, and the Razer is slimmer.
Aside from the shrinking body, Razer's chassis design hasn't changed. As usual, the Blade 14 uses CNC-milled aluminium, and its sleek lines and black finish will be familiar to any Razer fan. It looks mature, and the body is sturdy. It will easily stand up to frequent transport, although you'll want a sleeve to protect its good looks.
The Razer has pairs of full-sized and Type-C USB 3.2 Gen 2 ports, with the smaller connectors also handling DisplayPort and power delivery. Razer's machine also has an HDMI 2.1 port, which is futureproofed with support for 8K/120Hz outputs. The RTX 3060 will only handle some esports games at that resolution and refresh rate, but it's welcome nonetheless.
Overall, the connection options are better than those of the Asus, which has slower full-sized USB ports and no HDMI 2.1, although an equivalent spec of the Asus only costs £1,499. The Blade's 720p webcam supports Windows Hello login too, but this smaller machine doesn't have card or fingerprint readers, and there's no Gigabit Ethernet. Users can't upgrade the memory either, and there's no Thunderbolt support.
Meanwhile, the keyboard has per-key RGB LED lighting and n-key rollover, and its keys have a fast and consistent action, with the speed and regularity required for mainstream gaming. On a 14in laptop, though, there are expected compromises; there's no numberpad, the Return and cursor keys are small, and larger machines have bigger, heavier keys. The trackpad is large and its built-in buttons are snappy, but a USB mouse always provides a better experience for gaming.
The RTX 3060 GPU played Assassin's Creed Valhalla and Cyberpunk 2077 with 99th percentile minimums of 38fps and 39fps, and its Cyberpunk score improved marginally with ray tracing and DLSS enabled, so it has the speed to tackle single-player games – drop the settings a little, and you can easily run games smoothly.
Its 87fps 99th percentile result in Doom Eternal gave way to a 154fps average, which is fine, but it shows that even undemanding games won't be able to make the most of the Razer's 144Hz display. The Razer is quicker than the Asus, though, which runs its RTX 3060 with a TDP between 60W and 75W.
The processor is quick. Its single-threaded GIMP image editing score of 68,585 is rock-solid, and it scored 535,106 in our heavily multi-threaded Handbrake benchmark. Those results mean you can run any everyday task on this machine alongside photo and video editing tools. That image editing score squeaks ahead of Intel's Core i7-11800H, and the Handbrake result is miles better.
The Blade is a mixed bag in thermal tests though. It's fine when running CPU-based workloads – the CPU's delta T of 59°C is solid, noise levels were modest and the exterior remained cool. That's true during less demanding games too, and the GPU's delta T of 46°C is decent. However, if you push the GPU in challenging games, the machine's underside becomes uncomfortably warm and the metal above the keyboard is too hot to touch. Noise levels are moderate here, though, and no worse than most larger gaming machines.
Meanwhile, the battery offers no surprises. The Razer's unit lasted for more than seven hours while working and ten hours while playing video, but only managed 87 minutes of gaming. Comparatively, the Asus lasted half an hour more during gameplay.
You get a great screen with the Razer, though, with the 1080p 144Hz panel offering excellent quality. Its brightness level of 323cd/m2 is fine for both indoor and outdoor use, and the 0.17cd/m2 black point is tremendous, providing serious depth. The contrast ratio of 1,900:1 is as good as it gets for an IPS display, and it serves up fantastic vibrancy. The delta E of 1.66 is great too.

The colour temperature of 7,348K is slightly on the cooler (bluer) side and the sRGB gamut coverage of 93.2 per cent could be better, but those figures aren't wayward enough to cause serious issues. This is a bold, bright gaming screen. The speakers are reasonable too, with a surprising amount of bass and a crisp, clear top end.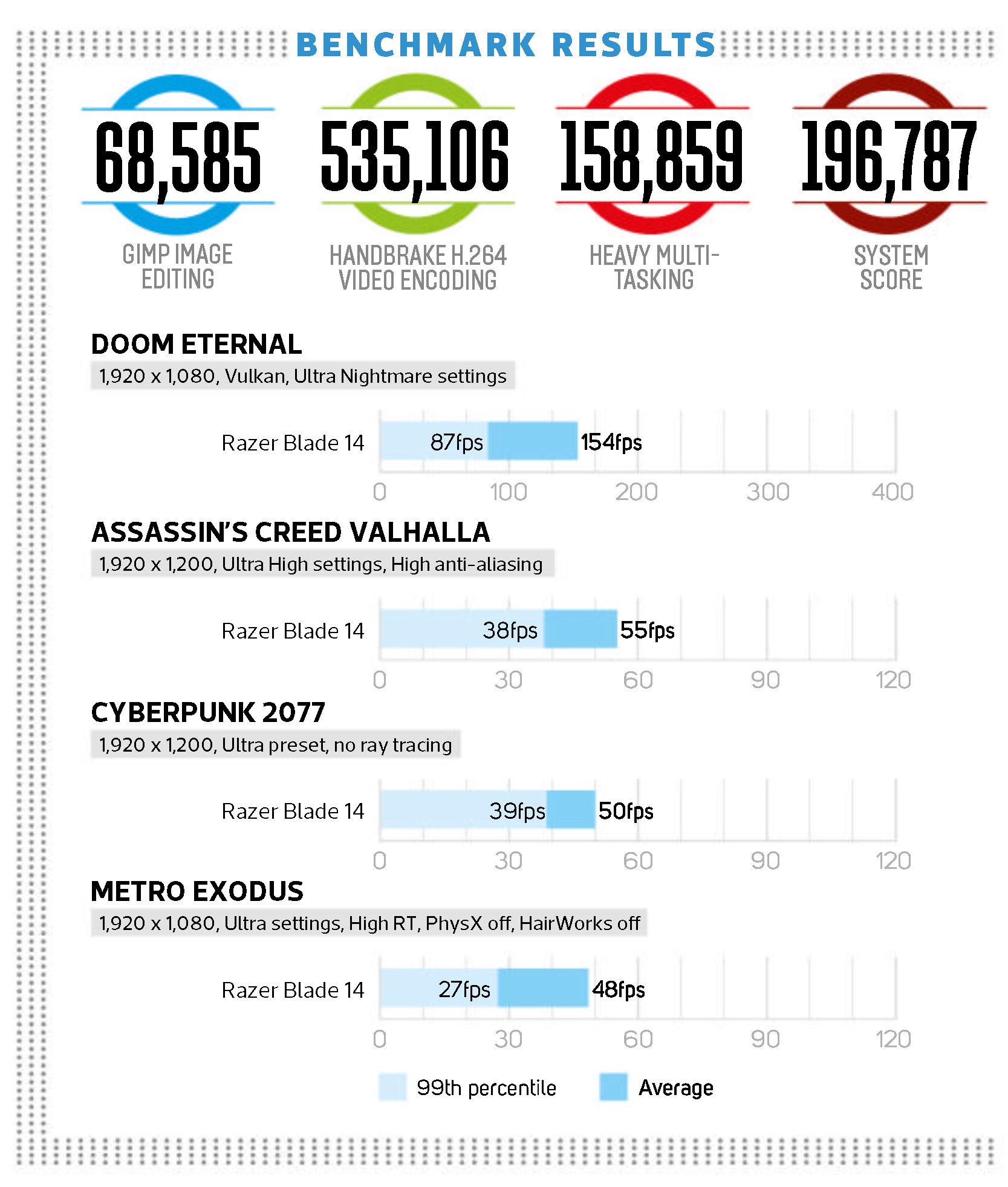 Razer's first 14in laptop gets plenty right – the RTX 3060 is a rock-solid mainstream gaming chip, and the AMD processor is quick and versatile. The familiar design is robust and good-looking, the keyboard is crisp and connection options are good.
The Blade isn't infallible though. Battery life is middling, larger keyboards are more satisfying, and the Blade is pricier than the marginally slower Asus. These compromises aren't surprising in this form factor, though, and they're not deal-breakers. This is an excellent small laptop, and well worth buying if you want a compact, portable gaming machine.
MIKE JENNINGS
Editor choice
RAZER BLADE 14 Review
Slick performance and design combine to deliver a great experience, although you have to pay for it.
PROS
Rapid 1080p gaming
Great CPU
Excellent display
Sleek chassis
CONS
Middling battery life
Expensive
Slightly cramped keyboard
Add your review
Best RAZER BLADE 14 prices ?
MORE DEALS

See also THE COMPLETE GUIDE TO…OLED laptops