Philips 227E6E Review – Not True blue but SoftBlue features in this next review
Not everybody has the space or need for one of the larger monitors that are currently available. For those who fall into this category, Philips offers its E-Line 227E6E display. This monitor features SoftBlue LED technology, which has been designed to help combat the problems that can be caused by blue light rays emanating from LED displays. These rays can pass through the cornea and crystalline lens, causing deterioration to the retina and adversely affecting vision.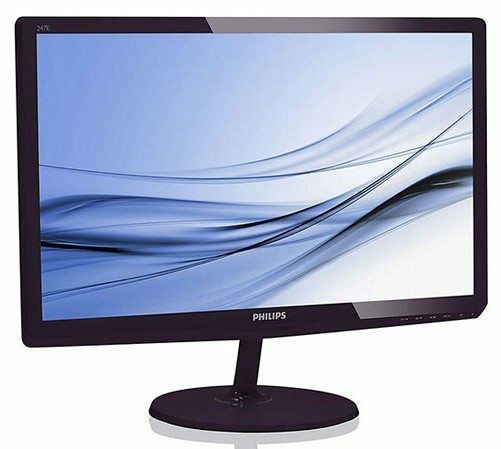 While this product's number might indicate that this is a 22″ monitor, the panel actually measured 21.5″ or (54.6cm). With an aspect ratio of 16:9 and a maximum resolution of 1920 x 1080, this panel is surrounded by a black cherry colored, reflective bezel and perches, mounted on a short support post, to a circular stand of the same hue. Attaching the panel to the stand is relatively straightforward, as you line up the two elements and then tighten a finger screw in the stand unit.
The fixed nature of the panel and stand doesn't allow for a height or swivel adjustment. The only adjustment you can make to this setup is a 25º change in the pivot angle. There is, however, a claimed viewing angle of 178º both horizontally and vertically as you view the available 16.7 million colors.
Connections on the rear of the monitor allow you to attach the supplied two-piece power lead using either two- or three-pin plugs and link the monitor to a computer via a VGA, DVI or HDMI lead. My review sample came with a VGA lead. There's also a connection for HDMI audio output if needed. A small cable management collar device is provided to help keep attached leads under some sort of control.
Philips provides a choice of methods for adjusting the monitor's various settings. There's the standard OSD method available via extremely sensitive touch buttons located on the right side of the lower bezel. While I appreciated the SmartImage Lite feature, whereby you could quickly switch between Standard, Internet and Game modes with appropriate settings that formed part of the OSD controls, I much preferred using the second method of adjusting settings provided by Philips.
This is the bundled SmartControl Lite utility, which is included as part of the software CD. SmartControl Lite splits its functionality into areas that have been designated as Adjust, Color and Options. Based mainly on slider bar controls, you can make alterations to various features such as brightness, contrast, resolution, calibration, RGB, input type and even select from a choice of screen layouts for multiple views on a split screen. Overall, I found this a more friendly method of making adjustments.
Michael Fereday
Philips 227E6E Review: Verdict
Philips 227E6E Review: Specifications
Philips SoftBlue Monitor
Picture / Display
| | |
| --- | --- |
| Monitor Panel Type | IPS-ADS-LCD |
| Backlight | LED |
| Panel Size | 21.5″ / 54.6cm |
| Aspect Ratio | 16:09 |
| Pixel Pitch | 0.248 x 0.24mm |
| Brightness | 250cd/m2 |
| SmartContrast | 20,000,000:1 |
| Typical Contrast Ratio | 1000:01:00 |
| Typical Response Time | 14ms |
| SmartResponse | 5ms |
| Optimum Resolution | 1920 x 1080 @ 60Hz |
| Viewing Angle | 178° (H) / 178° (V) @ C/R > 10 |
| Picture Enhancement | Smartlmage Lite |
| Display Colours | 16.7M |
| Vertical Refresh Rate | 56Hz-75Hz |
| Horizontal Frequency | 30kHz – 83kHz |
| MHL | 1080p @ 30Hz |
| RGB | YES |
Dimensions / Weight
| | |
| --- | --- |
| With Stand (W x H x D) | 511 x 400 x 212mm |
| Weight with Stand | 295g |
Connectivity
| | |
| --- | --- |
| Signal Input | VGA, DVI, HDMI |
| Audio In/Out | HDMI audio out |