There are lots of working environments were normal computer equipment wouldn't survive for long. Those in the military, or working with a disaster support agency, or even on a construction site can't have a mission-critical computer die because of rain, or dust. Read our Panasonic Toughbook 55 Review.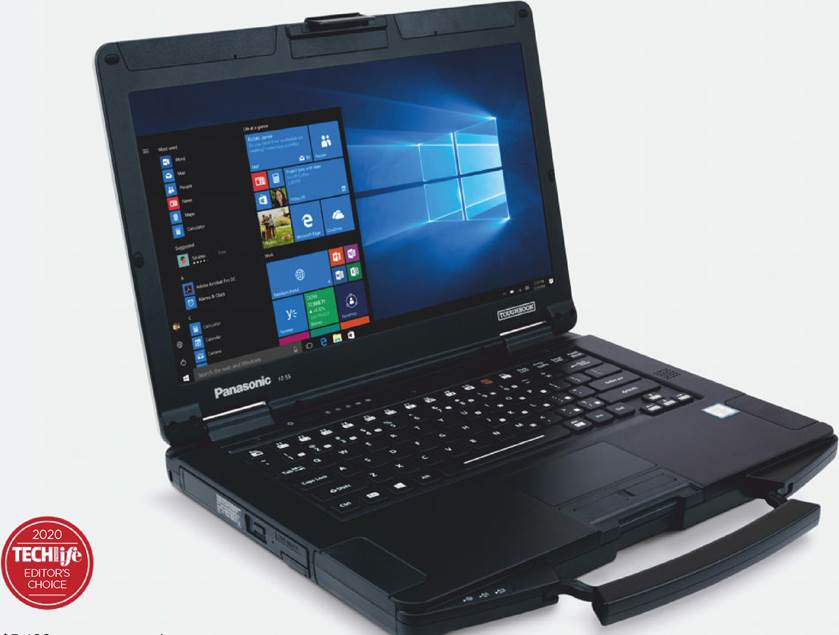 For those applications, something beyond a typical Ultrabook is needed. Having had the Panasonic Toughbook 55 for a couple of months, we'll state from the outset that this machine is a highly tuned answer to the problems we've mentioned, and dozens of other situations.
There's a price to pay though. Cheaper variants with HD non-touch screens are available.
Design
It's a cliche, but all toughened computers need to have visible screws, and the Toughbook 55 has plenty of those. However, what most purchasers will notice first is that this isn't a slim and elegant design. It's a chunky and angular piece of technology that is dominated by a substantial carry handle at the front.
Behind the handle is a central touchpad with two thumb-activated buttons that extends to the very edge of the keyboard area.
Panasonic provided a well- proportioned keyboard where the keys aren't flush against each other, and there is still room to the left and right for narrow borders
It's a cliche, but all toughened computers need to have visible screws, and the Toughbook 55 has plenty of those.
under which the speakers live.
While thicker than normal, this doesn't appear a radical departure for laptop layout, until you realise that it has no visible ports. None.
There are ports, more than we imagined, but they're all safe behind protective doors and covers that enable this design to achieve IP53 dust and water resistance and meet the US military's MIL-STD 810H requirement. We wouldn't leave one exposed to rain for an extended period or buried in sand. But these protections should keep it from failing at the drop of rain or being dropped.
But the true revelation is a level of user-installable upgrades and options that would make a standard Ultrabook hang its head in shame.
In the standard box, along with the laptop, you get a single 6500mAh battery. The battery fits into one of two slots on the front left and right, and you can use either one. That not only allows for dual batteries, but Panasonic has modules to add fingerprint reading, a Smart Card slot or an RFID reader into the same receptor.
And this isn't the only optional slot; there are two others, the Selectable I/O bay and the Selectable Universal Bay. On our machine these weren't populated, but the I/O bay can be used to add VGA, extra USB and a second Gigabit LAN port, while the Universal bay can take an optical drive, another Smart Card reader and even a discrete GPU. In terms of customising the Toughbook to meet the needs of a project, this approach allows for more flexibility than we've come to expect from a laptop. Of course, all these need paying for, adding yet more to the already high cost.
Panels on the underside allow easy access to the RAM slots and the single M2 storage module, enabling those to be easily swapped for larger capacity parts. For those IT staff concerned whether so much access to the internals would be a good thing, Panasonic engineers cleverly included holes for security bolts to be installed to stop the curious from unfettered exploring.
Our review model came with a touchscreen, and hidden in a spring-loaded silo is a stylus for those that don't like oily fingerprints on their display.
In use
Normally a laptop that weighs 2.1kg wouldn't be easy to carry, but the integrated handle makes transporting this one easy. That's helpful, because if you add the second battery the complete package is 2.47kg, and that doesn't include the power supply or any other accessories.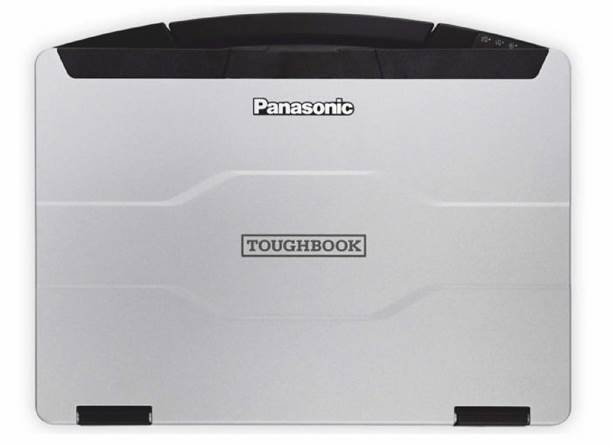 Nothing looks quite as unique as Panasonic's Toughbook.
For those wanting a long time away from power, Panasonic makes a battery charger that can take four batteries. The cells are hot-swappable, and with two bays free, the machine doesn't need to be shut down while a fresh one is switched in.
In retrospect, it might have been smarter to build the fingerprint reader into the machine and leave the bay it occupies for other things, but how much you agree with that is probably dependent on how important the security aspects of this design are to you. For those who need a highly secure system, there are plenty of options available here.
Performance
The 8th generation Intel Core i5-8365 vPro processor is a stalwart for laptop makers, delivering good performance without undermining the battery life with superfluous cores or crazy boost clocks.
The numbers revealed by benchmarking show that it doesn't do anything extraordinary in this machine, but it delivers solid scores that match other solutions built around the same platform. The only numbers that disappointed in our tests were those associated with the storage. The review machine was fitted with a SATA M2 SSD, not an NVMe model, reducing the read and write speeds to 540 MBps and 500 MBps respectively.
Where this machine truly shines is its battery life. Panasonic quotes 20 hours of life from a single battery, a wildly optimistic figure, but even in our PCMark 08 Home test we managed more than 10 hours. That's continuous use, so unless you can work that long without a break, it should last even longer in the real world. And, when you can potentially add another battery, and carry more, that could extend usable running time into days or even a week.
For those that can't easily access mains power for prolonged periods, this could revolutionise their computing use.
It does many things well, but the two standout aspects are the modularity of the design, and what that enables from a security perspective. It enables customers to customise the hardware in a way that doesn't involve the maker having an inordinate number of different SKUs and allows the machine to be smartly repurposed during its working life.
The combination of protection and flexibility is a winner.
Verdict
Editor choice
Panasonic Toughbook 55 Review
An amazing piece of engineering, the Toughbook 55 is a go- anywhere computing platform.
Add your review
Best Panasonic Toughbook 55 prices ?

$

299.99
1 new from $299.99
in stock


$

2,799.99
3 used from $2,197.80
2 new from $2,799.99
in stock


$

3,599.99
4 used from $2,950.00
5 new from $3,599.99
in stock

MORE DEALS

See also THE COMPLETE GUIDE TO…OLED laptops
Specs
CPU Intel Core i5-8365U vPro
GPU Intel UHD Graphics 620
RAM 8GB
Storage 256GB
SSD (SATA only)
Screen 14in 1080p
Connectivity Wi-Fi 5, Ethernet, Bluetooth 5.0, 4G LTE