The DP-X1 is Onkyo's take on the personal hi-res audio player, but as Ed Selley notes, there's more to it than just a measured performance with tunes
Not content with making an AV receiver for all occasions, Onkyo has been busy beefing up its music credentials over the last few years. It's curated its own hi-res music portal (Onkyo Music), launched headphones in collaboration with Iron Maiden and courted two-channel love with a growing range of hi-fi separates. Now comes its DP-X1 personal audio player, which promises to deliver high-quality listening on the go and give your smartphone a break. If you're the kind of techno phile who's amassed a hi-res library (FLAC, WAV, AIFF, ALAC, DSD, etc) but wants to set it free from the confines of your home cinema, this pocket sized gizmo is for you.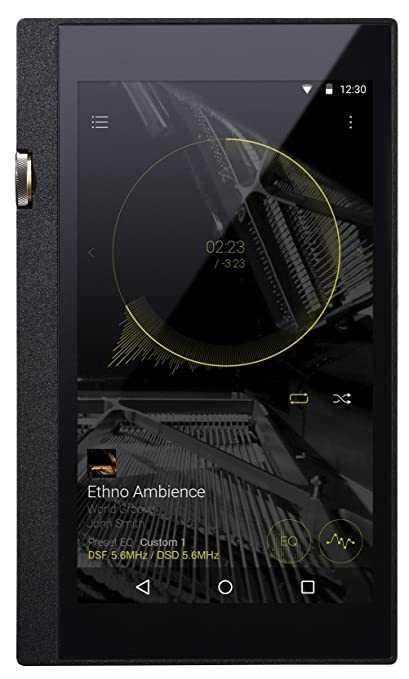 The DP-X1 has 32GB of internal memory, expandable via a pair of microSD card slots to 432GB. Unlike a number of rivals, the player is built around an Android operating system and supports (most) purchases from the Google Play store, meaning that it works perfectly well as a device for on-demand video and catch up TV. If all this sounds a bit familiar, there's a reason – the DP-X1 is a close relative of the Pioneer XDP-100R I looked at in HCC #256, and shares the same 1,280 x 720 resolution screen.
There are key diff erences between the two, though. The Onkyo DP-X1 is a twin DAC unit and supports DSD upsampling in real time, which allows you to notionally boost the performance of bog-standard lossless material. There is also a 2.5mm balanced audio jack for suitably equipped headphones and earphones.
And the casework has been changed. The DP-X1 loses the onboard speaker – although who uses such a thing on a device of this nature is open to question – and the curious grab handle protrusion at the top of the Pioneer model is absent here also. The metalwork of the player is gorgeous, too – this is a device that looks and feels really rather lovely.
The performance of the DP-X1 is, perhaps unsurprisingly, similar to the Pioneer XDP- 100R (don't forget that the two Japanese brands are now part of the same AV family) but, again, there are significant diff erences. The Onkyo has shipped from the outset without the volume limiter that initially hampered the Pioneer, but even allowing for this, it feels more powerful and assured in its music playback. There is a sense of space and three-dimensionality to the Onkyo that is deeply impressive – a 16-bit/44.1kHz rip of Underworld's Everything Everything live album evokes the sonic characteristics of the venue and delivers on the scale and fury of the performance on stage. And when given something small scale and delicate like Tori Amos' Pretty Good Year, it eff ortlessly changes gear, producing a sound that cossets and envelopes and allows you to revel in the naturalness and realism of this piano track. It's not wrong-footed by any genre.
Some of the more sophisticated EQ and upsampling features of the DP-X1 are only available to music stored locally and can't be applied to streaming apps, but this doesn't stop the DP-X1 sounding very good indeed with material on Tidal and Spotify (the player also supports the MQA format of the former). One irritant is that most installed apps will only download to the internal memory rather than SD card.
The player is an eff ective partner for video. In comparison to some smartphones hitting the market with higher resolutions, the display might seem a little on the crude side, but it proff ers realistic colouring and sufficient detail to be perfectly watchable. Catching up with Westworld via Sky Go sees the DP-X1 handling dark scenes well and the decoding horsepower it possesses does a fine job with the ephemeral soundtrack. As a means of livening up a dull commute it certainly works.
And it's perhaps the Onkyo's flexibility that is its greatest asset. With some rivals using clunky and closed-down operating systems, the ability to use the DP-X1 as a smart device gives it an edge, while the extra cost over the Pioneer XDP-100R is borne out by a more confident audio performance and neater chassis design that lends it a high-quality feel. If you're in this market, it's a must-audition.
A brilliant all-round DAP. Enjoyable audio performance matched with impressive fl exibility and bags of features. Not cheap, though.
SPECIFICATIONS
MEMORY: 32GB (432GB via SD card)
SCREEN SIZE/RESOLUTION: 4.7in/1,280 x 720
AUDIO FORMATS: MP3/AAC; DSD (DSF/DSDIFF – 2.8/3/5.6/6/11.2MHz); FLAC/ALAC/WAV/AIFF (up to 384kHz); OggVorbis; MQA
VIDEO FORMATS: H.263; H.264/AVC/MPEG-4; H.265/HEVC; VP9
CONNECTIONS: 3.5mm headphone output; 2.5mm balanced headphone output; microUSB (power and data transfer)
DIMENSIONS: 75.9(w) x 129(h) x 12.7(d)mm
WEIGHT: 203g
FEATURES: Android 5.1.1; touchscreen; aptX Bluetooth; Wi-Fi; claimed battery life of 15 hours+ (variable due to audio format); user and preset EQ; DSD conversion; low/normal/ high gain setting; 2 x microSD card slots