You're paying over the odds for printer ink – but you can beat the system.
TNR reveals secret tricks and tools for making your ink go much further. In 2003, printer ink was more expensive per millilitre than fine champagne. By the end of 2014, you could buy a computer for £30 and 64GB for a tenner, but printer ink was still more expensive per millilitre than fine champagne.
Or, if you believe Twitter, per millimetre. Stuart Andrews spoke for many when he described feeling "held to ransom" by printer manufacturers. Stuart tried saving money by switching to unbranded 'compatible' cartridges, and his printer promptly refused to work. Printer makers, you see, haven't quite ignored technological advances. They've just hand-picked the advances that suit them and not us, such as encrypted printer chips that detect and block compatible cartridges and refilling. So it's become harder to cheat the pricey printing system – but, as we discovered, it's not impossible.
When you got your first home printer a decade or two ago, it was easy to refill a cartridge by yourself. You simply stuck some ink in a syringe and stuck the syringe into the cartridge.Manufacturers soon wised up to this money-saving wheeze and redesigned their OEM (official branded) cartridges to make them harder to refill. They'll tell you that cheap third-party ink is terrible quality (they would, wouldn't they?) and that only they are qualified to put ink into little plastic boxes.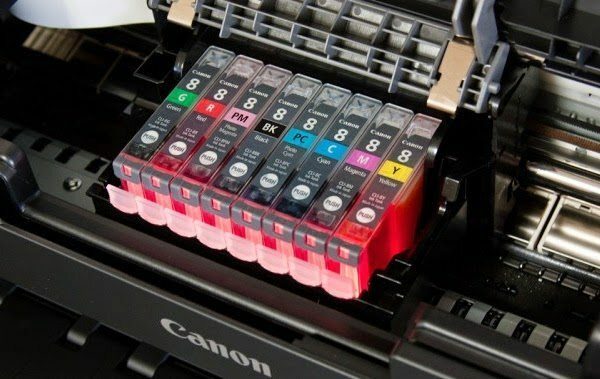 Don't be fooled – you can still refill cartridges yourself, and it saves a lot of money. A Tesco Value refill pack costing £5.50 is enough to replenish most brands of inkjet cartridge six times. With one set of Epson T0715 black and colour ink costing £34, that makes refill ink roughly 30 times better value than OEM ink.
The refill process requires more time and effort than unwrapping an OEM cartridge, as you'd expect. But there's loads of advice online, including video demos on the 'how-to' website Instructables, professional refilling advice on the UK site InkTecshop (www.inktecshop.co.uk) and an entire blog dedicated to the art of refilling HP cartridges (http://refillhp.blogspot.co.uk).
If you've got a laser printer, your cartridges use powder-based toner instead of ink, and they're much harder to refill. It can still be done, though. For refills and advice, see URefillToner (www.urefilltoner.co.uk).
Finally, assuming you're using a more common inkjet printer, here's a quick trick for getting more ink out of a cartridge that claims to be empty. Remove the near-empty cartridge, put some clear sticky tape over the copper or gold contact points, then put the cartridge back. This should fool your PC and printer into using every last drop of ink.Compatible cartridges are easier to use than refill kits, and great value for money – but, as Stuart Andrews discovered, it's a false economy if a cartridge doesn't work.
To minimise the risk, avoid super-bargains on eBay, and buy from UK-based specialists that include money-back guarantees with their ink. Refresh Cartridges (www.refreshcartridges.со.uk) and Stinkylnk (www.stinkyinkshop.co.uk) both offer refunds if the cartridges don't work or you're not happy with print quality.
These sites also offer phone and online support, and Refresh Cartridges even has its own YouTube channel.Both sites have homepage wizards to help you find the right ink for your printer. Use the dropdown menus to select your printer's manufacturer (such as Canon), series (such as Pixma) and model (such as MG5250). Alternatively, type the cartridge brand and number (such as Canon PG550) into the search box.One set of Canon PG550 ink currently costs £53.44 on Amazon (already reduced from its eye-watering recommended retail price of £82.50); the equivalent set of compatible ink costs £21.98 from Stinkylnk (which also undercuts Amazon slightly on OEM cartridges).
HP's new Instant Ink service offers a way to get OEM ink for roughly the price of compatible ink. It costs from £1.99 for up to 50 pages – that's 4p per page, around the same as HP-compatible ink from Stinkylnk – and promises to save hassle as well as money. Once you're signed up to the service, your printer detects when the cartridges are running low and automatically orders replacements via Wi-Fi. The cartridges are then delivered straight to your door, the idea being that they'll arrive before your ink runs out.
There's a catch, of course. At the moment the service only works with a few HP printers (Envy and Officejet models). And because it's a subscription scheme, you may end up paying for far more ink than you use. If you sign up to pay £7.99 per month to print 300 pages, and end up printing two pages between now and Christmas, that's not very good value for money.
Epson, too, has come up with an enticing new subscription service. Its new EcoTank printers (www.snipca.com/15719) contain deep refillable tanks instead of cartridges. The catch this time is that the printers are rather expensive (£250 and £330), although Epson amusingly calls them "ultra-low'-cost" (www.snipca.com/15712). Still, Epson is so confident that this will catch on, it's even applied to patent the process of refilling a cartridge (www.snipca.com/15698).
Let's turn our attention from the ink itself to the way you use it. Whatever ink you use, you can make it go much further by tweaking your print settings, or using free software to tweak your settings for you.Ink-saving software tends to cost money, even when its website claims it doesn't. PretonSaver Home (www.snipca.com/15713), which automatically adjusts your printer's settings, costs $33.60 (£22) – despite the fact that the site says Free Download. Once you install it, you're hit with a demand for a licence key, which costs money. Sneaky.
There are genuinely free alternatives. iPrint (www.snipca.com/15714, Windows 7 and earlier) lets you print multiple pages on one piece of paper, group print jobs together and omit blank pages automatically. Click Download Now, then click 'iPrint 6 – 7MB' (third link down), run the Installer and select 'Yes, restart the computer now'. Now; when you press Ctrl+P to print a document or web page, you'll see iPrint under Printer Name. Click Properties and use the 'Page per Sheet' dropdown menu to group multiple pages, then click OK. The print job will go to your connected printer as usual.
Be aware that if you have more than one ink-saving program installed at once, as we did briefly with PretonSaver and iPrint, they will prevent each other from working properly.
If you'd rather not install software at all, you can save ink by tweaking your settings manually. Press Ctrl+P, click Properties, then click Quality to change how much ink your printer uses. Choose Draft or General mode to print everyday documents, avoid using Photo mode for anything that's not a photo (it uses far more ink), and use greyscale (or 'Grayscale') for documents if available – it uses less black ink than the default 'Black and White'.
Last year, 14-year-old schoolboy Suvir Mirchandani caused a stir by telling the US government it could save half a billion dollars per year by printing public documents in a lighter font (www.snipca.com/15688).
The White House never did change its typeface, but it applauded Suvir's logic. Different fonts do, indeed, use different levels of ink. It's not just about the lightest fonts using the least ink; there are other factors like the little ink-wasting tails in 'serif fonts like Acta (which we use as our main font). A similarly sized 'sans serif font, such as Calibri (which these words are printed in) will use slightly less ink each time because it does not have these fancy effects at the top and bottom of letters. These savings soon add up.You can also download fonts that are specially designed to save printer ink. The letters in Ecofont (www.snipca.com/15716, $24.95/£16.50) are dotted with tiny holes so it uses half the ink of traditional solid typefaces. Stationery shop Ryman recently unveiled its free alternative, Ryman Eco (www.rymaneco.co.uk), which has stylish hollow letters. Click Download and extract the contents of the ZIP, including installation instructions and a PDF poster.
Web pages, including Gmail emails, are ink-wasters in waiting. They're designed to be read in a browser window; not to be printed, so if you press Ctrl+P and use the default settings you'll get all sorts of sidebars, menus and other printed bits and bobs that you didn't want – a waste of paper as well as ink.
To print any web page without the extra stuff, type or paste the URL into free online tool PrintFriendly (www.printfriendly.com) and press Enter. The page will then refresh as a clean, sidebar-free, text-only printable version. Click Print to print it and PDF to save it as a PDF.
Which reminds us – you don't have to print everything. Printing web pages to PDF is the single best way to save ink for free, because it doesn't actually involve printing at all. Instead, it converts the page or email to a PDF that you can read offline, either in your browser or on your Desktop or tablet, or send by email. You can skip PrintFriendly and print to PDF via your browser's Print dialogue if you want. Press Ctrl+P when you're on a web page, then click Change under Destination or Printer and select 'Save as PDF'.