Intuitive GUI
Very powerful Wi-Fi
Built in VPN connection to outside VPN providers
Not value for your wallet sadly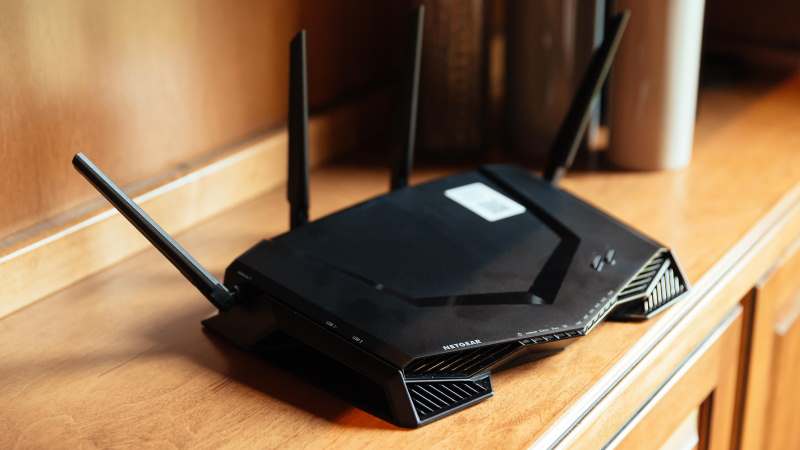 Black Bird
Take one look at the design and you would immediately see that the Netgear Nighthawk XR500 Gaming Router means business. With its angular shape and futuristic design, this router totally screams "gaming". Four MI-MO antennas can be attached to the router, using a standard screw in design. That means, this is easily replaceable. A row of white status LEDs glow menacingly at the front, which you can turn off if you find them too bright at night. At the rear, four LAN ports and one WAN ports, all rated at Gigabit Ethernet.
Total Connection
Powering the router is Duma OS. Colours aside, the Ul is intuitive and easy to use. Have you ever joined an online gaming session, and then you find out to your dismay that the server is located quite far away, leading to high latency and lag? The Nighthawk XR500 can help you by geo-filtering the servers that you can join, making sure that you are only joining servers that are closer to you.
Best Router
The Nighthawk XR500 is not only the best gaming router that we've tested, but the best router period. The high-speed Wi-Fi and the great connectivity control options, are certainly give credence to it being a great router. There is only one problem though, and that is the price. At around RM1,4K, that is nearly the price of a decent graphic card. We only foresee the hardcore gamers are willing to shell out this much. But if you can afford one, you are certainly paying for the best there is out there.
VERDICT:
Best price
Netgear Nighthawk XR500 Review
"High performance and ease of use. A pity about the price." - Din
Add your review
Best Netgear Nighthawk XR500 prices ?
MORE DEALS

Specifications
DIMENSION: 322 x 243 x 56mm
processor: Qualcomm Dual Core 1.7Ghz
MEMORY: 256MB Flash, 512MB RAM
Antenna: 4 (Removable, screw design)
WIFI SPEED: 2,6Gbps, MI-MO
STANDARD: 802.11ac
ETHERNET: 1 x WAN, 4x LAN RJ45 1000Mbps