A fearsome gaming laptop, delivering uncompromising graphical power in an (almost) portable package.
The MSI GT72 Dominator Pro harks back to the days when gaming laptops were giants. Weighing near 4kg, this 17.3m Goliath isn't a device you'd want on your lap. It's also the most powerful gaming laptop the world has ever seen – and puts many gaming desktops to shame.
The GT72's size isn't its only attention-grabbing characteristic. Gaming glam is everywhere: the LED strips along the front edge, the keyboard and even the touchpad ignite with multi colored backlighting of your choosing.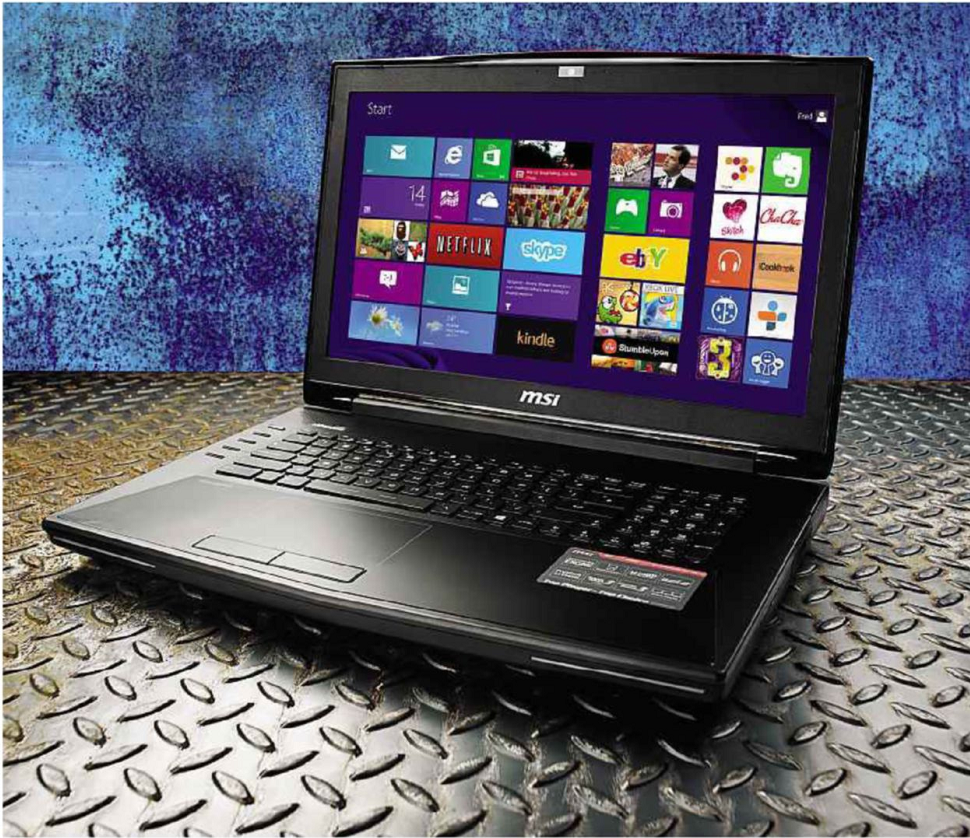 The brushed-metal lid, meanwhile, adds a touch of class.
Specifications
The GT72 comes in a range of specifications, each with a selection of CPU models, multiple SSDs, RAM, and a choice of Nvidia's GTX 970M and GTX 980M GPUs. For three grand, it's possible to specify Intel's top-flight 2.8GHz Core 17-4980HQ CPU, 16GB of RAM, up to four M.2 SSDs in RAID and a GeForce GTX 980M equipped with 8GB of GDDR5 memory.
Our review unit reached for the middle ground, partnering a relatively modest quad-core 2.5GHz Core 17 CPU with 16GB of DDR3 RAM, twin 128GB SSDs in RAIDo, a Hitachi 1TB 7,2oorpm hard drive and an 8GB Nvidia GeForce GTX 980M.
That GPU is the star of the show. While Nvidia's power-efficient Maxwell architecture made its debut in the GTX 860M (take a look at our review of Chillblast's Defiant 2 Mini, pcpro.link xischill, to see how that GPU fared), this is the first time the architecture has been extended to high-end products. The result is significantly greater performance per watt than the previous Kepler generation:
Nvidia claims Maxwell is up to 40% faster than last year's range-topping GTX880M.
Gaming performance
In practice, there's little this laptop can't handle. Crysis might nowadays be looking a little long in the tooth, but it's still a serious challenge for mobile GPUs – or at least it was until the GTX 980M came along. At Full HD resolution and Very High detail, the MSI smashed through our benchmark at an average of 73fps -26% faster than the GeForce GTX 880M in the Asus ROG G750JZ. Even when we upped the resolution to 2,560 x 1,440, the MSI kept up a smooth average frame rate of sofps. Only when we pushed up Crysis to 4K (3,840 x 2,160) resolution and Very High detail did the frame rate dip to a jerky 26fps.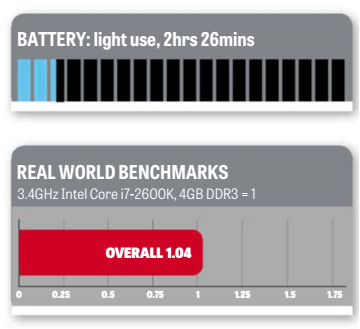 Application performance isn't to be sniffed at either. A result of 1.04 in our Real World Benchmarks is stunning for a portable system, and the SSD-based RAID array is stupendously fast, with sequential read and write speeds of i,02iMB/sec and 878MB/sec in the ASSSD benchmark. This makes for seriously quick startup times for the system and applications; we never found ourselves waiting around for games to load.
For some reason, MSI has chosen not to employ Nvidia's Optimus graphics-switching technology, so if you want to save power by switching to the CPU's integrated graphics, it's necessary to reboot the laptop.
You do get MSl's Shift feature, however, which lets you switch between Green, Comfort and Speed modes. As the name suggests, Speed mode lets the CPU and GPU work flat out; Comfort mode limits the maximum GPU frequency; and Green mode limits both clocks and sets a temperature cap of 8s"C.
Even in Green mode, however, the GPU devours power. With the screen dimmed to 75cd/m2, and Wi-Fi off, the MSI lasted a mere 2hrs 26mins before running dry. When we rebooted and allowed Intel's integrated graphics to take the helm, the GT72 lasted 7hrs 26mins in the same light-use battery test.
Features and upgradability
Despite the ostentatious colored backlighting, the GT72's SteelSeries keyboard is no mere novelty act. The control panel lets you create macros for often-used key combinations, and set up profiles for individual games.
"Twin Display Port 1.2 outputs and an HDM11.4 port permit triple-monitor setups; all three can be used concurrently as the display"
BELOW The GTX 980M inside the Dominator Pro gives a 40% speed boost over its predecessor, according to Nvidia.
The crisp, responsive keys are mounted on a keyboard panel that doesn't exhibit the slightest bit of flex or wallow, whether you're typing or frantically mashing the WASD keys in the latest shooter. And while the touchpad will be of less interest to gamers, it too is a class act: the huge touch area is accurate and responsive, and the dedicated buttons respond with a solid, reassuring click.
Connectivity is equally impressive. At the rear, twin DisplayPort 1.2 outputs and an HDM11.4 port permit triple-monitor setups, and all three can be used concurrently as the laptop's display. Six USB 3 ports are provided, spread across the laptop's two flanks, and a full set of four 3.5mm audio jacks makes it possible to hook up an external 7.1 speaker set. There's wired Gigabit Ethernet as well as 8o2.nac Wi-Fi, and there's even a Blu-ray writer thrown in.
When it comes to internal expansion, opening up the chassis is a simple matter of removing six screws; inside you'll find two 2.sin drive bays and an M.2 riser card with two Toshiba 128GB SSDs installed. Both the GPU and CPU are covered with beefy-looking heatsinks, with multiple heatpipes connected to a dedicated pair of 60mm fans at either corner of the chassis.
Even though our model came with 16GB of RAM, two further RAM slots are provided, opening up the possibility of expanding the memory to a maximum of 32GB. Best of all, MSI has used a replaceable MXM graphics module, so it's possible to upgrade the GPU – although it's hard to imagine you'll feel the need in the foreseeable future.
Display
If you' re wondering why we haven't mentioned the display 3'et, it's because some uncertainty remains on this point. Our test unit came with a Full HD TN panel, which we found disappointing at this price The resolution is fine for games, but TN's limited viewing angles and poor color accuracy undermine the experience.
The good news is that MSI has decided to upgrade the final retail hardware with IPS displays, which should offer much improved image quality. Unfortunately, the company wasn't able to provide an updated sample at the time of review, so we've yet to see the new screen for ourselves.
Verdict
The MSI GT72 is every inch the gaming laptop we'd love to own. We're not even too disheartened by the asking price: the tag attached to our review unit includes a swathe of SteelSeries gaming accessories and an MSI rucksack. If you don't mind dropping to 8GB of RAM, and losing the SSDs, you can buy a GT72 with a 4GB GTX 980M for an easier-to-swallow.
Regardless of which model you choose, you'll be getting an excellent gaming laptop. Great build quality is matched with plenty of scope for future upgrades, and Nvidia's powerhouse of a GPU is capable of smashing through most games without breaking sweat.
Until we see the updated screen, we can't give the GT72 an unequivocal recommendation.
But it's very' rare for IPS to disappoint, so if you're in the market for a no-compromises gaming laptop, the GT72 Dominator Pro demands a place high up on your shortlist.
SASHA MULLER
SPECIFICATIONS
2.4GHzIntel Core ¡7-4710HQ • 8GB RAM • 2 x 128GB SSD (RAIDO) • 1TB hard disk • 17.3in 1,920 x 1,080 TIM LCD panel • Nvidia GeForce GTX 980M graphics • Windows 8.1 • 2yr RTB warranty • 428 x 294x 58mm (WDH) • 3.8kg (4.7kg with charger)
The Maxwell factor
Nvidia's GeForce GTX 980M finally marks the debut of Nvidia's second-generation "Maxwell" GPU architecture. While last year's range-topping GTX 880M used the older Kepler architecture, Nvidia chose to debut Maxwell's potential with the midrange GTX 860M, which proved its mettle with ajudicious blend of performance and efficiency. Now, however, Nvidia has demonstrated what Maxwell can do for high-end mobile gaming.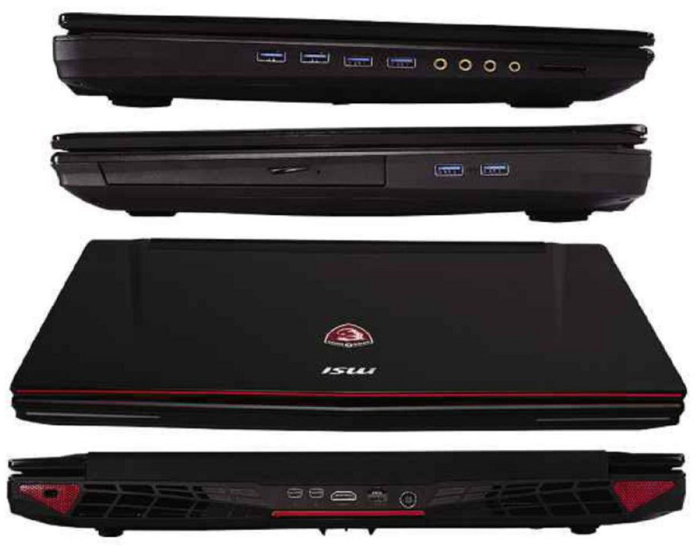 The GM204 GPU in the GTX 980M builds on the changes introduced by the GTX 860M's GM107 chip. For starters, the new streaming multiprocessor design (SMM) dramatically improves both performance and power efficiency over the Kepler architecture in the GTX 880M. So much so, in fact, that on paper the GTX 980M doesn't appear to have much going for it. It has the same number of CUDA processing cores as the GTX 880M, 25% fewer texture mapping units (TMUs), and its GDDR5 memory runs at the same effective 5GHz.
So how is it around 40% quicker? It's the aggregation of marginal gains. The architectural tweaks – the new SMM design; a little extra cache memory here and there; twice the number of render output units (ROPs); and a more potent color-compression algorithm to maximize bandwidth – all add up to a dramatic performance increase.
Most impressive of all, performance boost aside, is that power consumption has actually come down slightly. The performance per watt here bodes well for battery life in future designs. And with more affordable second-generation Maxwell GPUs such as the GTX 960M due soon, we can be sure that 2015 is set to be an exciting year for laptop gaming.