Y50 70 – Another middle-of-the-road machine
It's been a while since I've seen a gaming laptop from Lenovo, so I jumped at the chance to check out its refurbished Y50 70 model. Given how tough the gaming laptop market is at the moment, with MSI and Aorus offering killer laptops, I was very interested to see how the Y50 70 would perform, especially with its rather friendly price point.
Despite the low-ish price, the Y50 70 exudes a premium air. It's got a very sleek, minimalist approach to the case, and the brushed metal exterior suggests it'll handle a beating. A nice soft-touch rubberized surface is used around the keyboard. The 15.6 inch display is a standard 1080p jobbie, and it's here that I noticed the first issue with this laptop. It appears quite blurry, lacking the crispness that a 1080p display of this size should have, while the contrast performance just isn't up to snuff. At default settings it's horribly dark, but increasing the brightness led to a washed out appearance. Considering just how important the screen is to the gaming experience, it's very disappointing to see such a lackluster panel used on the Y50 70. The keyboard is nicely backlit and generally comfortable to use thanks to its large size, but I found the touchpad lacked accuracy, proving difficult to use.
Lenovo has equipped this laptop with an interesting speaker system. Supplied by JBL, the twin stereo speakers are supplemented by a tiny subwoofer on the underside of the base. It's not going to cause your neighbours to complain during those midnight gaming sessions, but it definitely makes the built-in speakers above average compared to the tinny rubbish found on most laptops. Serious gamers are still advised to use headphones though.For a 15.6" laptop, the Y50 is neither here nor there when it comes to the weight or slimness. It's 24mm deep, which isn't huge but also isn't record breaking. The weight of 2.4kg is similarly pretty bog standard. Its specifications are similarly middle-of-the-road. The Intel Core i7-4710HQ processor can be found in countless gaming laptops, where its top Turbo boost speed of 3.5GHz proves more than capable for most games.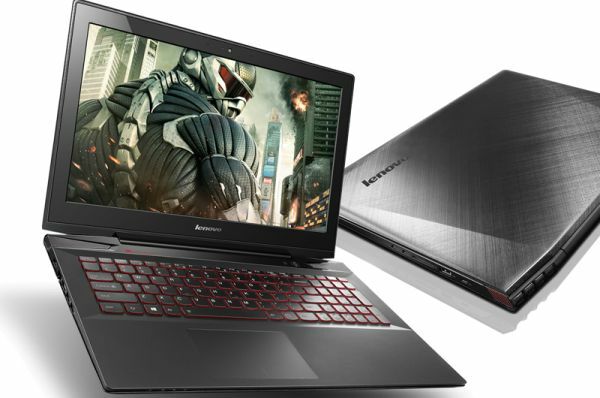 16GB of DDR3 is ample for a gaming laptop, while this sample came with a single SSD installed. It's generously large at 512GB in size, but it'd be nice to have a secondary 1TB mechanical drive for slower files such as movies or images.
NVIDIA's ubiquitous GTX 960M is tasked with driving the display, and as we've seen in the past it offers respectable performance. As our benchmark results show, it's not going to break any world records, and it's possible to pick up competing 960M-powered laptops for around $ cheaper, such as MSI's GE62. When this fact is combined with its rather ordinary display, sadly the Y50 70 doesn't quite compete. While the build quality is great, and the SSD size generous, it's overpriced for a GTX 960M-powered laptop with a questionable screen.
BENNETT RING
Lenovo Y50 70
Unfortunately the Y50 is priced well above similarly specced machines, despite having a rather ordinary screen.
Add your review
See also THE COMPLETE GUIDE TO…OLED laptops