A LUMBERING GAMING GIANT THAT'S ACTUALLY A LITTLE SPRYER THAN YOU MIGHT EXPECT.
FOR REGULAR TECHLIFE readers, just looking at the GE72MVR might be enough to evoke a sense of déjà vu, but this isn't simply because we've covered GE72 models in these pages before, but rather, that every aspect of this device — from the stock RGB membrane keyboard to the brushed-black metallic exterior — looks really rather similar to most other MSI gaming laptop we've got our hands on over the past couple of years. That means this 17-inch unit is slightly chunky and square, with the occasional bit of more economical flair helping to keep that overall price a bit lower than most of the competition.
Fortunately, these complaints are generally only skin-deep, since there's plenty of powerful components and new technologies under the hood of this latest GE72. The most notable of those is the 17-inch, 120Hz display that features a sub-5ms response rate and a 1080p resolution. The extra screen real-estate of the 17-inch form factor is appreciated, but it definitely adds to the bulk of the 2.9kg unit overall and also seems to significantly reduce the battery life, for which the GE72 scored only 2 hours and 2 minutes in PCMark 8's 'easier' Work battery benchmark.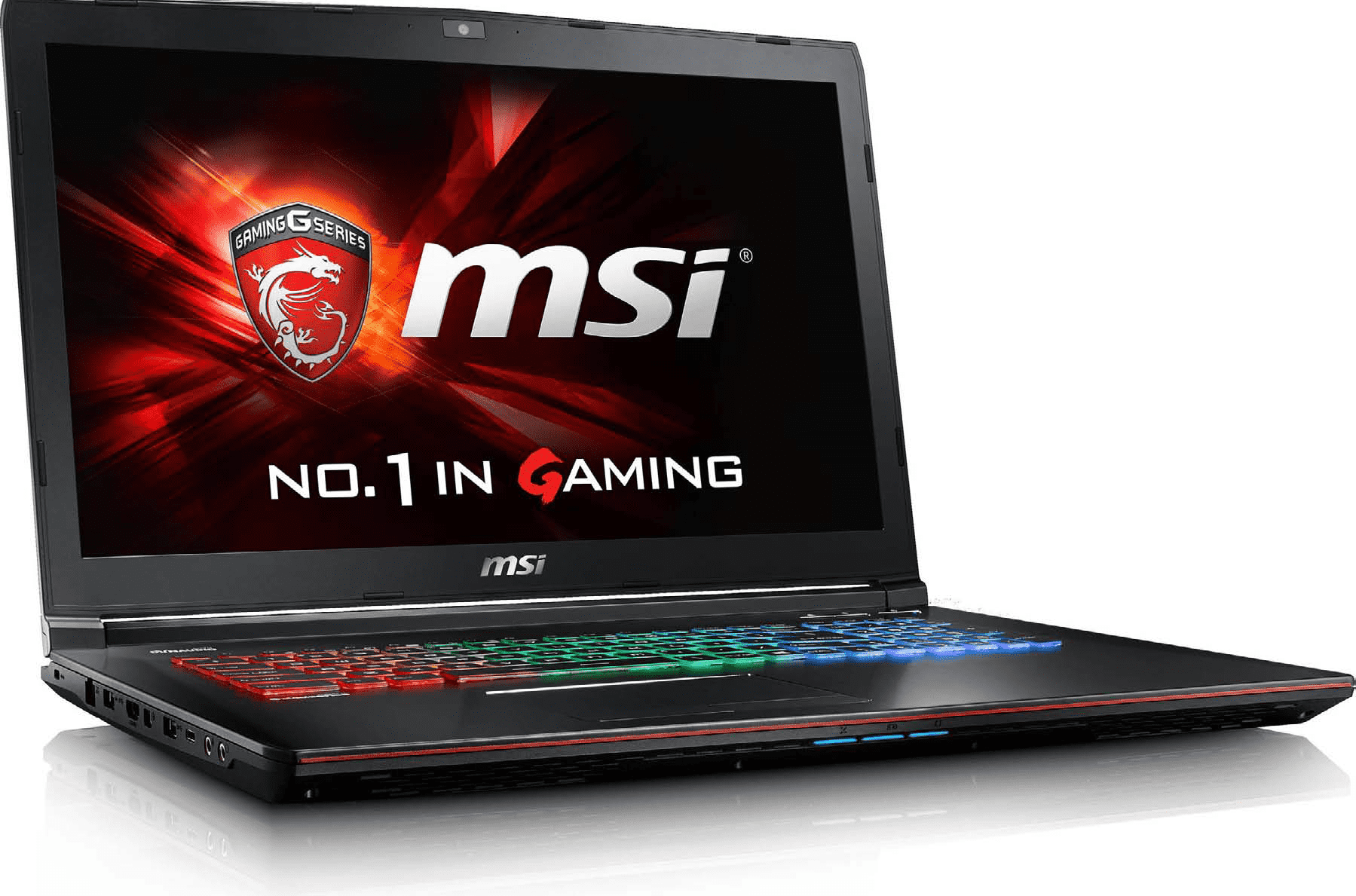 That big screen is backed up by powerful parts elsewhere, too, with the laptop-geared Intel Core i7-7700HQ CPU and 16GB of DDR4 RAM teaming up to deliver an impressive score of 5,134 in PCMark 8's general work
tasks benchmark. From CineBench's single-core CPU tests, you can see that each core of the 7RE's i7-7700HQ CPU offers an individual performance boost of 17% against last year's popular i7-6700HQ (as seen on many a gaming laptop around this price), although when you amalgamate the processing power of the four cores in multi-threaded benchmarks, the overall performance boost drops to a far less- impressive 5.7%. There's not a lot of reason to upgrade here.
In addition to a powerful CPU, this 17-inch monster offers Nvidia's GeForce GTX 1070 GPU. With more than enough grunt to drive VR titles, this powerful combo churns through modern gaming titles on 1080p Ultra settings with average frame rates of 70.1 in The Division benchmark. On older titles like GRID 2, Metro: Last Light, Tomb Raider and BioShock Infinite, you're getting average frame rates of more than 70 using the top 1080p quality settings, though you'll need to drop those a little to reach the higher 100fps+ frame rates that can really reap the benefits of that 120Hz display.
Although you might see the '(optional) PCIe SSD' labels on the packaging and in the product features lists, in Australia, this model is a JB Hi-Fi exclusive and there's only one configuration available at present, so don't be expecting to get ultra-fast storage. With sequential read and write speeds around the 530MB/s mark, the Samsung 256GB SATA 6Gbps SSD inside isn't exactly slow, but it is a little disappointing it's not the 1,500MB/s+ read/write speeds you commonly get with a PCIe-connected laptop SSDs.
The 7RE comes in at a slightly eye-watering, which seems expensive when you start looking at the competition. You can pick up the identically-specced ASUS RoG GL702VS for less, or MSI's own GS73 7RF Stealth Pro for less, although you won't get that 120Hz, 5ms screen. In other words, you'll have to really love playing games at super fast frame rates to justify the extra outlay for this pricy screen addition. We're willing to admit that, for some gamers, however, that'll be worth the cost. [ JOEL BURGESS ]
Best MSI GE72MVR 7RE Apache Pro prices ?

$

159.99
1 new from $159.99
in stock


$

179.99
1 new from $179.99
in stock

MORE DEALS

See also THE COMPLETE GUIDE TO…OLED laptops
CRITICAL SPECS
17.3-inch Anti Glare 120Hz 5ms display @ 1,920 x 1,080; Intel Core i7-7700HQ CPU; Nvidia GeForce GTX 1070 (8 GB) GPU; 16GB DDR4 RAM; 256GB m.2 SATA 6Gbps SSD; 1TB Hitachi HDD; killer wireless 1435 and E2500 Gigabit Ethernet networking; 41.9 x 29.4 x 3.4cm; 2.9kg
3.5
GENERAL
MEDIA ENCODING
MEDIA ENCODING
GRAPHICS
GRAPHICS
GRAPHICS
BATTERY LIFE
PCMARK 8 – HOME
HWBOT X265 (AVG FPS)
CINEBENCH
3DMARK FIRE STRIKE
GRID 2 – ULTRA 1080P
THE DIVISION – ULTRA
PCMARK 8 – WORK
(TOTAL SCORE)
– MULTI-THREADED CPU
EXTREME (SCORE)
(FPS AV.)
1080P (FPS AV.)
CONVENTIONAL

(HRS:MINS)

3,617
15.95
720
13,490
93.36
70.1
02:02