Gigabyte Sabre 17 Review – Gigabyte may have been promoting the heck out of its Aorus premium brand of gaming products, but that doesn't mean it's forgotten the rest of us. At this year's Computex, it unveiled the brand new range of Sabre gaming laptops, aiming to deliver affordable gaming laptops for those of us who don't have thick wallets. The Sabre 17 is the first to come across our testbench, and while it's great value for a 17-incher, you're going to have to make compromises if you want to play the latest and greatest.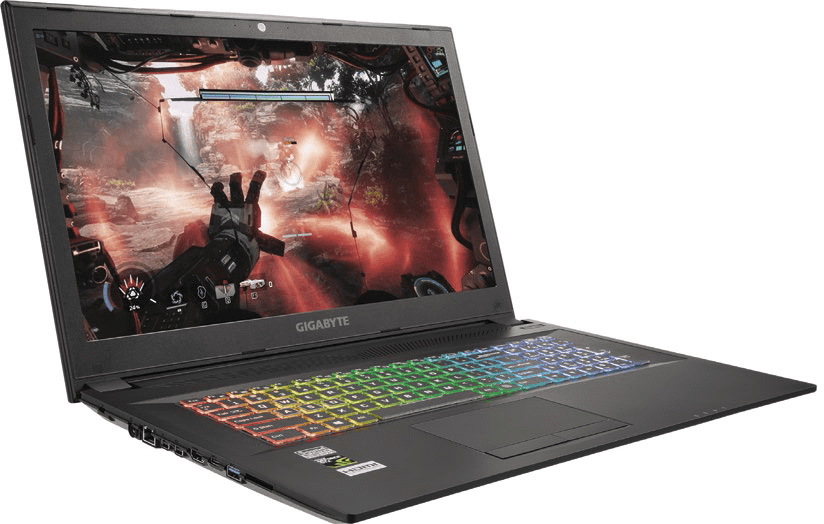 As mentioned, it's a rather large gaming machine, dominated by the 17.3-inch display. It's a beautiful IPS panel that is razor sharp despite being just 1920 x 1080p, though only supports the basic 60Hz refresh rate and no sign of G-Synch. Gigabyte has gone for an extremely subtle overall design – it's basically straight lines and pure black all the way, though the RGB keyboard does spice things up a little bit.
We're not huge fans of the touchpad, which seems rather inaccurate at times, but the 'Flexikey' full sized keyboard is comfy and roomy, with a decent amount of key travel (2mm) without any sign of flexing. It's rather heavy, weighing in at a whopping 3.1kg, so don't expect to use this as a mobile gaming machine often. The battery life backs this up, scoring just 85 minutes in our PCMark 8 Battery test – this is a large gamer designed to live mainly on a desktop.
Thanks to the large size, there's a bucket-load of I/O options, starting with twin MiniDP outputs (one is 1.3, the other 1.2), as well as a single HDMI 1.4 output. This makes it perfect for setting up with multiple screens at home. There's plenty of USB ports, with four in total, including a single USB 3.1 Gen 2 Type-C, as well as a 6-in1 card reader and the usual mic-in/ headphone out ports.
Helping to keep the costs of a 17.3-incher so reasonable is the choice of GPU, in this case an Nvidia GeForce GTX
The RGB lighting can be turned off V A full suite of ports 1050 Ti. As our benchmarks show, it won't run today's triple
A titles at 60fps with Ultra settings, but if you're looking for a mobile CS:GO or DOTA2 machine, it'll do the trick. This is backed up by Intel's i7-7700HQ, which peaks at 3.8GHz under load. Despite the high speed, we measured a maximum fan noise of just 46dB during the extremely taxing FireStrike Extreme test. We also gave PC Mark 10 our first run ever, a brand new benchmark from 3DMark, but also included PCMark 8 Home for reference to past machines. The inclusion of 16GB of memory and a 256GB SSD obviously helps here, and there's even a 1TB mechanical HDD for your lesser speed-worthy files. 802.11ac Wi-Fi is included, as is a single Gigabit Ethernet connection.
It may not be the blazing fast 17-inch 4K machines found at the high end of the market, but if you want a nice big screen, with enough power to play some of the more common, less demanding games on the market, the Sabre 17 delivers. It's hard to find anything else of this size in this price range, though the Metabox N870HK is pretty strong competition. Still, we think there's room for a mainstream gaming laptop series from another manufacturer, and the Sabre 17 offers overall excellent value.
Overall, The new Sabre series from Gigabyte looks set to deliver solid performance at a great price point, giving the mid-range gamer even more options to choose from.
Bennett Ring
PCMark 10 Professional Edition: 4651
PCMark 8 Home Edition Accelerated: 3536
3DMark Fire Strike: 6857
3DMark Fire Strike Extreme: 3538 (fan 46db)
PCMark 8 Battery test Accelerated: 85 minutes
KEY SPECS
Intel i7-7700HQ • 16GB DDR4 memory • 256GB M.2 SSD • 1TB HDD • 17.3-inch 1920 x 1080p IPS display
Best Gigabyte Sabre 17 (I7-7700HQ, 16 GB, 1 TB HDD + 256SSD , NVIDIA GTX 1050Ti) prices ?
MORE DEALS

See also THE COMPLETE GUIDE TO…OLED laptops