Budget HD monitors for under £150
We test four affordable monitors with Full HD resolution
If you want the best, most cutting-edge monitor that money can buy and aren't cowed by the cost, there are plenty available that provide razor-sharp resolutions of 4K and beyond. However, if you're fine to stick with a lower resolution, you can get some incredible bargains on a standard Full-HD screen. Although you don't get the benefit of the highest pixel counts, these screens are still perfectly capable of producing good results for a fraction of the price. The four models we've reviewed here are all priced under £150 (one is even less than £100) but still have many of the features you'd expect to see in more expensive models.
HOW WE TESTED
We tested each monitor with a calibration device called a colorimeter, which uses its own software to measure a range of information about the colour, brightness and contrast each monitor can achieve. We measured this using only the monitor's default settings and with presets available on the monitor's menu, because most people don't have their own calibration equipment to help them make further adjustments.
BenQ GL2580HM review
FEATURES 4/5 PERFORMANCE 4/5 EASE OF USE 5/5 VALUE FOR MONEY 5/5 Of the four monitors in this test, the BenQ is the least suited to gamers. Its refresh rate is significantly lower than that of the other three models, peaking at 60Hz, and it's the only one that doesn't provide support for AMD FreeSync – a special technology that eliminates choppy frame rates on PCs that contain compatible graphics hardware. But there's still a lot to like about this monitor if you only need it for general PC use, rather than high-powered games. The BenQ's slim 1.5mm bezel (the edge of casing that surrounds the screen) not only makes it well suited to a multi-monitor setup but also means the 24.5in screen looks bigger that it is. The solid base is decorated with a subtle diamond-shaped pattern, which adds to the impression of quality design, while the back of the stand can be removed for easy cable management. There are HDMI, DVI and VGA connections, but no DisplayPort, and the OSD (On Screen Display) features quick navigation with sensibly designed menus. The BenQ delivered solid results in our tests, producing good colour accuracy. The viewing angles are fine, and it put in a decent performance in our uniformity tests, varying by just 3.1% across the panel. However, the screen's contrast and black-point figures are less impressive: its contrast ratio of 791:1 is much lower than the 1,103:1 scored by the Acer, and its black point of 0.35cd/m2 is similarly middling. These results reinforce the point that the BenQ isn't a gaming monitor, and fine details could be lost in dark shadow. We'd advise you to steer clear of the built-in colour modes available from the menu and stick to its default settings, unless you have access to a colorimeter you can use to make further adjustments.
VERDICT
The BenQ's stylish slim bezel and attractive design are matched by its solid performance and good-quality colour display. However, it's not suited to serious gamers because its refresh rate is a bit slow, which means fast-moving objects may look a little blurry, and its dark contrast isn't strong enough to handle the detail in shadowy nooks and crannies. It's an excellent display for everyday PC use, however, and a bargain at just under £. Read our review
BenQ GL2580HM
AOC G2460VQ6 Review
FEATURES 5/5 PERFORMANCE 4/5 EASE OF USE  4/5 VALUE FOR MONEY 5/5 The AOC monitor didn't work as well straight out of the box as the BenQ Gold Award- winner, but with its sRGB preset mode selected, the monitor displayed a commendable 96.8% of the sRGB colour standard, and provided impressive results in the other colour tests we performed (see our chart, below). This extra hurdle of fiddling with the preset options makes it less convenient than the other monitors in this test, but you can at least still get good results without access to a colorimeter. It's not all good news, though. The AOC's 706:1 contrast ratio is middling in this group and its OSD is slow and confusing, but gamers will appreciate the monitor's support of FreeSync, and we like the overall design. Factor in the generous input selection of DisplayPort, HDMI and VGA, along with a pair of 2W speakers, and it's a good option for gamers on a budget. There's some tweaking involved in getting the best results from this monitor but its pre-programmed setting makes this easy enough. The build quality and selection of video inputs are good but the contrast is disappointing. Read more:
 AOC G2460VQ6
Acer KG221Q Review
FEATURES 3/5 PERFORMANCE 5/5 EASE OF USE 4/5 VALUE FOR MONEY 5/5 The Acer KG221Q is the cheapest monitor in this group and the only one to cost less than £100. This is reflected in its smaller 21.5in screen and plain design: there's no brushed-metal effect, just glossy plastic and thick bezels. The stand wobbled when we prodded the OSD controls, which are themselves sluggish and unresponsive. However, its image quality is surprisingly good, with a contrast ratio of 1,103:1, which was the best of the four screens we tested – both dark and light areas are detailed and distinct in games and movies. It also has reasonable colour accuracy, recreating 93.5% of the sRGB colour standard. If you have a compatible graphics card, this model supports AMD's FreeSync technology. We'd have liked to see a DisplayPort or DVI to accompany the HDMI and VGA inputs, but it's a tolerable sacrifice for the price. There's not a lot in the price difference between these monitors but this cheapest model of the group is smaller, less attractive and has fewer video inputs. However, its contrast is excellent and the colour reproduction isn't bad, either.
liyama G-Master Black Hawk G2530HSU-B1 Review
FEATURES 4/5 PERFORMANCE 2/5 EASE OF USE 4/5 VALUE FOR MONEY 4/5 On paper, this looks like the perfect budget gaming monitor. A 24.5in screen with slim bezels and support for AMD's FreeSync technology make a compelling combination. It's also the only screen in this Group Test with USB ports (2 x USB 2) alongside the generous allocation of HDMI, DisplayPort and VGA inputs. The sturdy base is finished with a brushed metal pattern, while the small OSD is one of the most responsive on test, with sensibly organised options. Some of the colour results were very good, particularly the colour temperature, which proved to be the best result straight out of the box without any further tweaking. However, it struggled with contrast. Our colorimeter couldn't get a consistent result from it, but in general use, its black points weren't as dark as the other screens we tested, making games and films look washed-out.
Verdict
It's a shame that the contrast on this screen was unreliable because much of the rest of it is very convincing. We liked the inclusion of USB ports, which none of the other models have, and it offers a good range of video inputs. Using our colorimeter, we tested the quality of each screen by measuring its colour temperature and gamma ratings. Ideally, the colour temperature should be 6,500K and the gamma should be 2.2. The charts above show which screens came closest to these ideal scores, to give you an idea of the models that produce the best results. This doesn't include any adjustments made with a colorimeter, which may improve the monitors further but would require access to this specialist tool.
Test result chart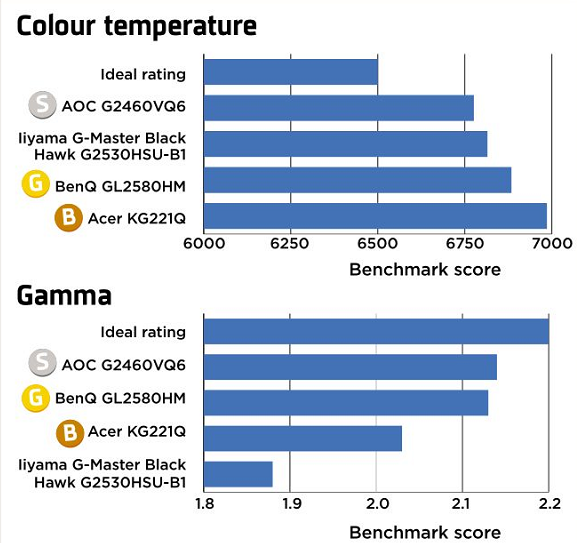 | | | | | |
| --- | --- | --- | --- | --- |
| | BenQ GL2580HM | AOC G2460VQ6 | Acer KG221Q | liyama G-Master Black Hawk G2530HSU-B1 |
| WEBSITE | www.benq.co.uk | eu.aoc.com | www.acer.com | iiyama.com |
| SCREEN SIZE | 24.5in | 24in | 21.5 in | 24.5in |
| RESOLUTION | 1,920×1,080 pixels | 1,920×1,080 pixels | 1,920×1,080 pixels | 1,920×1,080 pixels |
| SCREEN TYPE | TN | TN | TN | TN |
| REFRESH RATE | 60Hz | 75Hz | 75Hz | 75Hz |
| CLAIMED REPONSE TIME | 2ms | 1ms | 1ms | 1ms |
| INTERNAL SPEAKER | 2W mono speaker | 2 x 2W speakers | 2 x 2W speakers | 2 x 2W speakers |
| USB PORTS | X | X | X | 2 x USB 2 |
| VIDEO INPUTS | DVI, HDMI, VGA | DisplayPort, HDMI, VGA | HDMI, VGA | DisplayPort, HDMI, VGA |
| DIMENSIONS | 557 x 426 x175mm | 531 x 407 x 215mm | 508 x406 x189mm | 557 x 401x197mm |
| WEIGHT | 4.4kg | 3.8kg | 3.4kg | 4kg |
Verdict
Our favourite screen in this group of sub-£150 monitors is the BenQ GL2580HM. Its refresh rate and contrast may be too low for demanding games but it produces great colour and will make Windows dazzle. It also looks far more expensive than it is. We gave it our Gold Award. If you're a keen gamer, however, consider the Silver Award-winning AOC G2460VQ6 instead. You have to go into its menus to get the best results, but this can be achieved with a preset, so it's not difficult. If price is your primary concern, the Acer KG221Q wins our Bronze Award. Its design is less sophisticated than the other monitors in this test but don't let its cut-price looks fool you -it's a surprisingly good screen.