Monitor Audio Airstream S150 Review
– This wireless speaker from a famous British hi-fi company isn't new, but its price has recently fallen to a very reasonable level, is a low-tomiddling budget for a quality Bluetooth box, and in this case it buys you something that both looks and sounds distinguished.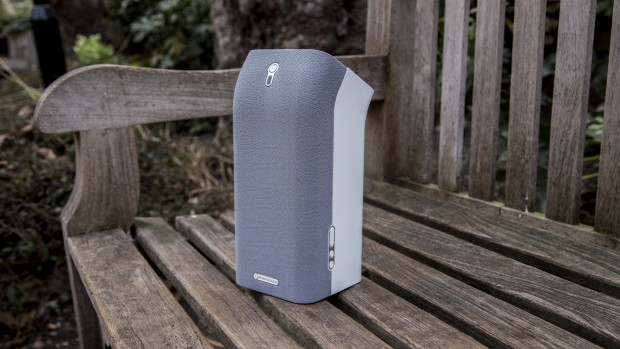 The 10-inch pillar, in grey, white or gold, has a rounded square cross-section that bends back at the top, giving it the look of a futuristic skyscraper. A traditional speaker cloth covers the front, but can be detached to reveal two bass drivers and a shiny ceramic-coated dome tweeter. The drivers are slightly angled to the left and right, and when you connect up a Bluetooth device and output your favorite music, audiobook or radio station, you'll notice this gives a broader sound stage than you'd expect from a single speaker.
We were surprised by how much bass the S150 could generate, but this wasn't at the expense of mid-range or treble.
These were clear and even delicate, maybe not quite as detailed as the likes of Bowers & Wilkins' T7, but that costs over twice as much. The S150 sounded equally good at low volume on a quiet evening or pushed to maximum to fill a large room.
You don't get fancy extras like multi-room or Apple AirPlay (that was a feature of the S200, which seems to have been discontinued), and nor is this a portable speaker – you'll need a mains socket. But the S150 does what it does extremely well.
Monitor Audio Airstream S150 Review: SPECIFICATIONS
2x 25W woofers • 10W tweeter • 40W RMS • Bass radiator • Bluetooth 4.0 with aptX • 3.5mm analogue stereo input • USB charging output • 274x120x137mm (HxWxD) • 2.3kg
Monitor Audio Airstream S150 Review: VERDICT
Solid engineering pays off in excellent sound quality from a nicely sized and attractive wireless speaker
Monitor Audio Airstream S150 Review: ALTERNATIVE
Libratone One Click
If you want a classy speaker but need portability too, this fits the bill, albeit with less bass
Audio Affair will give you £20 off all orders over £250 when you use the code TNR20. *Sales items and some brands including Audio Pro, Pro-Ject, Kanto Audio and Audioengine are excluded from the discount code.
Monitor Audio Airstream S150 Review
Solid engineering pays off in excellent sound quality from a nicely sized and attractive wireless speaker
PROS
Powerful, detailed and composed sound
Chic, compact design and first-rate build quality
Easy to accommodate and setup
Add your review