With our legs painfully bent into a one-quarter lotus, we check out a new hybrid laptop
Spread across four different models, each with their own special features, the 900S range is designed for those who demand style, performance and a Windows 10 environment, while offering the benefits of both a laptop and a tablet. The hybrid format often fails to live up to expectation, but has Lenovo cracked it?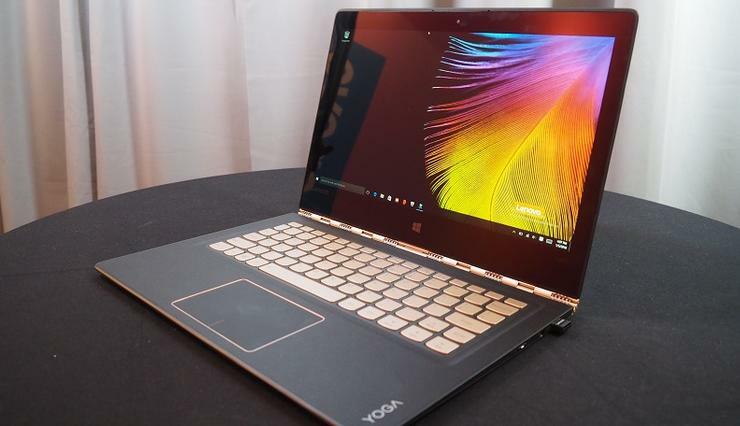 The 900s we looked at was the Silver model with a 256GB M.2 SSD and Windows 10, costing £1,099.99. Inside you'll find a nippy 1.2GHz Intel Core m7-6Y75 processor with a turbo speed of 3.10GHz. It has an impressive 8GB of LPDDR3 1600MHz memory, and the Intel HD 515 graphics run at a reasonable 1GHz.
Connectivity consists of a single Type-A USB 3.0 port, a Type-C 3.0 USB port with video out and a standard, full-sized USB 2.0 port that also acts as the 900S's power input. You also get an audio combo port and a pinhole reset.
The available ports may not sound like a lot, but you have to appreciate that these are fitted to a machine that measures just 305 x 208 x 12.8mm and which weighs less than 1kg. The 900S is a remarkably thin, lightweight laptop, which is thinner than even the new Macbook.
Its size doesn't preclude full-sized USB 3.0 ports, which is a great benefit to the vast majority of users. Also, the screen doesn't suffer, and whether in laptop or tablet mode its 12.5″ 2560 x 1440 IPS looks magnificent.
The design of the 900S is certainly very good. The hinge section, separating the keyboard and screen sections, is well made and is designed around the same concept as a metal watch band, ensuring maximum flexibility when rotating it around 360 degrees, while still being tough enough to last.
However, despite the great design, we did find the placement of the power button a little annoying. As you fold the screen over into tablet mode, it's far too easy to knock the power button -located on the right-hand side of the keyboard section. Similarly, when you plug the power into the USB port on the left-hand side of the keyboard section, you'll often push against the opposite side, which is where the power button is located. They're small gripes, but something that we did notice during testing.
As a laptop, the Yoga 900s performs well. The Core m7 processor is powerful enough to skip along through virtually every office-based task, and there's enough memory to cope with more demanding duties. As a tablet, it functions just as well. The touchscreen is responsive, and it's light and small enough to handle easily. We're still not wholly convinced Windows 10 is a particularly good tablet OS, but that's something we can blame on Lenovo. One point worth mentioning here is the fantastic battery life: around nine hours in normal use.
The Lenovo Yoga 900S is stylish, light and performs well. In fact, it's one of the best hybrids we've seen so far. It has a few design niggles, but they're easily remedied and more of a personal annoyance than anything glaringly wrong. It's not cheap, but it's certainly a great addition to Lenovo's arsenal, mm David Hayward
Good design and superb performance
Best Lenovo Yoga 900S prices ?

$

216.00
1 new from $216.00
in stock


$

222.95
1 new from $222.95
in stock

MORE DEALS

See also THE COMPLETE GUIDE TO…OLED laptops