Power-packed performance
Long battery life
Keyboard has awesome key travel and tactile feedback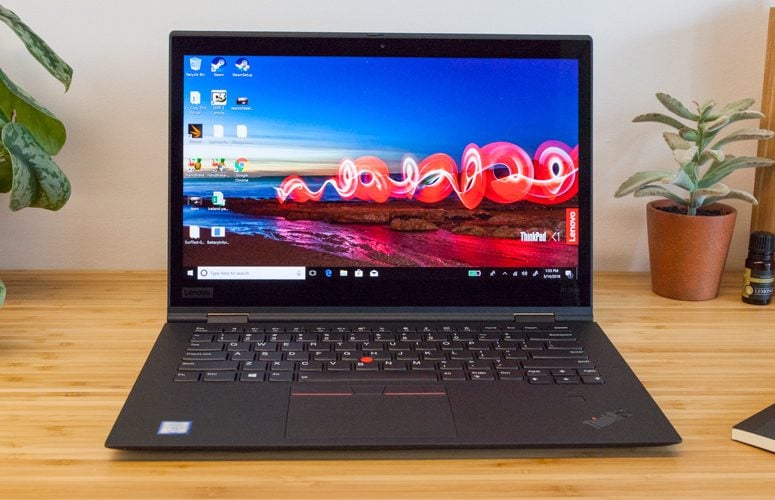 Non-Descript Entry
Lenono is usually one of the few vendors that do not provide an awesome packaging design. It believes in being practical about it and prefers to go with a simple brown box that protects the devices within. When the Lenovo ThinkPad X1 YOGA arrived for its highly anticipated review run, it came in that familiar package. However, do not let the simple box encourage any low expectations as this is not a simple Lenovo ultra-portable. In fact, this being a Lenovo ThinkPad, there is nothing simple or common to lookout. There is a very rich heritage in that name and, for this next-gen entry, it pays homage to its predecessors in so many ways. This is the review that, literally, blows many expectations out of the water.
The Classic Look
This being a Lenovo ThinkPad, it is very hard to break-away from the traditional blocky look that Lenovo, and IBM previously, has set into stone. The matte black chassis and subtle gleaming metal accents are immediately recognisable classic design elements. There is no denying that anyone who spots this uniquely business look will be able to tell it is a ThinkPad. However, Lenovo did one better with this next-gen entry. As this is review unit is from the Lenovo ThinkPad X1 family, there are tweaks applied to it that creates a sleeker look. With the ability to convert into a tablet and the other two hybrid modes, it gives the Lenovo ThinkPad X1 YOGA a highly stylised cut that is bespoke yet traditional. This will definitely turn heads.
High-Spec Configuration
Specs wise, there are a few flavours to consider. For this review, Lenovo sent in the Intel 8th Generation Core CPU with 16GB DDR3 2133MHz configuration. This also includes the Intel UHD Graphics 620, 512GB SSD, and 14″ HDR WQHD IPS Touch with Dolby Vision panel. This ensures the user experience is seamless and enriched. From boot time to loading Windows 10 and firing up various apps, nothing slowed down the Lenovo ThinkPad X1 YOGA. Better yet, running 4K content on it is a dream, thanks to awesome HDR WQHD IPS display. Of course, Dolby Vision comes into play to optimise colours and crispiness as well. All the high-end performance delivery from this next-gen Lenovo is, as always, protected within the mil-spec tough exterior.
Sleek yet tough chassis build
Smooth moving hinges promise seamless transformation sequence
Flip Around
What good is a 2-in-1 if one is to not make use of its convertible functions. With the Lenovo ThinkPad X1 YOGA, it is a no-brainer to transform the traditional notebook look into a tablet or screen stack- up modes. With the former, it is all about taking it around the office and using it for presentations. It has, on all counts, operate as per expectations and works very well even when holding in one-hand. There are times the stylus comes out and is put to good use too. As for the latter, winding down at home means switching the Lenovo ThinkPad X1 YOGA into a mini home theatre screen. This is where the 14″ HDR WQHD really shines, all thanks to Dolby Vision.
Next-Gen Ports
Now this is the interesting bit – Lenovo did not follow the rules of design and manage to one-up its rivals by putting in more than one USB port for its I/O offerings. Beyond the two USB Type-C jacks, which provide native support for Intel Thunderbolt 3, it also has a USB 3.0 port, SD Card Reader, and a HDMI jack. How about DisplayPort? Well that's where the USB Type-C come into play – one acts as a charger conduit to recharge the battery, the other is for USB Type-C devices or video output. This, effectively, replaces the DisplayPort. Does it work? Indeed! It's very seamless as it only needs two steps – plug one end onto the Lenovo and other to a USB Type-C enabled Thunderbolt 3 display.
Perfect for Work
Like all entries into this range, the no-nonsense design should be a telling hint as to who the Lenovo ThinkPad X1 YOGA is made for. After all, it is a business-class Ultrabook convertible. Those who are always out and about but need to get work done still will appreciate how this next-gen entry is very much a productivity enabler. From the stylus, lag-free performance, to the long battery life – promising 15-hours but still powering through at an impressive 10-hours, the high-resolution display, and being able to switch from presentation mode to multimedia platform easily, this is the business notebook to consider. There is only one minor gripe – it could do with a bigger screen. Really, that is the only thing that is considered the minus; everything else is plus.
BENCHMARK
PCMark 10: 3,950
PCMark 10 Express: 3,028
PCMark 10 Extended: 2,141
3DMark fire Strike: 1,160
3DMark Time Spy: 432
3DMark Skydiver: 4,815
VERDICT:
"This is the true convertible notebook for business users." – Victor
Best Lenovo ThinkPad X1 Yoga prices ?
MORE DEALS

See also THE COMPLETE GUIDE TO…OLED laptops
Specification:
DISPLAY: 14″ HDR WQHD IPS Touch with Dolby Vision
CPU: Intel 8th Generation Core i7-8650U
RAM/STORAGE: 16GB LPDDR3 2133MHz/ 512GB SSD OPAL2 PCIe TLC
GPU: Integrated Intel UHD Graphics 620
CAMERA: HD 720p with ThinkShutter
AUDIO: Dolby Atmos Enabled Line-Out, Noise- Cancelling Dual-Array Mics
BATTERY: 54 Whr Li-Ion with Rapid Charge
I/O: 2x USB 3.0, 2x USB Type-C with Thunderbolt 3, 1x HDMI, 1x Headphone/ Microphone Jack, 1x 4-in-1 SD Card Reader, 1x RJ-45 LAN
9.6
Best Lenovo ThinkPad X1 Yoga prices ?
MORE DEALS

See also THE COMPLETE GUIDE TO…OLED laptops