Although it's not as skinny as some premium laptops, and its aluminium case is partly aluminium-coloured plastic, it's still solidly put together. Read our Lenovo Ideapad 520S (14) Review.
The hinge is strong enough to keep the screen at whatever angle you choose with no distracting wobble or flex, and the chassis doesn't dip when you type on the keyboard, which feels comfortable and precise thanks to a crisp action. It's complemented by a large, smooth trackpad that responded well to our swipes, gestures and clicks.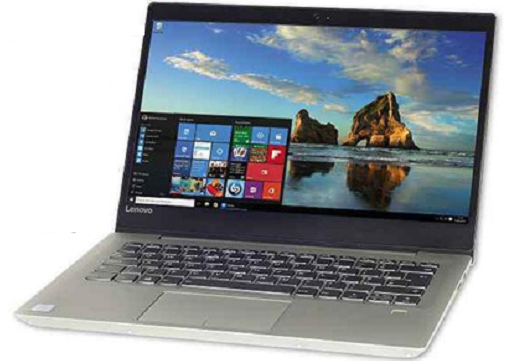 Solidly built the 520S is fine for web browsing and basic Windows 10 tasks
The 14in screen has fairly narrow borders at the sides, but more space at the top. making room for the webcam. With Full HD resolution, it looks a lot sharper and more vivid than Lenovo's cheaper 320S. Our colour meter still wasn't too impressed, finding only 60 per cent of the sRGB colours covered and an unimpressive maximum brightness. This is a common failing of laptops around this price, and you won't find it a serious problem for indoor work (where you're not fighting sunlight) or watching the odd video, helped along by the Harman Kardon-branded, built-in speakers. But be aware that this is not the machine for portable photo or video editing.
Connections are more comprehensive than we often see now. with one each of USB 2.0, 3.0 and Type-C ports to cater for all kinds of accessories, although the last will have to be occupied by an adapter if you need to use a wired network connection, because there's no onboard Ethernet. Dual-band 802.11ac Wi-Fi, Bluetooth, a full-size HDMI monitor port and an SD card reader complete the interfaces. There's also a fingerprint reader that quickly unlocks the laptop, if you prefer that to a password.
At 1.7kg, the 520S is easy to carry, and we didn't find it got noticeably hot or noisy in use. The 128GB SSD will soon feel cramped if you keep your photos, music and videos on the Ideapad, but an SD card or compact USB stick could help.
The Intel i3-7100U processor is fine for web browsing and basic Window 10 tasks, and the battery lasted nearly seven hours in our video playback test. If you need more performance, a new version is available with a quad core i5-8250U processor and 2GB GeForce GT 940MX graphics card, but this makes the screen quality all the more frustrating.
SPECIFICATIONS
2.4Hz Intel i3-7100U processor • 8GB memory • 128GB SSD • Min 1920×1080-pixel screen • Webcam • 1x USB 3.0 • 1x USB 2.0 • 1x USB Type-C • HDMI • SD card reader • 802.11ac Wi-Fi • Bluetooth 4.1 • Windows 10 Home • 19.3x327x237mm (HxWxD) • 1.7kg • One- year warranty
VERDICT:
Best Lenovo Ideapad 520S (14) prices ?
MORE DEALS

See also THE COMPLETE GUIDE TO…OLED laptops
ALTERNATIVE:
This fractionally slimmer rival is now available at the same price for a very similar spec all round