Lenovo IdeaPad 320s review – We've seen all sorts of amazing laptop- tablet hybrids from Lenovo, with touchscreens, pens, virtual keyboards and built-in projectors. This is not one of those. The Ideapad 320S is an unashamedly basic laptop at a refreshingly low price. The case, in silver or white, is mostly plastic but feels sturdy. And although the hinge doesn't fold all the way around like the Yoga convertibles, it does tilt as far back as you want, down to resting on the desk. Unfortunately, the cheap TN LCD panel means you'll need exactly the right angle to make it clearly visible.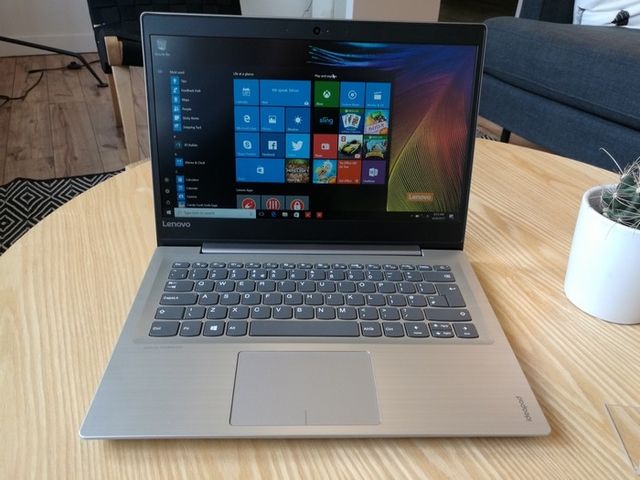 It has trade-offs, but for the price it's a decent everyday laptop
At 1.7kg it's not the lightest 14in laptop around, but quite portable. The USB Type-C port can't be used for charging, so if you want the option of topping up while you're out, you'll have to carry Lenovo's power adapter too. At just five hours eight minutes in our video-playback test, the battery won't get you through a day's work without it.
The keyboard is full-size and properly laid out, but it is rather mushy to type on, occasionally failing to register that we'd hit a key. We'd have liked the touchpad to respond more crisply, too, although it's nice and big. That screen has an anti-glare matt finish and a resolution of 1366×768 pixels, which looks reasonable at this size, but we found it pretty dim. A meagre 55 per cent sRGB coverage rules it out for photo or video editing, and it's not ideal for long work sessions either, but for casual use and a bit of TV-watching in bed, aided by the decent built-in Harmon Kardon speakers, it's adequate.
You get an Intel Pentium 4415U processor. Yes, a Pentium. We'd forgotten they existed too. This one is only a year old, and much better than an Atom, but not fast, and not helped by having just 4GB of memory. At least storage comes in the form of an SSD, which is speedier than a hard drive, and the 128GB capacity is more practical than 32GB netbooks. In short, Windows 10 programs will run, but don't plan anything ambitious and try not to open too many web pages at once.
Alternative configurations take you up to an i5 processor and Full HD screen, but if you have more to spend, you'd be better off looking at a different model. The 320S is built to a budget, with some obvious and significant compromises, but is great value.
Lenovo IdeaPad 320s review: VERDICT
Screen, keyboard and battery life are all so-so, but as a low-cost laptop for occasional use the 320S has much to recommend it
Editor choice
Lenovo IdeaPad 320s review
Screen, keyboard and battery life are all so-so, but as a low-cost laptop for occasional use the 320S has much to recommend it
Add your review
|
Read reviews and comments
MORE DEALS

See also THE COMPLETE GUIDE TO…OLED laptops
Lenovo IdeaPad 320s review: ALTERNATIVE
HP Pavilion 14
Choose the i3 version and you get a faster processor, Full HD screen and longer battery life
Lenovo IdeaPad 320s review: SPECIFICATIONS
Intel Pentium 4415U 2.3GHz processor • 4GB memory • 128GB SSD • Min 1366×768-pixel screen • Webcam • 1x USB 3.0 • 1x USB 2.0 • 1x USB Type-C • HDMI • SD card reader • 802.11ac Wi-Fi • Bluetooth 4.1 • Windows 10 Home • 19x338x249mm (HxWxD) • 1.7kg • One-year warranty