We've reviewed six multifunction inkjet printers, testing and comparing them for speed, quality of printing and running costs
Inkjet printers have become increasingly affordable, with PC retailers and even supermarkets piling them high and selling them cheap. However, the bargain you take home might not seem such great value for money when you realize how often the ink needs to be replenished and how much that costs.
In this Group Test, we've reviewed six multifunction inkjet printers, including two older models that are currently available at heavily discounted prices. As well as looking at how well the printers perform, both in speed and print quality, we also scrutinized how much ink the printers consume and the cost of replacing their cartridges.
How to choose a printer
There are more printers available, at a wider range of prices than ever before. Here's what you should consider when trying to choose the right one for you
Inkjet or laser?
Laser printers want to convince us that they're as home-friendly as their inkjet counterparts, while some inkjets are as fast as laser printer. So which of these very different animals is right for you? Laser printer toner cartridges last several thousand pages but cost a fortune. Color models tend to slowly use up the color toners even if you only print black, then refuse to print at all when any of them is empty. This makes color lasers awkward if you only print occasionally, and even for higher volumes they don't necessarily work out cheaper to run than inkjet to run. They do offer crisper text and solid color graphics, but aren't great for photos.
For most of us an inkjet is the best choice, or a budget mono laser for black only.
Multi-function
It's more common than ever to find printers with a scanner stuck on top.
There are differences in quality and speed between scanners, so always read our reviews. For everyday occasional photocopying and digitizing paper documents, any 'multi-function printer' (MFP) should be fine. A few models still support faxing.
Paper handling
Most printers can accommodate 250 A4 sheets in their main tray, but others only fit 100 (sometimes in a vertical hopper on top, which isn't as neat). Many MFPs now have an automatic document feeder (ADF, see image above right) for the scanner, typically taking 25 sheets, which is great for multi-page copies. It's rarer to find a 'straight-through' rear paper feed, which avoids the need for thick card to wrap around rollers, so most printers are limited to about 300gsm (grams per square meter) paper. A few A4 printers, notably made by Brother, can print single sheets of A3, but full A3 and larger printers are much pricier.
Laser and inkjet printers have things in common, but are very different animals
Getting connected
A printer can connect to a PC via a USB cable; to a PC or router via an Ethernet cable (meaning you can share it with other devices on your network); or to PCs and mobile devices via built-in Wi-Fi.
Most Wi-Fi models support AirPrint (Apple's technology that allows printing from iOS apps) and Mopria (for compatible Android apps). A few rely on the printer manufacturer's own app, which will also let you scan pages from an MFP to your phone or tablet.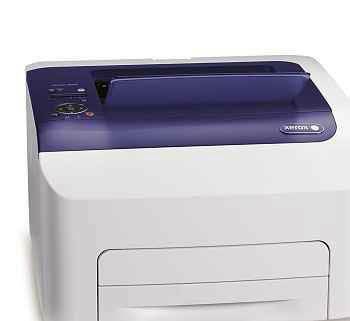 The Xerox Phaser 6022V color laser printer, but a full set of refills is well over.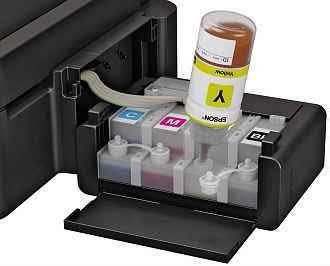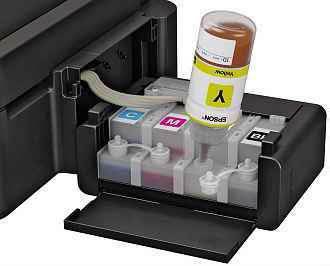 Until all printers fill up from bottles like Epson's EcoTank, cartridges will remain pricey
Ink and toner costs Our reviews always work out the cost per page for you based on current prices for official ink or toner cartridges. Roughly, expect around 2.5-4p for black text or 7-10p for color. These figures are useful for comparison, but the industry standard definition of a 'page' assumes there's not much on it, so in fact a fullpage photo could use dozens of pages' worth of ink or toner. Printers also waste ink/toner in maintenance tasks.
Larger 'XL' cartridges save money.
Tank systems such as Epson's EcoTank can work out even cheaper, as well as creating less waste. With HP's Instant Ink option you pay a monthly fee and ink arrives in the post whenever you're running low, but to be sure of saving money you'll need a clear idea of how many pages you're likely to print.
Unofficial 'compatible' cartridges often work fine, and can save money.
But printer manufacturers hate you using them, so expect your printer to harangue you about using an unapproved cartridge. Heavy users of color laser printers, for example, can easily save hundreds of pounds by finding a reliable brand of compatible toner.
Canon Pixma TS9050 Review
This unassuming box is well designed and has a large 12.6cm screen, which makes it slick and simple to operate.If photo quality is your priority, this is definitely the printer to go for. It wasn't that brilliant on plain paper but it comes into its own when printing on glossy paper.
However, it's expensive to buy and run, and by the time you've printed out your 5,000th page. Most of this cost is due to its color printing, which costs 8.7p per sheet. Mono printing come out at a more reasonable 1.4p per sheet.
TEST-RESULTS CHARTS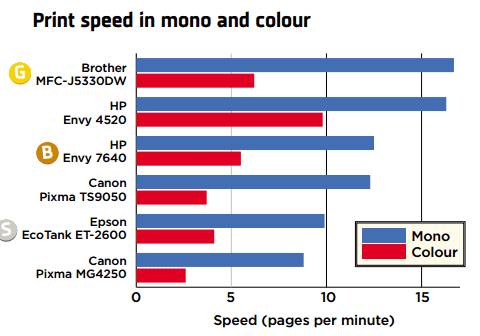 OUR VERDICT
We awarded our Gold Award to the Brother MFC-J5330DW because it's got what it takes in all the right places.Crammed with features, from a sheet feeder to A3 printing, it's excellent at printing photos, prints at a very reasonable speed and offers good value for money, both in the asking price and the long-term cost of printing.
Anyone looking for an affordable, waste-free printer should seriously consider the Epson EcoTank ET-2600, which is significantly cheaper to run than the other printers we reviewed here. However, it's not as quick or as good at printing as the Brother.
Our Bronze Award goes to the HP Envy 7640, because it produced great-looking prints and has many of the extras you'll want from a multifunctional printer and scanner. However, it's not ideal if you print a lot because the running costs are high.