Ice Giant Prosiphon Elite Review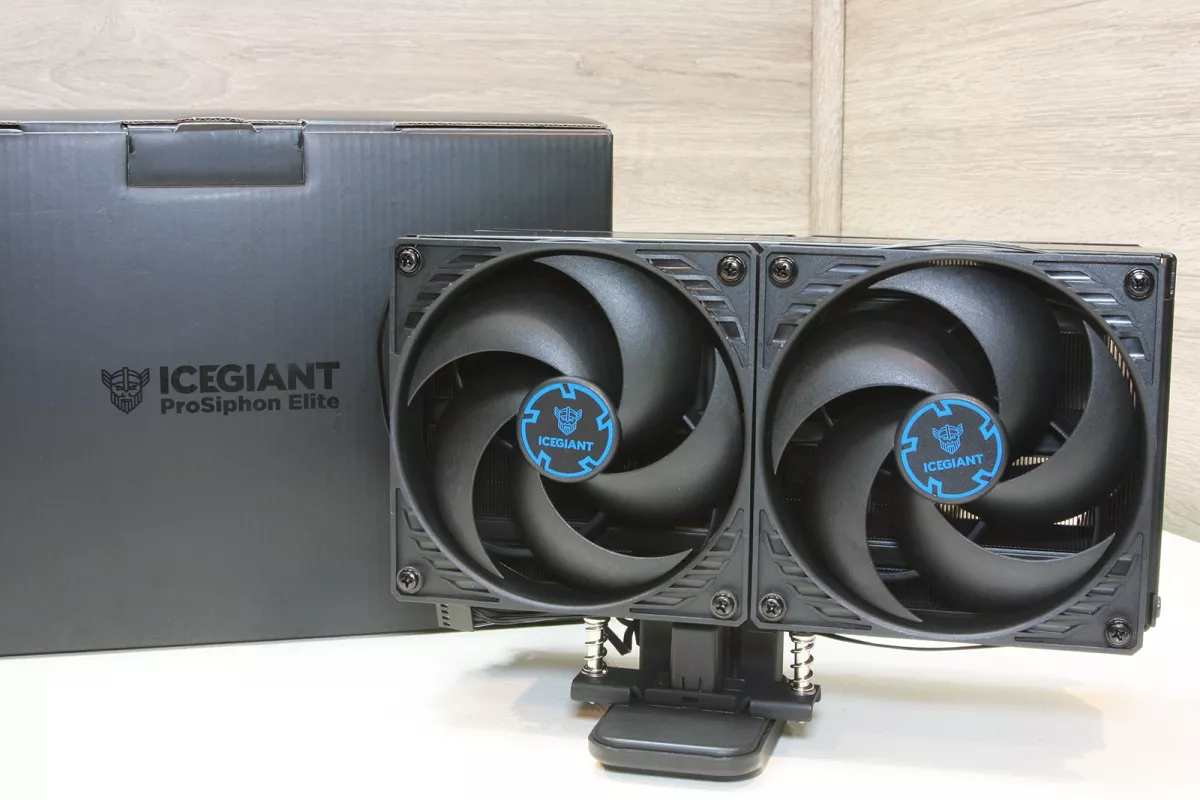 Ice Giant Prosiphon Elite Review
No leaks or noisy pumps
Excellent cooling on most sockets
No need for a radiator mount
You don't have to worry about pumps, coolant or leaks – you can just fit them and then forget about them. Their size can be an issue, though, taking up a huge amount of space around the CPU socket, but that hasn't prevented IceGiant from creating one of the largest aid coolers we've ever seen in the ProSiphon Elite.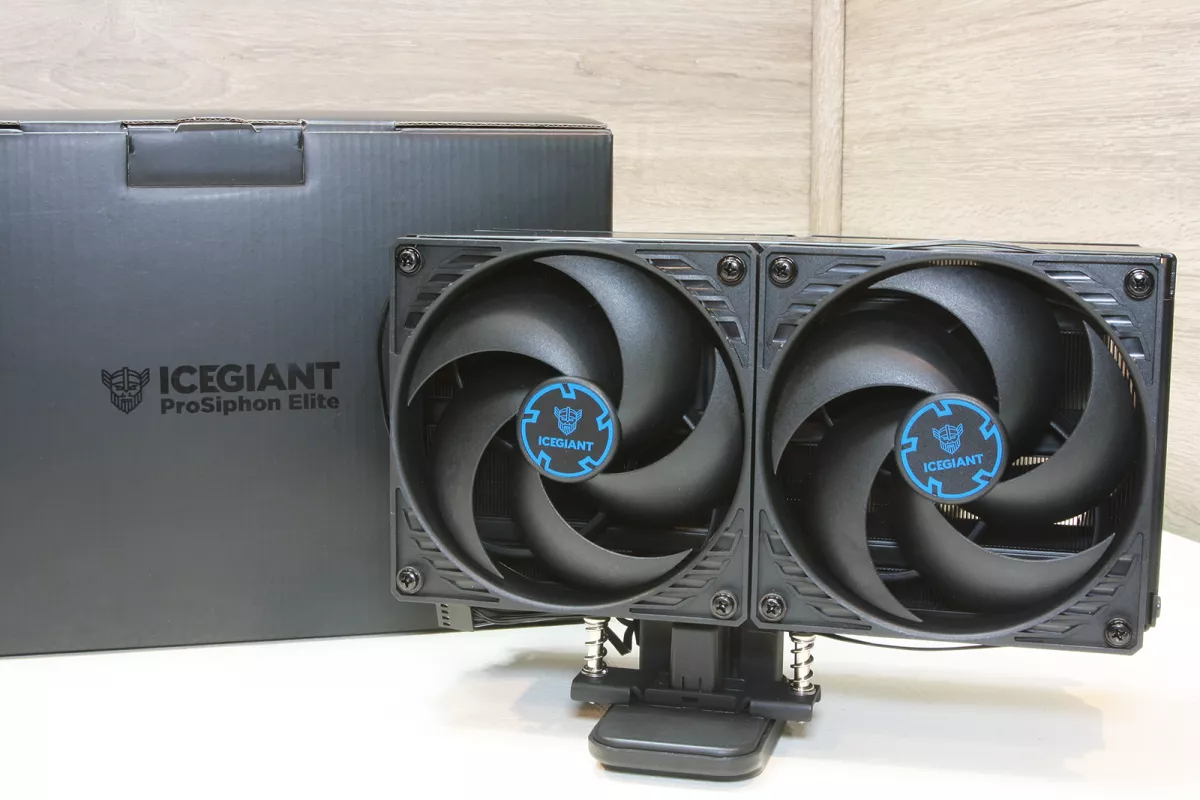 | | |
| --- | --- |
| Height | 6.5″ / 165.1mm |
| Width | 9.88″ / 251mm |
| Depth | 2.0″ / 50.8mm (4.0″ / 102mm w/ fans) |
| Base Height | 1.75″ / 44.5mm |
| Assy. Offset | 1..0″ / 25.4mm up, |
| | 0.75″ / 19.1mm forward |
| Cooling Fans | (4) 120 x 25mm |
| Connectors | (4) 4-pin PWM |
| Weight | 70.8 oz / 2007g |
| Intel Sockets | 1366, 115x, 1200, 2011, 2066 |
| AMD Sockets | AM4, TR4, sTR4x |
| Warranty | 10 years |
| Stated noise | 32dBA |
Thankfully, it's only 164mm tall, so it's unlikely to run into too many issues with CPU clearance in the vast majority of ATX and micro-ATX cases. It's compatible with all current sockets too, including all generations of AMD's Threadripper sockets. Accordingly, it sports four 120mm fans (really) and a huge heatsink that uses a two-phase dielectric fluid that combined, acts like a bunch of giant heatpipes.
In fact, if you look inside the heatsink from the edge, you can see a large centre pipe and three enormous horizontal channels for the liquid and vapour to move inside, dumping the heat into eight heatsink sections once the vapours cool and condense inside.
The cooler makes use of gravity to transfer the liquid back to the contact place where it's heated and phase-changes into vapour again, moving heat away from the contact plate. The company claims this effect works whether the cooler is mounted on a vertical motherboard or if the motherboard is flat and face up.
The contact plate itself is enormous, which is good seeing as IceGiant makes a song and dance about Threadripper compatibility. It's certainly large enough to cover all but tiny slivers of the edge of a Threadripper headspreader, which is far bigger than any other universal heatsink we've tested.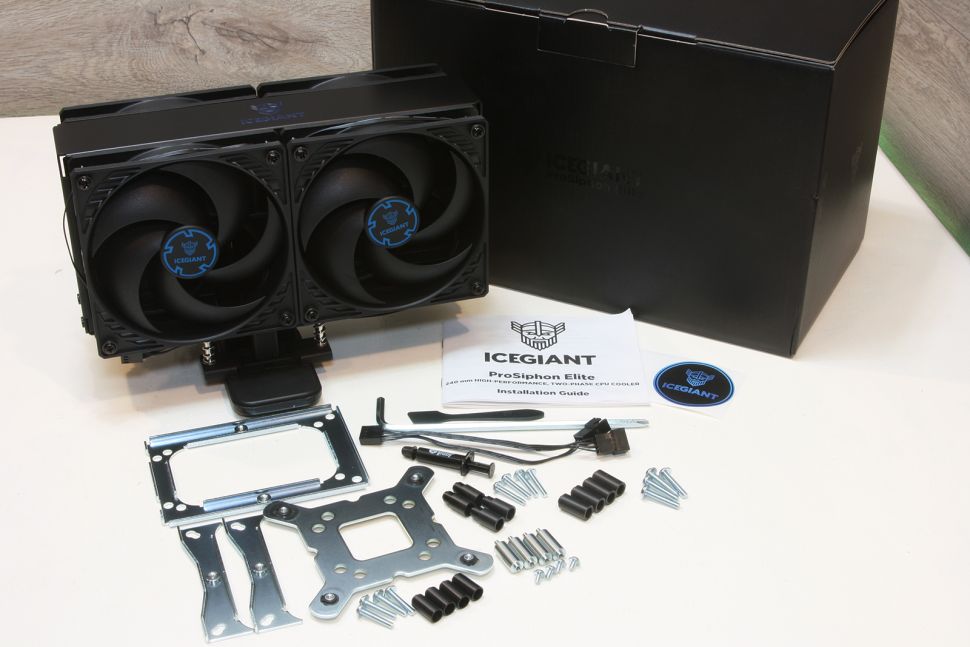 In stark contrast to many large air coolers, memory clearance is only a slight issue, thanks to a generous gap of 48mm underneath the heatsink, although this does mean the likes of Corsair's Vengeance RGB Pro modules, which are some of the highest models we've used, are just a couple of millimetres too tall.
Nearby I/O shrouds and VRM heatsinks can also potentially be an issue, although we tried several boards where the shroud extended well above the actual I/O bracket, and they all fitted underneath the ProSiphon Elite's massive heatsink.
The fans are mounted on the sides of the heatsink, so have no bearing on memory or motherboard clearance. Two fans are mounted out of the box in pull mode, with a further two included in the box that you can add in push mode. They're reasonably powerful, with peak speeds of 2,300rpm, and use standard screws to fit. As such, if you wanted, you could use your own fans, perhaps to add some RGB lighting to the equation, or to liven up the otherwise bland black exterior a bit.
Installation can be tricky due to the size and weight of the cooler, although the mounting mechanisms are relatively simple. The mount for AMD sockets has a single large top plate that sits over the CPU socket, securing to the mounting threads on Threadripper motherboards and the stock backplate on Socket AM4, which is suspended by a quartet of pins.
The mount for Intel sockets uses a similar arrangement, although it took us a few tries to get right with our LGA1200 system. The pins can be tricky to secure fully, and any unevenness is magnified with such a tiny area to cool. The cooler only secures using two screws, and we'd prefer to see a four-point mount for the cooler itself given its weight.
We can't argue with the included tube of Thermal Grizzly Kryonaut thermal paste, though, and the instructions were simple to follow, with the components bagged up according to the socket you're using.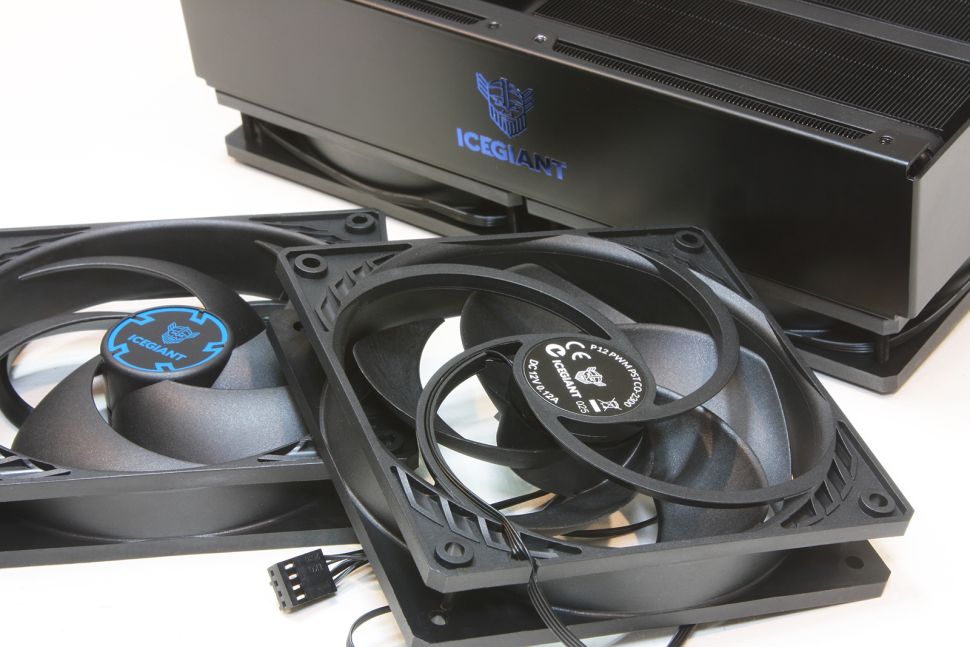 In our LGA1200 system dealing with a Core i9-11900K, the IceGiant ProSiphon Elite managed a delta T of 70°C with two fans and 68°C with four fans strapped to the already imposing heatsink. It performed similarly to the be quiet! Silent Loop 2, which managed a delta T of 66°C, but with slightly lower noise levels. However, the Corsair iCUE H100i Elite Capellix did a better job of handling this CPU's high heat density, with a CPU delta T of just 61°C, albeit with considerably more noise at full speed.
The performance differences were much closer in our Socket AM4, with the ProSiphon matching the Corsair cooler with two fans and beating it by one degree with four fans installed. However, this result was only a couple of degrees cooler than the far cheaper Antec Neptune 240, while the Corsair cooler also sports RGB lighting and software control.
Finally, as the ProSiphon is kitted out with an enlarged contact plate, we strapped it to our Threadripper 3960X system, where it managed a delta T of 62°C with two fans and 59°C with four fans installed. This was cooler than the Corsair H100i Pro XT we used in our last group test on a Threadripper system, although the NZXT Kraken X63 and X73 were cooler still, thanks to their large radiators.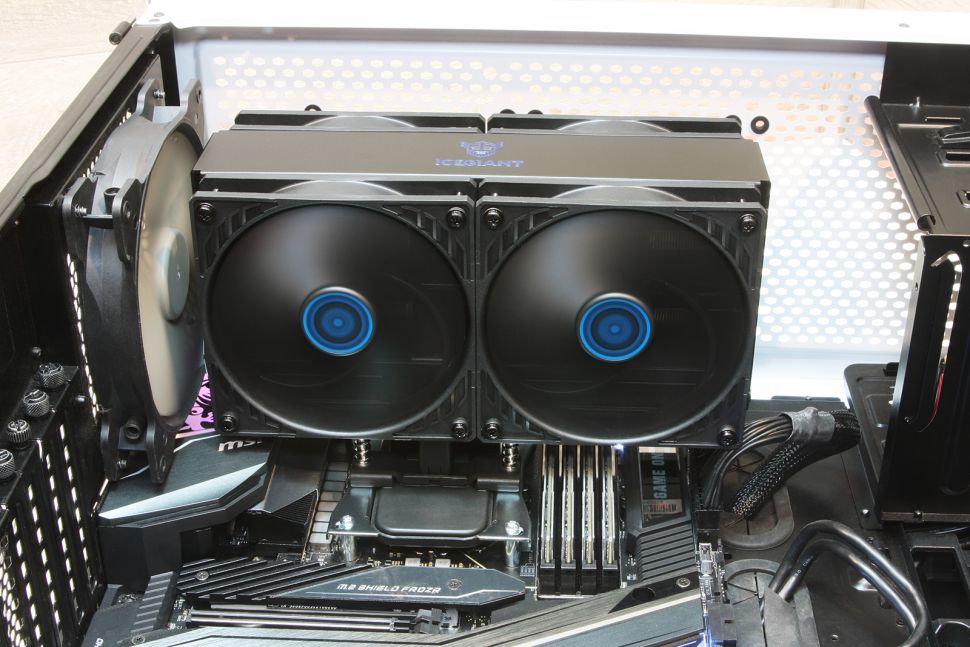 The IceGiant ProSiphon Elite can compete with the best 240mm liquid coolers out there, and it has plenty of appeal with no liquids or pump noise, and you don't need a radiator mount in your case either. The price is high, though, and with no change from £, there are much cheaper options, especially if you're dealing with a mainstream CPU and not a high-end Threadripper monster.
Performance on LGA1200 was lacklustre, and even the Antec Neptune 240 bettered the ProSiphon here. For a hassle free, air-cooled way of getting awesome cooling on other sockets, though, especially those with larger heatspreaders, the ProSiphon Elite is an innovative cooler that air-cooling purists with love, as long as your memory fits underneath it of course.
ANTONY LEATHER
Editor choice
Ice Giant Prosiphon Elite Review
An awesome air cooler that can easily tame the most powerful desktop CPUs, although it's very expensive.
PROS
No leaks or noisy pumps
Excellent cooling on most sockets
No need for a radiator mount
CONS
Expensive
No lighting or software control
Liquid coolers better in some situations
Add your review
Best Ice Giant Prosiphon Elite prices ?

$

169.99
5 new from $169.99
in stock

MORE DEALS