SPEC
Intel compatibility LGA115X, LGA1200, LGA2066, LGA2011
AMD compatibility Socket AM4, AM3/+, TR4/X
Radiator size with fans (mm) 121 x 394 x 27 (W x D x H)
Fans 3 x 120mm
Stated noise 30dBA
The last 360mm all-in-one liquid cooler from Asus that we reviewed was the original Ryujin 360, which offered interesting features and excellent cooling, but for a slightly eye-watering price tag. Unfortunately, Asus clearly thought that was a positive selling point, as the new Ryujin II 360's only listing when we went to press was for over £ at amazon.co.uk. So, let's see what you get for the price of a high-end custom watercooling system.
The cooler uses a 7th-gen Asetek pump, which proved to be extremely quiet in our testing with no noticeable whine even at full speed. This sits below a VRM fan and the cooler's centrepiece – a large 3.Sin customisable LCD. This display can dish out a custom logo, show temperature and fan speeds, or play a funky Asus ROG animation. We have to admit this really does look good inside a system, and we were impressed by some of the circuitry design in the display housing as well.
This unit houses all the cables and circuitboards and is held in place using magnets, lifting off to allow you to get at the screws that secure the pump section to your motherboard. The contacts on the pump section mean this can all be done without disconnecting any cables, although it does feel a tad overengineered. For instance, similar contraptions from MSI and Phanteks leave the display in place on the pump – you simply remove the plastic housing in order to access the mounting screws.
Asus also includes a fan and lighting hub in the box, which connects to the display housing using a USB cable, with the pump also hooking up to your PC using a USB 2 header. The hub has four fan headers and five 3-pin RGB headers, and again this feels overengineered, being clad in elegant solid metal ratherthan plastic housing. It looks and feels great, but it's overkill for its purpose.
Asus has aimed high with the trio of 120mm fans as well, opting for no less than three Noctua NF-F12 Industrial 2,000rpm fans, which would normally cost £ alone if you bought all three of them separately. Asus is definitely attempting to build the most premium liquid cooler on the market with the Ryujin II360, but despite the price, Asus has fallen short in several areas too.
The cooler doesn't include another set of screws to mount extra fans, for example. The rest of the cooler is also very similar to other Asetek liquid coolers, with a typical 27mm-thick aluminium radiator and braided tubes. We've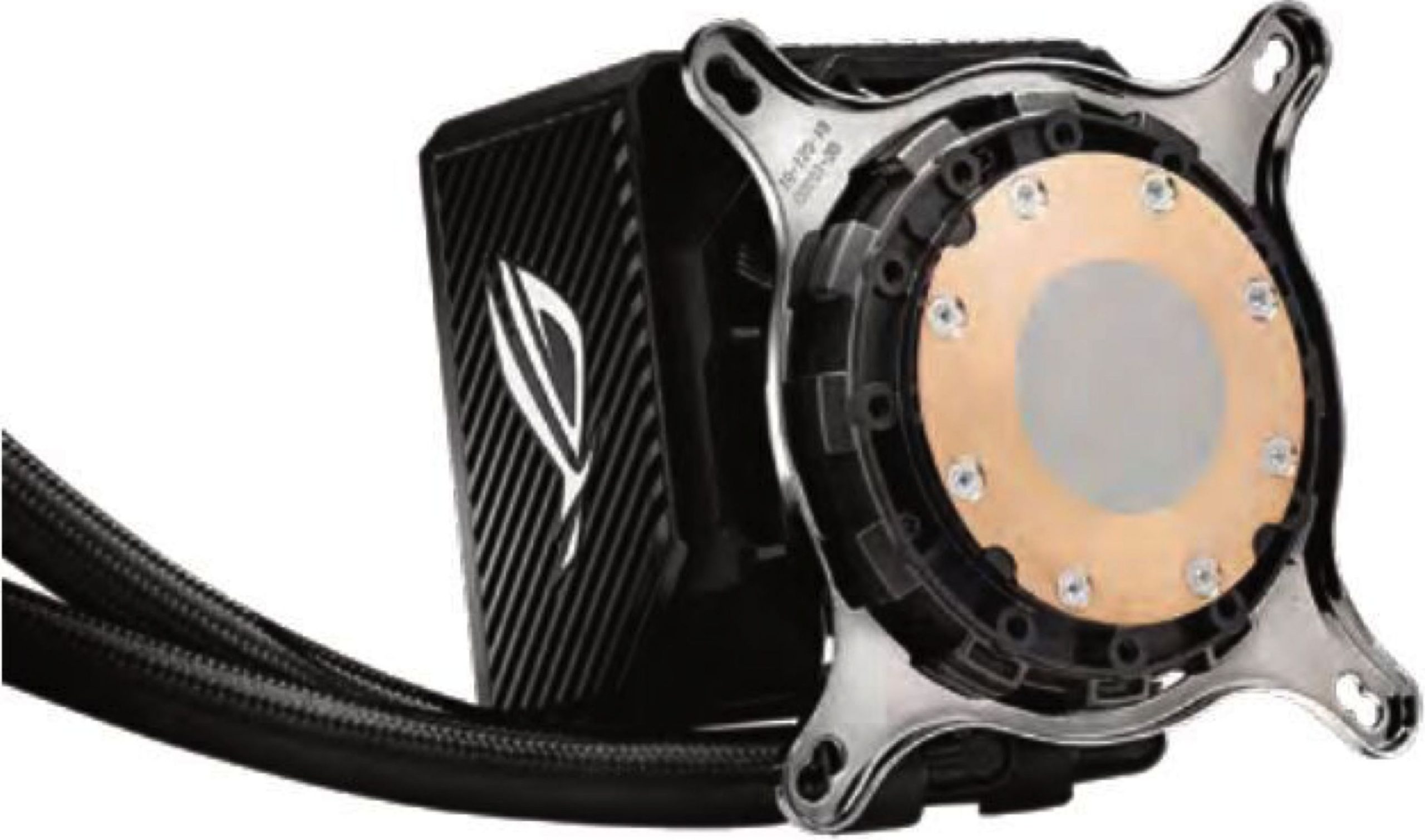 LIQUID CRYSTAL DISPLAY
+ Great cooling
+ VRM fan
+ Funky display
LUDICROUS DISPLAY
Core components don't justify price
Cheaper coolers perform similarly on AMD CPUs
Software feels bloated
seen beefier radiators supplied with much cheaper liquid coolers, while others have offered refillable cooling systems or even expandability, and the lack of these features definitely isn't reflected in the price tag.
Installation is your typical Asetek affair, with a backplate for Intel mainstream motherboards, while it makes use of the stock backplates and mounting points on Socket AM4, Threadripper and Intel LGA2066 motherboards. You'll need to install the correct mounting pins, and then it's just a case of securing the pump section with thumbscrews.
Meanwhile, the software Asus uses is great in some areas, giving you easy control over the fans and pump speed, as well as making it easy to update the software and firmware of the Ryujin II360 itself. There are also lighting controls for the fan and lighting hub, which can control your motherboard if it's an Asus model as well.
However, the software is bloated with other tabs and controls that make it feel cluttered, and it took us a few moments each time to work out where the fan control section was located.
The likes of NZXT's CAM and Corsair's iCUE software are more polished and customisable, and Asus' software isn't on par for the price this cooler demands. It should be better than this, and also more focused on cooling.
Performance
Our Core i9-11900K certainly pushes out a fair amount of heat, so efficient, high-airflow coolers usually do well in our Intel cooling tests. The Ryujin II360 topped the chart with a CPU delta T of 56°C, managing to better the MSI MPG CoreLiquid K360 by 2°C and shaving 10°C off the be quiet! Silent Loop 2's temperature.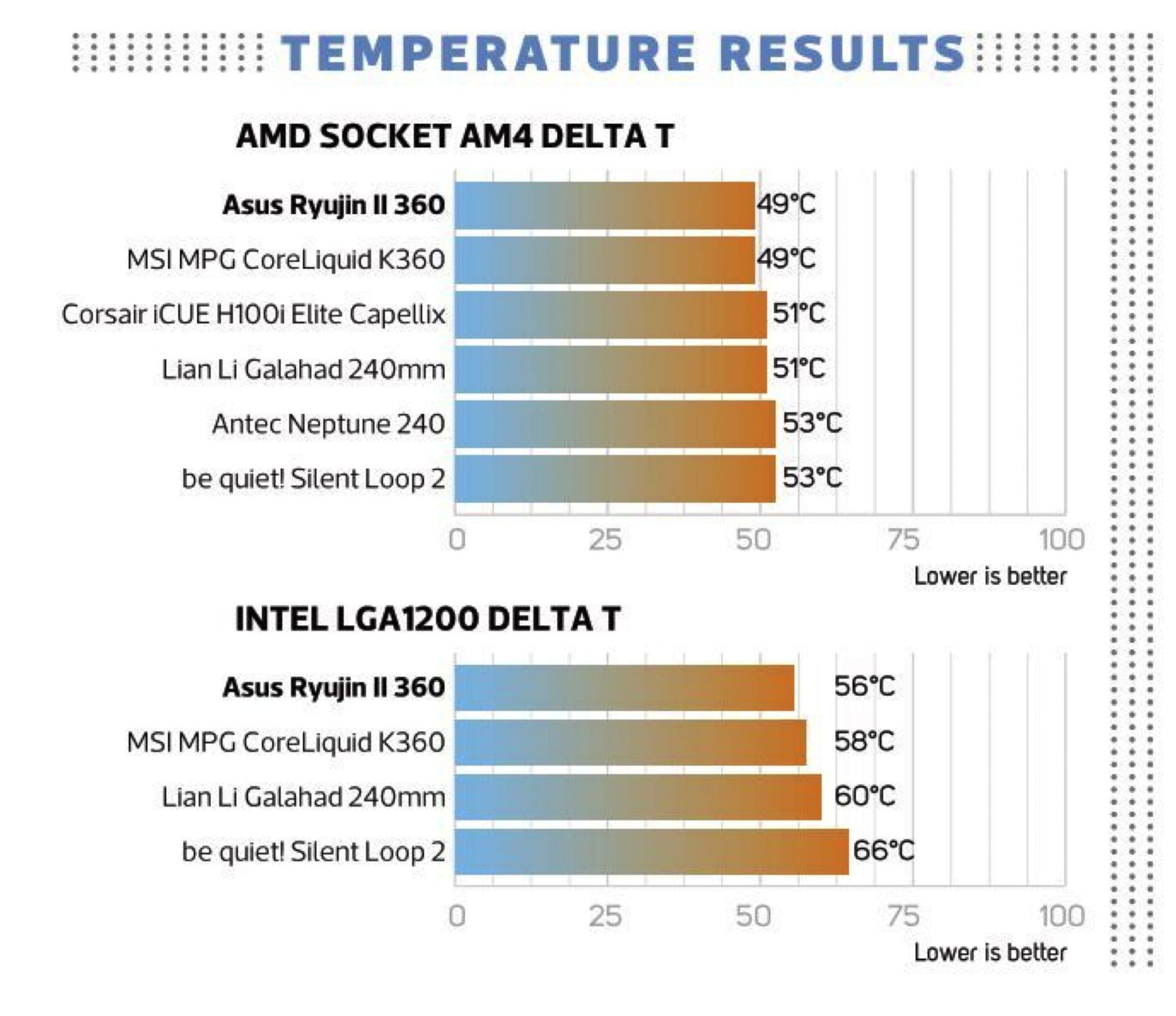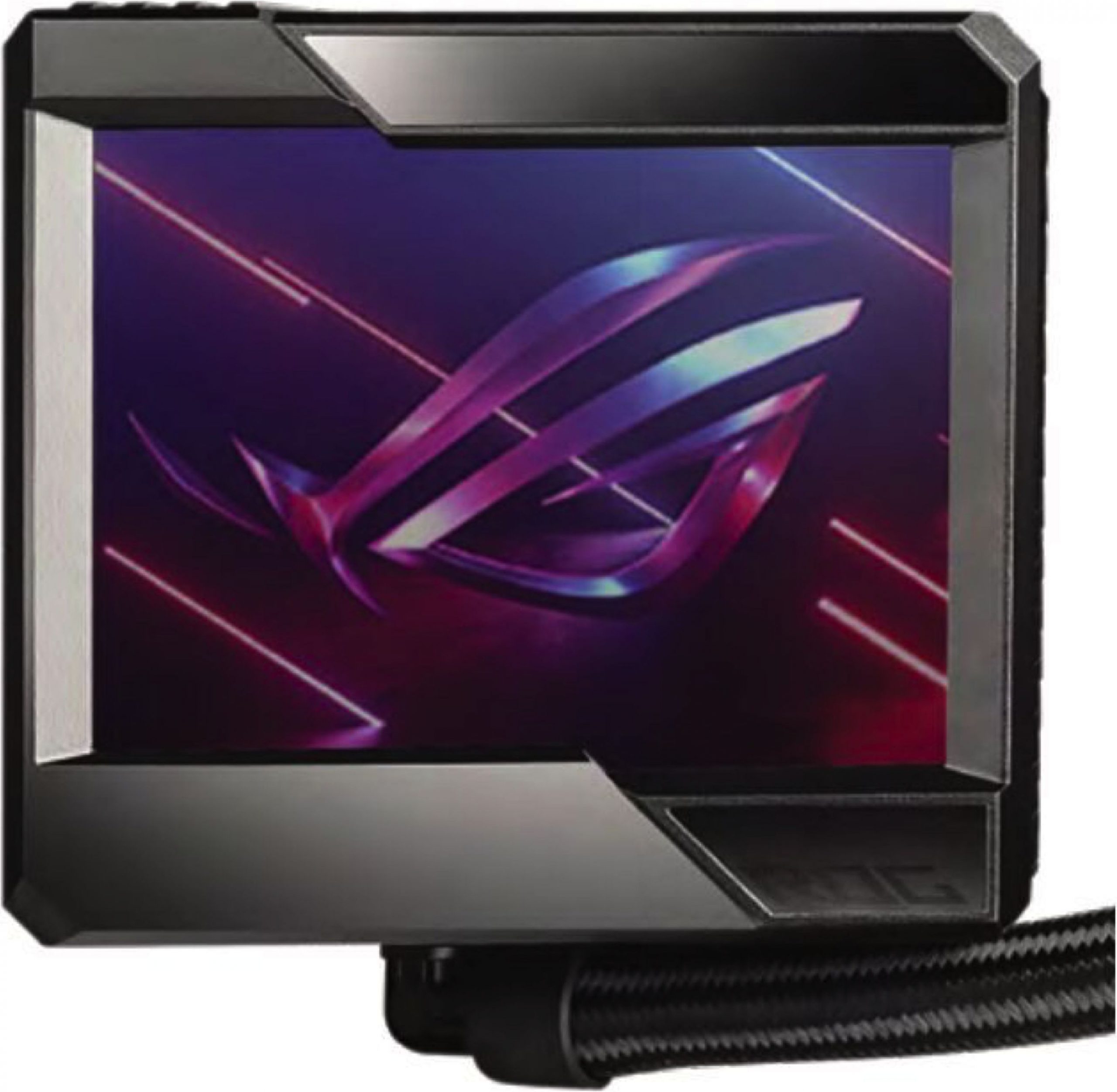 Meanwhile, our Ryzen 7 5800X was kept at a delta T of 49°C, which was equal to the MSI cooler, but not much cooler than the other AIO CPU coolers we've tested recently. The noise wasn't quite ear-splitting at full speed, but the fans were certainly noisy. Thankfully, there's enough cooling headroom here to rein in the fan speeds a bit.
One other feature you get with this cooler is a VRM fan, which definitely made a difference, shaving S C off the peak load temperature of the VRMs. However, it can be noisy at full speed, so it's definitely worth avoiding higher speeds. Thankfully, the software does at least make it easy to finetune individualfan curves, but it's fixed to respond to CPU temperature. We'd prefer it to link to the VRM temperature, otherwise the fan can potentially be spinning up for no reason, or not spinning up enough. We'd set it at a fixed speed that's comfortable to your ears and leave it there.
Conclusion
Asus has got a lot right with the Ryujin II360. The display looks fantastic, the pump housing is immaculately engineered, you get some of the best premium fans available, plus you get software control and excellent cooling. There's also the software-controlled fan and lighting hub, as well as the VRM fan, which made a real difference in our testing.
However, we'd expect a lot more at this price, such as a thicker radiator, the option to mount another row of fans, a refill port or an expandable loop. As it stands, this setup costs far more than a basic custom water-cooling loop, even if you include a GPU waterblock. For £ less, our judgement would be far more favourable, but you need more than fancy fans, software control and a display to justify this kind of price.
ANTONY LEATHER
VERDICT
asus ryujin ii 360 review
Excellent cooling and features, but the price is silly.
Add your review
Best Asus Ryujin ii 360 prices ?
MORE DEALS