HP Pavilion x360 14-ba016na Review – This laptop-tablet comes in a choice of gold or silver finishes, but either way it's made of plastic. That's a reasonable compromise in this price bracket, and HP's build quality is still more than acceptable. It has a sturdy hinge that stays put at any angle, including folded backwards to stand like a tent to watch a film or follow a recipe (pictured below), or tucked round against the touchscreen, for holding like a tablet.
The lightly textured finish makes a classy contrast with the glazed black screen section. At 1.63kg it's no iPad, but it's light for a 14in laptop. And although it's bulkier than 13.3in machines (a more common size), the extra screen area makes Windows 10 more legible. Our model had a Full HD display, which looked sharp, but brightness and contrast were poor, and with just 58 per cent of the sRGB colour range covered this isn't the PC for photo or video editing. There's also a coarser 1366×768-pixel option. We've seen better screens than this on budget laptops. It's a shame to compromise on such a central component.
As a touchscreen, though, it's very responsive, and supports the pressure- sensitive Active Pen
Light, speedy and comfortable to work on, but the screen is a bit off-colour
if you want to take full advantage of Windows Ink. We were pleased to find the keyboard was comfortable to type on, with a positive feel to the full-size, flat-topped keys, and the touchpad worked impeccably too.
Helped along by the small but speedy 128GB SSD and a full 8GB of memory, the dual-core i3-7100U processor – from the bottom end of the previous Intel Core generation – is enough for everyday Windows 10 tasks. The Pavilion x360 is also available with a new quad-core i5-8250U chip, which ought to add enough speed to justify its price tag if your aims are more ambitious. Our i3 processor drained its battery in just over six hours of video playback, which isn't great but may be adequate for your needs.
Bucking the trend of ultra-slim laptops with no edges to put ports in, the Pavilion x360 is nearly 2 cm thick, and HP has used the space to include two USB 3.1 ports and a Type-C as well as full-size HDMI, headphone jack and SD card reader. You'd need a USB adapter for Ethernet, though. The webcam above the screen has the depth-sensing technology required for Windows Hello, so you can unlock Windows 10 with your face.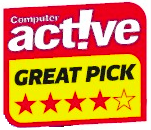 HP Pavilion x360 14-ba016na Review: VERDICT
Processing power and storage are limited, and the screen isn't ideal, but if you want the flexibility of a laptop-tablet this isn't a bad option
HP Pavilion x360 14-ba016na Review
Processing power and storage are limited, and the screen isn't ideal, but if you want the flexibility of a laptop-tablet this isn't a bad option
PROS
Affordable
Flexible, convertible design with touch and pen support
Decent audio
CONS
Too heavy for tablet use
Low-resolution display
Poor multitasking performance
Short battery life
Add your review
MORE DEALS

See also THE COMPLETE GUIDE TO…OLED laptops
HP Pavilion x360 14-ba016na Review: ALTERNATIVE
Lenovo Yoga 520 (14)
This is a strong rival, but wait until It has been upgraded with a processor faster than the current i5-7200U
HP Pavilion x360 14-ba016na Review: SPECIFICATIONS
2.4GHz Intel i3-7100U dual-core processor • 8GB memory • 128GB SSD • 14in 1920×1080-pixel touchscreen • Webcam • 802.11ac Wi-Fi • 2x USB 3.1 ports • USB Type-C port • HDMI port • SD card reader  • Windows 10 Home • 19.9x335x227mm (HxWxD) • 1.63kg • One-year warranty