This almost became our new top laptop, dethroning our long-time favourite, Lenovo's Yoga Slim 7. When we tested the Aero 13 it was priced £ on Currys. But that had risen to £ just a few days later, which was enough to keep it off top spot.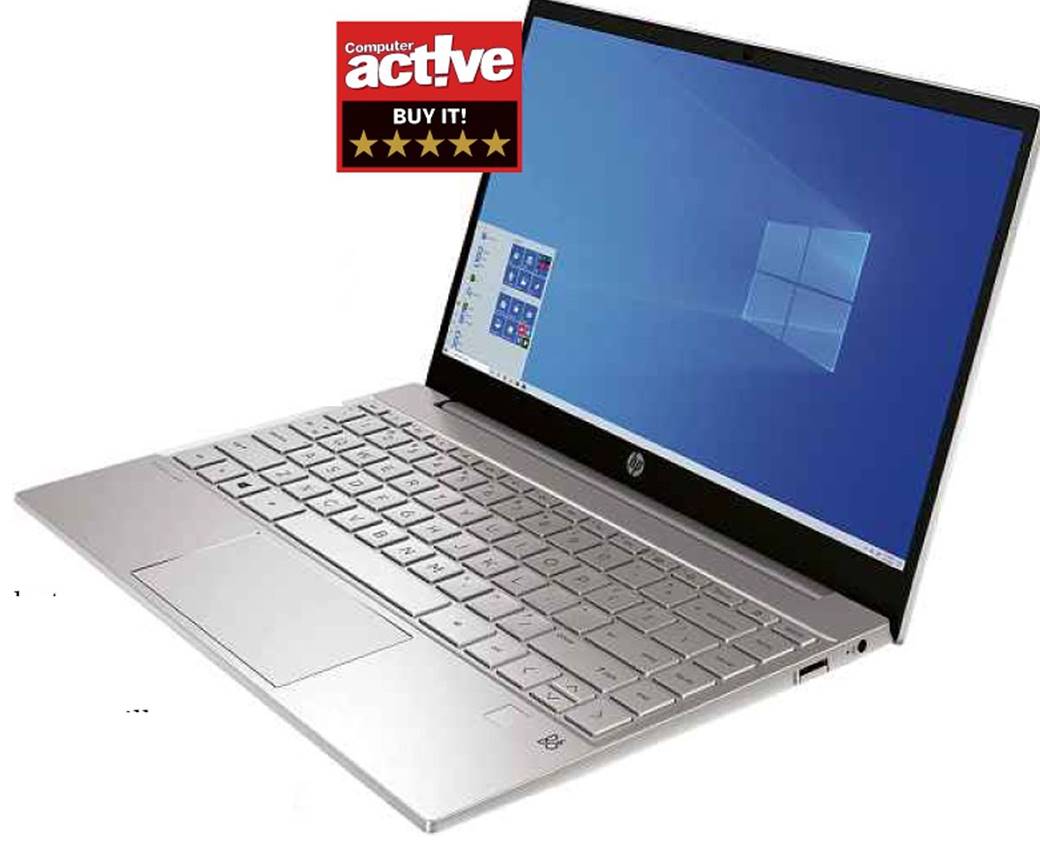 It's still an excellent laptop though. As you'd expect from a laptop with a 13.3in screen, the HP Pavilion Aero 13 is compact and light, making it easy to slip in a bag and carry around. It measures 16.9x297x209mm (HxWxD) when folded up and weighs just 900g. That's really light, even at this size, to the extent that it left us wondering if HP might have forgotten to put the components inside.
We didn't need to worry. Inside you'll find an AMD Ryzen 7 5800U processor and 8GB of RAM, a combination that's more than powerful enough to handle the Windows workload we put it through during testing. It recorded a score of 5,876 on the performance benchmark test, putting it ahead of the HP Envy 13 (4,930 – reviewed in Issue 614) and the Acer Swift 3 (5,864, see Issue 617).
If that isn't impressive enough, the Pavilion Aero 13 sprinted past the competition in our video-transcoding test, converting a 4K video clip to 1080p in just 9 minutes 5 seconds. That outcome nearly halves the time taken by the Envy 13 (17 minutes 29 seconds) and shaves several minutes off the Swift 3 (13 minutes).
Where it failed to excel is in gaming graphics. The laptop relies on the graphics hardware integrated into the processor, performed better than the Envy 13, but it fell behind the frame rates available with the Swift 3.

The 13.3in screen has a squarer-than- typical aspect ratio of 16:10, which is great when working in Windows, because you get more height and less width – more convenient for reading web pages and working with office tools. The downside is that you'll see black bars image editing, but won't cut it with the latest games. When tested with games, it still which is good enough for video and across the top and bottom when you're watching standard 16:9 video.
The screen is among the best we've seen on a laptop at this price
The 1920xl200-pixel resolution screen is among the best we've seen on a laptop at this price. It's sharp, bright and offers vivid colours, with superior results in our colorimeter tests than the Envy 13 and Swift 3, as well as wider colour coverage and higher brightness levels.
Battery life is reasonable, lasting 10 hours 32 minutes in our video-playback tests, which is about average in a laptop of this size and price.
Its keyboard uses a standard layout, with chiclet-style keys. It's comfortable to type on and we became familiar with it quickly. The touchpad, while smaller than we'd like, is responsive. It recognises Windows gestures and doesn't get in the way while you're typing.
Specifications
Eight-core AMD Ryzen 7 5800U processor 8GB RAM • AMC Radeon graphics • 13.3in 1920×1200- pixel screen • 512GB SSD • 1080p webcam • Wi-Fi 6 • Bluetooth 5.2 • 1x USB-C port • 2x USB 3.0 ports • 1x HDMI port • Windows 10 Home (upgrade ready for Windows 11) • 16.9x297x209mm (HxWxD) • 0.9kg • One-year warranty
VERDICT
Editor choice
HP Pavilion Aero 13 Review
This powerful, lightweight laptop is an excellent choice, but not quite our favourite
Add your review
Best HP Pavilion Aero 13 prices ?
$

742.95

$834.99
1 used from $330.69
2 new from $742.00
in stock


$

819.00
1 new from $819.00
in stock


Processor: AMD Ryzen 5 5600U (up to 4.2 GHz max boost clock, 16 MB L3 cache, 6 cores, 12 threads) Memory & Storage: 16 GB DDR4-3200 MHz RAM (onboard)
$

502.65

$999.99
out of stock

MORE DEALS

See also THE COMPLETE GUIDE TO…OLED laptops
ALTERNATIVE
Lenovo Yoga Slim 7
Has a larger 14in screen and is £ cheaper