PCs have always been based on x86 processors, invented by Intel in the late 1970s. This year, Intel even released a special 40th-anniversary edition of its fastest Core i7 processor, the i7-8086K. With impeccable timing, HP has chosen just this moment to launch one of the first mainstream PCs that contains neither an Intel x86 chip nor a compatible one from AMD. Read our HP Envy x2 Snapdragon Review.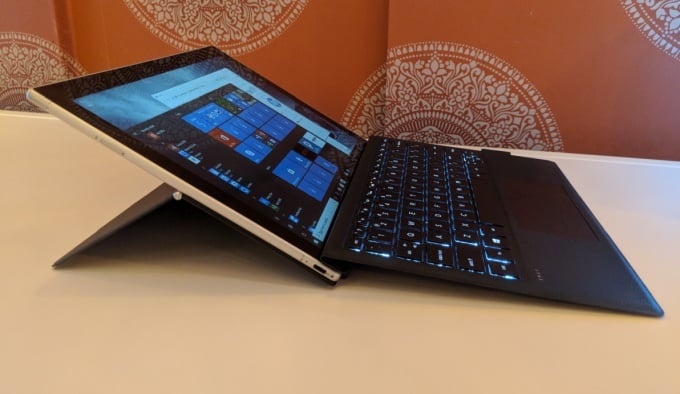 Superb screen and battery life can't hide its limitations
On the outside, this is a typical Window's 10 laptop-tablet: a Surface-style touchscreen tablet with a detachable keyboard and stylus, all nicely put together. On the inside is a Snapdragon 835 chip from Qualcomm that we've seen plenty of times before – in smartphones.
How can Windows, an x86 operating system, run on a non-x86 system? The Envy x2 comes with Windows 10 S, the version that only lets you install programs from the Microsoft Store, which Microsoft has tweaked to run on the ARM architecture. ARM is one of the UK's greatest contributions to computing, even if the Cambridge-based company behind it is now Japanese-owned. And the Snapdragon 835 is an ARM processor, so that shouldn't be a problem. Except that Window's programs are all written for x86 systems, so to make them work it has to use emulation, running a program that pretends your ARM computer is an x86 PC to fool your x86 program into running. Does that sound efficient? Nope.
Worse still, anything that addresses the system at a low level – such as drivers for features like printing, and assistive tech that help users with impairments – won't run under emulation, leaving you to hope that the developers of your favourite software will offer ARM updates. Even if programs work, they'll go slower than normal. What's normal? Well, for a chip out of a mobile phone trying to run the full desktop version of Window's, let's just say it ain't much like an i7-8086K.
So what you're left with is a not very powerful computer (performance in our tests was on a par with laptops at a quarter of the price) that can't necessarily run all the programs you want. Microsoft offers Windows 10 S users a free upgrade to Windows 10 Pro if they prefer, but that's no help with the ARM limitations.
By this point you may be wondering why anyone would want a Snapdragon laptop. Well, being a glorified phone has its benefits. There are decent front and rear cameras, and you can add a SIM card to get online anywhere. Then there's battery life. In our video-playback test, the x2's battery lasted just short of 12 hours, and this rose to 22 hours in lighter tasks. We've never seen that from a Window's laptop before. Combined with a solidly clicky keyboard, built into a case that protects the exceptionally bright and colour-accurate Full HD screen, that makes this a superbly practical machine – if only it could do more, and faster.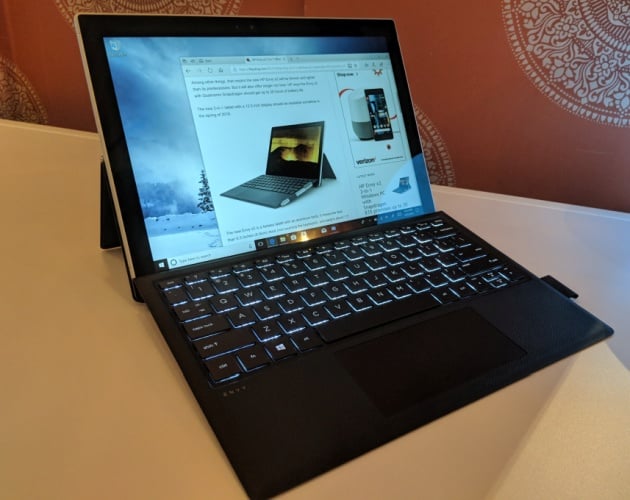 Not bad for something of this quality, but a lot for something this limited. If it gets cheaper, it may be worth considering, and we'd be happy to see the increasingly powerful processors in smartphones bring us a wider choice of laptops. For now, it feels like a gimmick whose time hasn't come.
HP Envy x2 Snapdragon specifications:
2.6GHz Snapdragon 835 eight-core processor • 4GB memory • 128GB SSD • 12.3in 1920×1080- pixel touchscreen • 13-megapixel rear camera 5-megapixel front camera • 802.11ac Wi-Fi • Bluetooth 5 • USB Type-C port • MicroSD card reader Windows 10 S • 6.9x293x210mm (HxWxD tablet only) • 0.7kg (121kg with keyboard) • One-year warranty
HP Envy x2 Snapdragon verdict:
HP Envy x2 Snapdragon Review
For basic Windows and web tasks, this is a superb laptop-tablet with amazing battery life. But more ambitious jobs are beyond it
Add your review
Best HP Envy x2 Snapdragon prices ?
MORE DEALS

See also THE COMPLETE GUIDE TO…OLED laptops
HP Envy x2 Snapdragon alternative:
HP Envy x360 13
This foldback touchscreen laptop, with an AMD Ryzen processor, is less flexible but less flawed