HP's latest Chromebook is the first detachable Chrome OS machine, with the ability to run full Linux. Read our HP Chromebook x2 Review.
Typically aimed at the classroom or the ultra- low-cost end of the market, the Chromebook continues its march into the mainstream with the launch of the HP Chromebook x2, the world's first detachable Chromebook. HP is. of course, no newcomer to the market, with vast experience in Chromebooks, detachables and even devices with the x2 moniker – various x2 branded products are available, confusingly.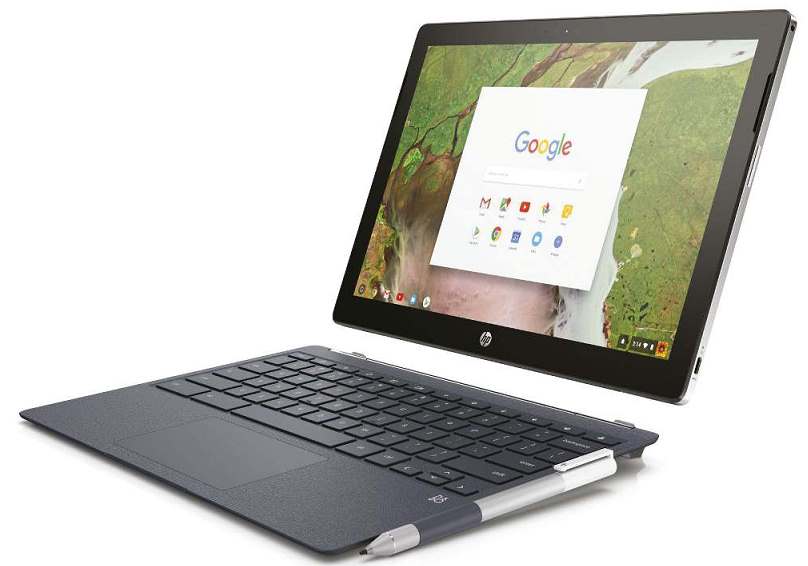 A quick glance at the spec sheet suggests that the machine is unusually well specified in the CPU department for Chrome OS use. Although 4GB RAM and 32GB storage are typical and the cost is certainly above what you'd expect to pay for a laptop running Google's OS. When you take the laptop out of the box. The price at least starts to make sense – this is a wonderfully premium piece of hardware.
From the white ceramic feel on the lid and the Gorilla Glass screen and responsive keyboard, to the Bang & Olufsen speakers at the side of the beautiful high- resolution display, the machine quickly begins to feel well worth its cost. The machine is well-built and has a reassuring weight to it, but impressively the tablet portion alone weighs only 735g, making it easily manageable as an alternative to an iPad or Android.
Chrome OS itself has been developing at breakneck speed, building upon its Linux-based Chromium OS roots to try and bury once and for all the perception that a Chrome OS device is 'just an expensive web browser'. Google has now rolled out the Play Store across the platform, enabling Chrome OS devices to run a vast array of Android apps, and the utility of Chrome OS devices is set to take another leap with the launch of the 'Crostini' project.
Above The Chromebook x2's tablet section is attached using strong magnets, and a cloth attachment is included for the stylus
Above The Crostini (Linux container) installation has all the polish you'd expect of a Google product, and is easy to use
Installing apps becomes as simple as using apt, and the usual Debian repos are available right out of the box
If you've used Chrome OS before, you may be familiar with a project named 'Crouton'. The project provided the ability to chroot into a full Linux install on a Chrome OS device to provide a degree of Linux functionality. The install process was complex, requiring the machine to be switched to developer mode and Crouton itself to be installed using a script launched from a terminal window. While this was quite cool for a more techie audience, it was certainly not suitable for the mainstream. Crostini takes things a step further and looks to bring full Linux compatibility to non-dev Chrome OS channels courtesy of an easy to install Debian container. And you know what? It works well.
HP Chromebook x2 specs
CPU 1GHz Intel Core m3-7Y30
Display 12.3-inch, 2400×1600
Graphics Intel HD Graphics 615
RAM 4GB
Storage 32GB eMMC
Ports 1x headphone/ microphone, 2x USB 3.0 Type-C Gen 1, SD card reader
Connectivity 802.11b/g/n/ac (2×2) Wi-Fi, Bluetooth 4.2
Weight 1.4kg Size 29.2×21.1×0.9cm
As of today, enabling Crostini requires a toggle in the Chrome OS settings to be enabled, which then adds a terminal application to your standard app list. Clicking this icon automatically downloads and installs the Linux container, after which you're dropped at a terminal with a familiar Debian distro. Installing apps becomes as simple as using apt and the usual Debian repos are available right out of the box. We've always found image editing on a Chromebook to be painful, so of course the first thing we tried was installing GIMP. After installation an icon appeared in the main device app list and we were ready to go – this is particularly useful as the Chromebook x2 includes a very capable stylus.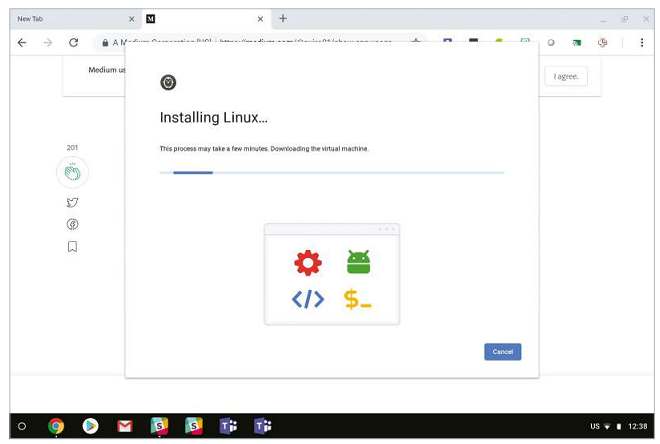 With GIMP working well, we installed something a bit more demanding: the Rider IDE from Jetbrains. While this too installed and worked just fine after downloading the deb package, when loading larger solutions we did start to hit the limitations of 4GB RAM with no swap available, highlighting one of the potential issues with Crostini. Chrome OS machines have typically been designed with the low memory and storage requirements of Chrome OS in mind, something that will change as the OS's capabilities and application availability change.
Crostini is still gradually progressing from Dev to Beta to Stable channels, and we expect to see several improvements as it approaches General Availability. What it offers today is already very impressive: integration is seamless and together with the fantastic hardware of the Chromebook x2 it provides an unorthodox but enjoyable Linux experience.
It's clear that the project won't suit the most hardcore of Linux users, but as an option for a secondary machine, a way to bring Linux to a wider audience or just a solution to the 'app gap' on Chrome OS. Google has done a great job – and together with desirable hardware such as the Chromebook x2, Chrome OS's success looks set to continue.
Paul o'Brien
HP Chromebook x2 Review
The important thing when deciding whether to buy a Chromebook x2 is to know what you're getting. You won't be running pure Linux with the distro of your choice, but you will get a good deal of the experience with a huge number of  Android apps.
PROS
Premium hardware design and a capable processor. Offers a lightweight tablet with Android apps. excellent keyboard feel, stylus in the box and USB C connectivity.
CONS
Very expensive for a Chrome OS device with only 4GB of RAM and 32GB storage, which is limiting for Linux. A good Linux experience but not a full Linux experience.
Add your review
Best HP Chromebook x2 prices ?

$

104.73

$114.72
15 new from $104.57
in stock


$

134.24
4 used from $109.99
14 new from $129.00
in stock


$

215.95
1 new from $215.95
in stock

MORE DEALS

See also THE COMPLETE GUIDE TO…OLED laptops