Those big print job finds a worthy adversary
Inkjet printing can be super-expensive for businesses, because usage can rapidly spiral out of control when a big project comes along. The answer to this problem appears to be simple: a step up to colour laser printing. Many, however, are put off by the cost of the equipment, reliability and consumable costs of that technology.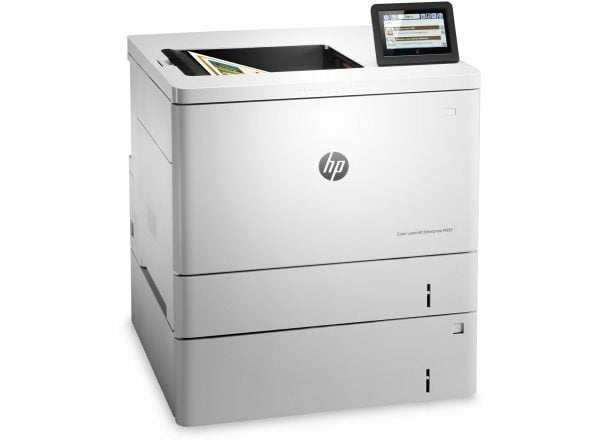 HP Colour LaserJet Enterprise M553 range looks to address many of those issues, and challenge the accepted thinking about the cost of colour laser technology in general. HP has made it in three distinct flavours were the M553x (reviewed here) is the top tier, with the M553dn and M553n below that. They're all built around the same four-toner CYMK 1200 dpi print engine, with the differences being mostly optional items – though the entry level M553n model doesn't offer hardware duplexing, the option for Wireless Direct or HP's Hardware Integration Pocket (HIP). The high-end M553x also adds a nifty colour touch-control panel, where the M553n and M553dn have a smaller display with a separate touchpad.
Getting the printer operationally is straightforward enough once you've extracted it from the enormous box it is shipped. You simply connect it either by USB or network cable, and then answer a series of simple questions that the printer asks you via the control panel. After which you can install the provided driver and load whatever paper stock you fancy.The basic design has a manual 100 sheet feed and 550 sheet bin, and the M553x an extra 550 sheet bin that can take A4/A5/ Legal, and you can optional add another two tray 550 sheet layers if required.
That's office friendly, and so is the power management system that allows the M553x to sleep when not in use. Waking from slumber doesn't take long, generating first output takes less than nine seconds, and churn out 40 ppm mono and 38 ppm colour once up to speed. The duty cycle for this unit is 2,000 – 6,000 pages a month, or 300 pages per day. That's not huge, but probably more tree killing than most small businesses should be aspiring to.How much it costs is entirely dependent on how much coverage each pages has, but HP does offer High Yield toner modules where the Black cartridge can crank for 12,500 pages and each of the three colour ones for 9,500. Replacement fuser kits and toner collectors are also available, with a cycle of 150,000 pages.The cartridges might seem expensive until you factor the cost over pages each could produce. That's a relatively low cost per page, with black being around a penny and colour about 6.5p, for typical 5% coverage, not including the cost of paper.That's substantially lower than any inkjet printing, and the output also comes out dry to the touch. The toner print process is also superior at representing images that include very fine lines, as there is no appreciable bleed. You might get more colour punch from wax transfer technology, but in terms of a practical and affordable solution this design is exceptional.What's more, there are some very neat security devices that HP built in that paranoid users will love. For example, you can print a secure document which is only then produced when you are physically at the printer and input your secret pin number. Another is the ability to install a hard drive (all models), and store onto it forms and templates that you can demand be printed without access to a PC.I have but one complaint about this printer, and it's a silly thing: one of the default features of the M553x and optional on the N553dn is a module called 'Wireless direct' that offers NFC printing. With a wireless card installed you'd think that it might give flexibility as where in the office you put the printer, but you'd be dead wrong. Because the wi-fi only supports direct wireless operations, you can't use it to connect it to a local access point, amazingly. That head-scratching point aside, this is a remarkable piece of kit that makes more economic sense than a dozen office inkjets.Its fast, the output is clean and generates colourful output, and there are tons of options for multi-stationary scenarios and even an official cabinet is available. The cost is what it is, though those who don't need the extra paper tray and a touch screen can get the M553dn, and home users might entertain the basic M553n. These are HP prices, you may find better.If you work in an office where accounts are moaning about inkjet consumable costs, then perhaps you should point them in this direction, and let them write the justification themselves.
Mark Pickavance
The perfect colour printer for small offices.